In a just world, Intellectuals Yet Idiots like Tom Nichols would be put into the stocks in the town square, so we could all laugh at him and throw rotten fruit at his gigantic pumpkin head.
There's a few things in life that never get old, and one of them is seeing pompous, phony "Never Trump" conservatives get their comeuppance on Twitter. The pompous bloviator Tom Nichols is known for casting himself as the only honest, decent, and 'expert' conservative going up against all of us lying, lowbrow rubes who voted for Trump. But after this round of shooting his mouth off, Egghead Tom is going to need to see a doctor for the burns he just received online.
RELATED: Armed Churchgoers Stopped Church Shooting Today In Texas
You see, Tom Nichols, the master of "expertise," has been going around for weeks telling conservatives NOT to bring their guns to church. Because, you know, he is a credentialed expert who lives in D.C. who knows things that we rubes in 'flyover country' do not.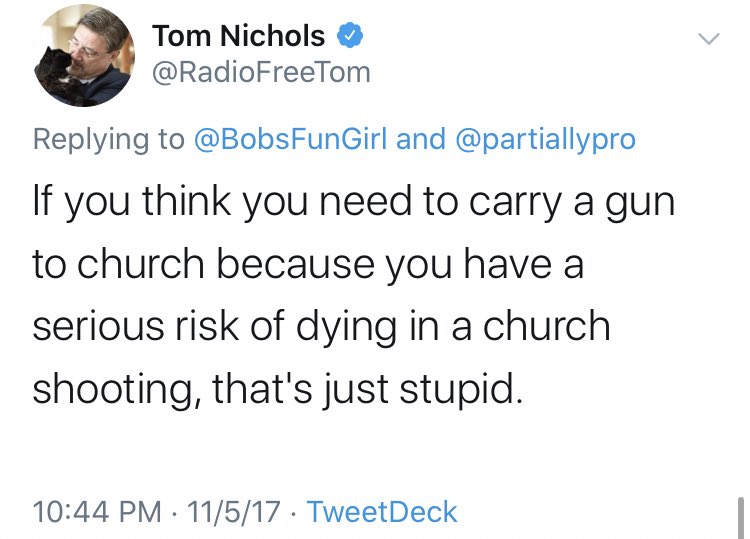 More here:
— Jerry Christmas 🎄🎅🏽 (@JerryDunleavy) December 30, 2019
And here:
— Jerry Christmas 🎄🎅🏽 (@JerryDunleavy) December 30, 2019
Tom Nichols is the same guy who calls himself a conservative Republican and endlessly rags on and on about how stupid and "unexpert" Trump supporters are.
From Newsweek:
A former Republican has blasted Conservatives for choosing to sell out "actual patriotism" for "gun worship" under President Donald Trump.

In a series of tweets published on Monday U.S. Naval War College Prof. Tom Nichols lamented how gun culture appears to be spreading "from a corner of the GOP" to the entire conservative party under Trump.

"Even when I was a Republican, I never understood people who measure freedom by how many of us walk around with guns," wrote Nichols, who parted ways with the GOP after Republicans allowed Brett Kavanaugh to be confirmed to the Supreme Court.
From Mediate:
From NPR:
MARTIN: And I just want to point out that the fourth witness on Wednesday, Jonathan Turley, whom you just mentioned, who was chosen by the Republicans to testify, felt the need to say that he was not a Trump supporter. So, given your thesis here, that the main point of your book, "The Death Of Expertise," is that the American public has grown hostile towards expertise overall, what do you make of that whole exchange there? How do you understand what just happened there?

NICHOLS: The question was completely inappropriate. And it underlines, I think, a popular view that if experts have well-defined political views, they are incapable of being professionals and keeping those views out of their work. This is, I think, one of the things that the president has really hammered home over the years – that you can't trust journalists. You can't trust scientists. You can't trust anybody except him. But this predates President Trump – that, you know, because people don't really understand a lot of these issues, they assume that anyone who explains them is trying to hoodwink them.
What this pompous boob Nichols can't seem to figure out, is that the American people are tired of listening to experts because they are giving us inane advice, like "DON'T BOTHER BRINGING YOUR GUN TO CHURCH, IT'S BETTER TO JUST BE A SITTING DUCK." Nassim Nicholas Taleb calls this species of fake experts, "Intellectuals Yet Idiots" who "can't find a coconut in Coconut Island."
In a just world, Intellectuals Yet Idiots like Tom Nichols would be put into the stocks in the town square, so we could all laugh at him and throw rotten fruit at his gigantic pumpkin head.
But in today's digital world, we will have to settle for a Twitter Roast.
Caleb Hull got the ball rolling.
you're literally so dumb why can't you just shut up for once and admit how wrong you are

— Caleb Hull (@CalebJHull) December 30, 2019
Lol.
https://twitter.com/AetiusRF/status/1211654185554456578
Owned:
What are people doing when they latch onto extremely rare events like mass shootings as ways to argue for gun control measures that won't affect those events? Is that expertise?

— Patrick Brennan (@ptbrennan11) December 30, 2019
OWNED with FACTS and LOGIC.
https://twitter.com/GroyperNice/status/1211533078025236481
He created his own meme: pic.twitter.com/M4i8EbnV3y

— GQ (@gquella) December 30, 2019
Trump broke him:
https://twitter.com/Boris_Badenoff/status/1211588793779785730
A message from Middle America to Boob Tom Nichols:
Every time Tom Nichols post's on Twitter @terryschappert gets his wings pic.twitter.com/Zd8Ckuk1mP

— Patrick (@patricksp71) December 30, 2019
Thank God President Trump came around and sent all of these establishment "conservative" cockroaches scattering.
https://twitter.com/realDonaldTrump/status/1212008798849814528
Once again, President Trump is the conservative who is not immune to common sense. And that is why he is the most effective combatant we've seen yet at fighting the globalists.
https://twitter.com/realDonaldTrump/status/1211813523581546496
Unfortunately, the globalist oligarchs have enough cash from plundering the American middle class to subsidize all of these mediocrities, and Tom Nichols still gets book deals and op-eds in outlets like The Atlantic and L.A. Times. In the long run, that just means that establishment media will have lost all control over public discourse, because they will have exhausted all of their credibility and capital on fools like Tom Nichols.
In the meantime, we need more real men like hero Jack Wilson of Texas, and fewer globalist cockroaches.
There are only two types of men.

And only one of them belongs in Texas. pic.twitter.com/nIFlh7vGA6

— Benny (@bennyjohnson) December 30, 2019