The rumor mill is heating up on social media, as people get antsier and antsier over the whereabouts of California Governor Gavin Newsom, who hasn't been in public since he took his booster jab about 11 days ago. Newsom also uncharacteristically did not show up for the climate change summit, and we all know what a Global Warming nut he is. He didn't even take part virtually, as his office claimed he would. Strange.
BREAKING REPORT: California Gov. Gavin Newsom CANCELS ALL SCHEDULED APPEARANCES, Hasn't Been Seen in Public Since Getting Covid Booster Shot on October 27…

— Chuck Callesto (@ChuckCallesto) November 8, 2021
The media claims the reason Gavin hasn't been out in public or attended any events is that he is tending to "family business."
For 11 days?
But Gavin's wife made matters worse when she lashed out and posted a tweet directed at the people asking about her husband. But she quickly deleted it.
Human Events editor Jack Posobiec tweeted out a screenshot of the now-deleted tweet asking Jennifer Newsom why she deleted it.
MORE NEWS: [VIDEO] Game-Changing Moment in Rittenhouse Trial Causes Prosecutor to Bury His Head in His Hands
Hi @JenSiebelNewsom! Why did you delete this? #WheresGavin pic.twitter.com/914B43EjDM

— Jack Posobiec 🇺🇸 (@JackPosobiec) November 8, 2021
Here is a close-up of the now-deleted tweet: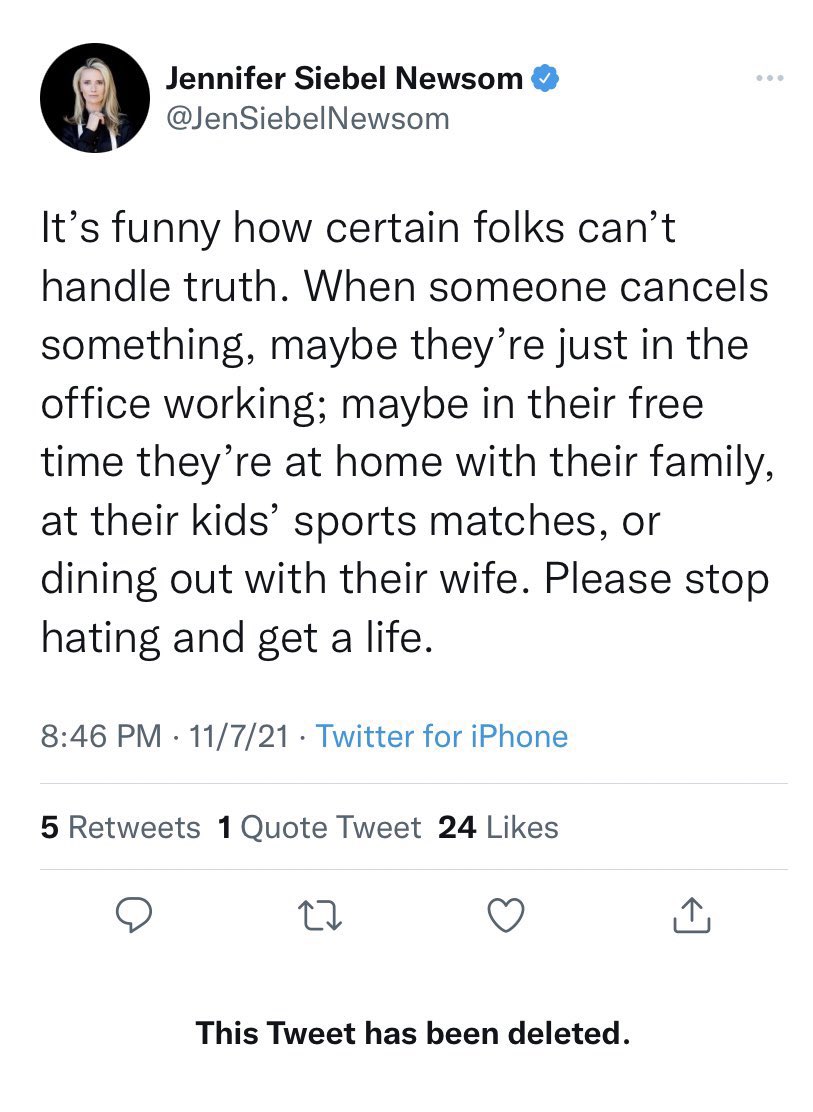 This move didn't help her husband. If she can tweet about him, why can't he stand in front of the press and show the state that he's okay and able to do his job?
The mystery plot grows even more curious…
Here are some comments online about Gavin's bizarre disappearance:
Good morning California! Gas is $5/gallon, homes cost $850k, you have to take drugs to keep your job or go to school, we're supposed to just "get over" rampant crime and illegal immigration… Where's @GavinNewsom?

— Harmeet K. Dhillon (@pnjaban) November 8, 2021
I'm back in California after a week in Florida and apparently Gavin Newsom is missing. Cool.

— Dave Rubin (@RubinReport) November 8, 2021
Is it time to put Gavin Newsom on a milk carton?

— Jordan Schachtel @ dossier.substack.com (@JordanSchachtel) November 8, 2021
I don't know where Gavin Newsom is and won't speculate. But it's pretty strange for the Governor to disappear for 11 days without explanation.

— Kevin Kiley (@KevinKileyCA) November 7, 2021
Who's running CA? No one has seen Gavin Newsom. Eleni Kounalakis and Assembly Dems are in Glasgow, AFAIK. AP says he's dealing w/"unspecified family obligations." Both of his parents are deceased. His in-laws are in MT. When his fam was exposed to COVID last yr we knew w/in days.

— Jennifer Van Laar (@jenvanlaar) November 8, 2021
It's very odd indeed not to have heard at all from the governor in 11 days.
That's nearly two weeks, for crying out loud.
And I don't think a written statement will cut the mustard.
I think Gavin needs to get out in front of the press and tell the people of California when he'll be back to work.
Update:
Newsom finally appeared on camera, 12 days later and he's blaming his kids and Halloween for the mysterious disappearance, and nobody is buying it. 
Gavin Newsom blames his summit cancellation & 11 day disappearance on Halloween and his kids pic.twitter.com/w2wXk9pb2t

— Jewish Deplorable (@TrumpJew2) November 9, 2021