One of the first things I read, when I woke up today, was how Pelosi got Biden's bill through the House with the help of 3 GOP traitors. I could feel my blood boiling. The first thing I thought of is Ronna McDaniel and how she needs to go. We must stop funding the campaigns of RINOs. Next, Kevin McCarthy needs to go, because he's not a "leader" if he allows these communist bills to pass with help from the GOP. All of this occurred on his watch. And finally, we need to be laser-focused on unseating these GOP establishment losers. They're worse than Democrats because they're destroying our chances of even fighting the communist left. So, all of our attention needs to be focused on ousting them.
As Laura points out, we must clean the House – literally and figuratively.
In the end, how ironic, it was 13 House GOP members who bailed out Pelosi and Biden to support the phony infrastructure bill. Excited for the primaries!

— Laura Ingraham (@IngrahamAngle) November 6, 2021
Just look how incredibly stupid and inept the GOP is. Before I went to bed, this is the tweet they sent out:
Pelosi doesn't have the votes.

— House Judiciary GOP (@JudiciaryGOP) November 5, 2021
They were right, Pelosi didn't have the votes until 13 GOP traitors decided to join the communist ranks and help bail out Nancy.
We had them against the ropes, and as usual, the GOP caved. It's stomach-turning.
We need to get really focused and oust these traitors. No excuses.
For example, Fred Upton from Michigan is an establishment globalist. But the good news is, he's being challenged by an America First candidate by the name of Steve Carra, and President Trump has endorsed him. We must all do what we can to make sure Fred Upton loses that race.
MORE NEWS: VIDEO: Doocy Leaves Psaki's Replacement Tongue Tied With This "Mic Drop" Question
Furious Trump supporters have concocted plans to oust these traitors, keeping in mind that three of the GOP'ers who voted are from "very blue" districts.
Take a look:
Kinzinger and Gonzalez are retiring

Katko, Bacon, and Fitzpatrick are in very blueish seats.

But all the rest of them are Republicans running in red seats and could be easily ousted and replaced by another Republican pic.twitter.com/3khjLaegN6

— Ryan James Girdusky (@RyanGirdusky) November 6, 2021
Here's a close-up of the photo.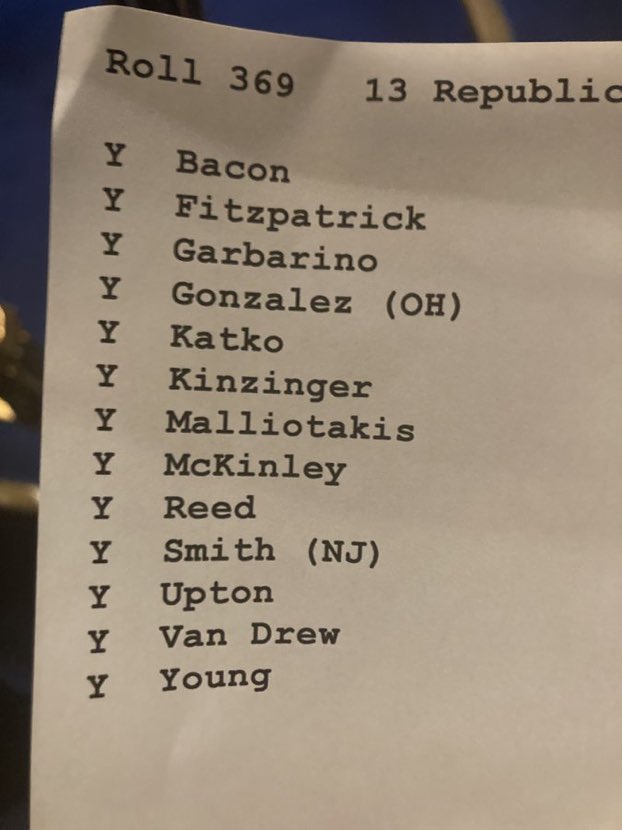 However, even though Kato is from a very blue district, his voting record is abysmal. Here's what Matt Gaetz and Marjorie Taylor Greene said about Kato:
There have been 5 defining votes for Republicans in the 117th Congress:
– Impeachment
– J6 Committee
– Remove MTG
– Bannon
– Biden Spending Bill@RepJohnKatko voted against us on all of them.

He is the GOP lead on the Homeland Security Committee, with support from "Leadership."

— Matt Gaetz (@mattgaetz) November 6, 2021
.@RepJohnKatko is the leader of the Insurrection in the GOP.

Voted for the Big 5.

Impeachment
Remove MTG off committees
J6 Committee
Hold Bannon in contempt
Green New Deal phase 1

Katko: Ranking member on Homeland Security and T&I.

Will he continue to keep his committees?

— Marjorie Taylor Greene 🇺🇸 (@mtgreenee) November 6, 2021
At this point what's the difference between having an "R" in his seat, or a "D"? Not much, if you ask me.
I get it that, much like Manchin, if an R is in a blue district they have to make some concessions, but not like this.
But the plan to remove these traitors moves forward, and this next one is great.
Popular talk show host Jesse Kelly delivered a political "deathblow" to Malliotakis:
My show is on in your district. It's a pretty big show. I'm going to dedicate a significant portion of it to backing your primary challenger and running you out of office.

Just thought you should know. https://t.co/7rNqxvWoht

— Jesse Kelly (@JesseKellyDC) November 6, 2021
It's imperative that we get new GOP leadership. No matter what fancy words Kevin McCarthy strings together, or how many "outrage" tweets he publishes, when the rubber hits the road, he cannot control or lead his army. And if we don't get rid of him, we'll continue to run into these same issues down the road.
The same goes for GOP Chair Ronna McDaniels. She did not back us up when the 2020 election went south. The GOP, under her watch, raised funds based on "election integrity" and the 2020 election and then did nothing with those funds to fight the sham. Is she using those funds to help elect RINOs? Sure feels that way.
It's time for both these inept so-called "leaders" to go. We need a lot of fresh blood in the GOP if we have any hope of beating these communist Democrats and we need to start at the top and work our way down.