Steve Bannon is fired up and he has good reason to be.
It's time to celebrate because our messaging of TRUTH is actually working better than we ever thought.
Explosive new polling has revealed that the right has delivered a political death blow to the left, and as we speak, the entire Dem Party is on the verge of complete and total collapse.
Steve says all we have to do is stay the course and keep doing exactly what we're doing – spreading the truth and we will win.
Does that sound idealistic? Maybe, but what we're doing is working a helluva lot better than we ever thought.
MORE NEWS: [VIDEO] Turn Up The Sound! Listen to This Crowd GO WILD As #FreedomTruckers Pass Through Toronto
As you know, Biden's polling continues to tank. The man has no "bottom" and absolutely no support.
Joe Biden's Approval Index is -31, his all-time-worst.

Trump's worst was -26https://t.co/VUjaEVgjZF#bidenapproval #BreakingPoll@POTUS

Sponsored by @MattPalumbo12
and "The Man Behind the Curtain: Inside the Secret Network of George Soros"https://t.co/ne40TaF1W1 pic.twitter.com/1cZtirBKrP

— Rasmussen Reports (@Rasmussen_Poll) January 17, 2022
Just look how "popular" the most beloved politician in the world is:
Mr. "Most Votes in History"…😂😂😂 pic.twitter.com/ycoLLDQOgK

— il Donaldo Trumpo (@PapiTrumpo) January 17, 2022
But that's just the tip of the iceberg, it's what's happening under the water that has Steve Bannon licking his chops.
Gallup Polling shows the following:
On average, Americans' political party preferences in 2021 looked similar to prior years, with slightly more U.S. adults identifying as Democrats or leaning Democratic (46%) than identified as Republicans or leaned Republican (43%).

However, the general stability for the full-year average obscures a dramatic shift over the course of 2021, from a nine-percentage-point Democratic advantage in the first quarter to a rare five-point Republican edge in the fourth quarter.
So, what does that mean?
Well, this new Gallup poll shows that support for the Republican Party has risen to its highest since 1995 – that's a 9 percent boost since the start of 2021.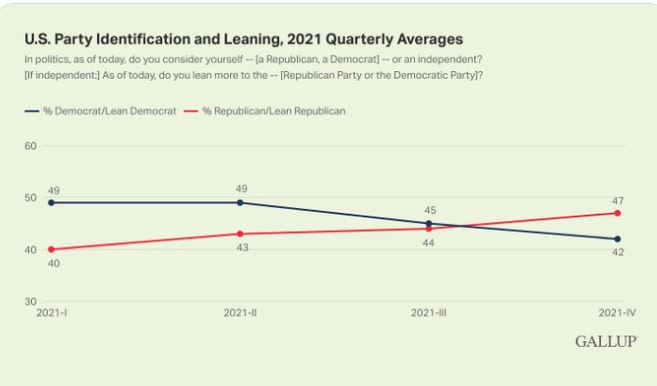 And here's the kicker, here's where our message is winning and absolutely killing the Democrat Party.
From Summit News:
A separate poll conducted by Schoen Cooperman Research finds that the number of Americans who believe Joe Biden legitimately won the election has shrunk by 10 percent since last April.

Now only a narrow majority of 54 percent think Biden won fair and square.

The same poll found that only 26 percent believe democracy "is secured for future generations," while 51 per cent think it's in danger of extinction.
And that's what has Steve the most fired up.
He calls this "divine providence" for a stolen election, and Americans will punish them for it.
You can watch the videos below
Steve Bannon — We have a once in a generation opportunity to destroy the Democrat Party.pic.twitter.com/oXyPX3rOO6

— Citizen Free Press (@CitizenFreePres) January 18, 2022
Watch Bannon break it all down:
As Steve says, now is not the time to take our foot off the gas.
We must continue to pound away at the left's agenda, dangerous policies, elitism, and illegitimacy.
The American people are waking up.
The opinions expressed by contributors and/or content partners are their own and do not necessarily reflect the views of WayneDupree.com
---
---
One of the most dependable websites for original reporting, investigative reporting, and breaking news in the conservative media is now WayneDupree.com. It is the only group combating communist bias in the media and entertainment, and it is its hard news division.
Because the success of our objective is so important to the economy and because leftist media's COVID falsehoods probably cost lives, we need your help. Donate to WayneDupree.com today so that we can keep covering stories that the leftist media won't touch. Your decision to donate $5 per month, $50 per year, or $100 per year will enable us to continue the difficult work of making sure a free and fair media survives in our nation.
[The WDStaff]
SIGN UP HERE
and join us!
---
Follow Wayne on Rumble!