Have you had a hard time finding food items?
For me, grocery shopping has turned into a nightmare. I can't find anything. I am constantly readjusting my menus and recipes. From cream cheese to hash browns to Pilsbury biscuits in a can, I can't find what I need 90 percent of the time, and I am sick and tired of it.
My store shelves are starting to look like something out of a North Korea nightmare.
Is this "Build Back Better"?
If it is, I'd like to stop construction and get my money back, please.
There are signs everywhere that Joe Biden's America sucks.
While the media and Dems try to make it seem like everything's okay, and bare shelves are Russian disinformation, people who live in the "real world" know better.
Things have gotten so bad in Biden's America that some restaurants are now selling chicken wings like they're lobster or crab legs, for crying out loud.
Look:
In Joe Biden's America we price chicken wings like king crab legs pic.twitter.com/ExpXwLaizy

— Josh Culling (@jmculling) January 14, 2022
Market price for chicken wings? You've got to be kidding me. Wings are a "comfort food" and "game day" staple.
So, what's going on with chicken wings? Well, apparently a lot.
I saw this online: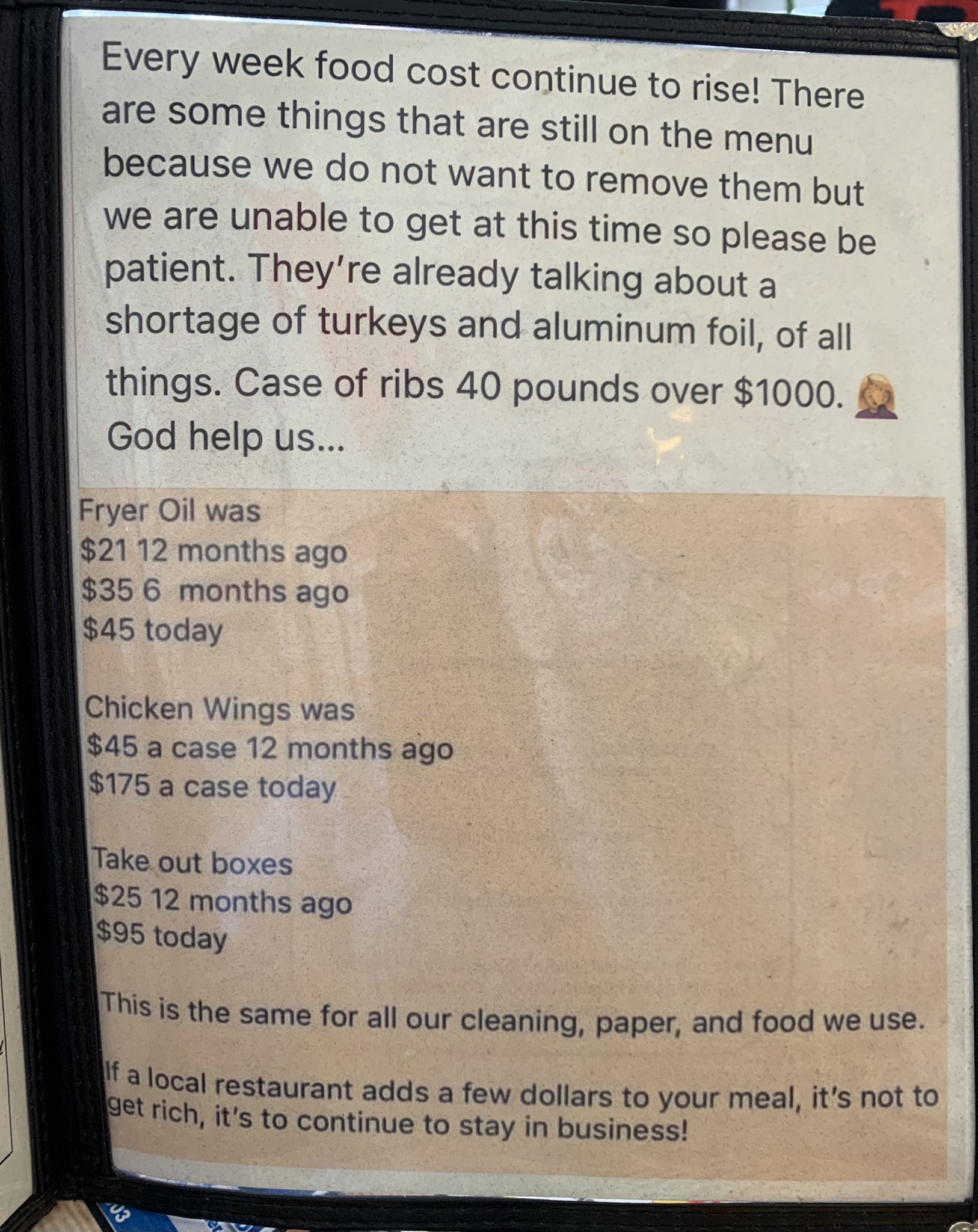 MORE NEWS: Dan Bongino Tells YouTube, "Kiss My A**" in Fiery Email Response After They Suspended His Account 
It's so bad, that Wing Stop has introduced a new item called "ThighStop," as they try to push chicken thighs (until they run out).
The New York Post reported that chicken thighs are the new wings on a growing number of restaurant menus as food prices continue to soar.
The less-desirable darker meat – which is half as expensive as wing and breast meat – is debuting on menus across the country with suppliers reporting double-digit sales increases for thigh meat, according to a report.
Perdue Farms' sales of boneless thigh meat spiked by 15 percent in 2021 while ground chicken – which is made from darker meat – went up by 20 percent, according to The Wall Street Journal.
"That demand has been spectacular," Mark McKay, president of fresh poultry at Perdue, told the Journal.
Some of that demand is coming from chains like Wingstop, which introduced "Thighstop" to its virtual menu in June — and the 900-store chain has plans to make thighs an even bigger part of its offerings.
"We believe we can make thighs a center of the plate item," chief executive Charlie Morrison told investors in November.
Other chains, including Modern Market Eatery and Just Salad and Wing it On, also started selling thighs during the pandemic as wings became difficult and more expensive to source due to labor shortages and the fast food chicken sandwich wars.
When is this going to end? We've been "getting back to normal" for quite some time now, so why are we still dealing with shortages like this that just seem to get worse and worse as the days drag on.
Joe Biden needs to get out there and start explaining this to the American people and let us know, step-by-step what his Handlers are doing to fix it.
It's unacceptable that we have no food on our shelves, and chicken wings are going for "market price" like a dang lobster.
This is yet another reason Joe's polls are tanking. Americans don't enjoy living "Venezuela-style," and using the "pandemic" as an excuse is getting old for many people.
Fix the way you're handling this "pandemic" so you can keep things flowing. Obviously, the old way of doing things didn't work, so adjust and get the food back on our shelves, so we can eat our chicken wings as an affordable snack, not a decadent delicacy.
The opinions expressed by contributors and/or content partners are their own and do not necessarily reflect the views of WayneDupree.com
---
DEAR MEMBERS,
Are you sick of seeing ads? Well then it's time to get rid of them! WayneDupree.com is proud to offer a PREMIUM VIP MEMBERSHIP that eliminates ads and gives you the BEST browsing experience.


SIGN UP HERE and join us!
---
Follow Wayne on Rumble!