The Canadian capital city of Ottawa is flooded with patriots right now.
It looks like a patriotic peaceful freedom revolution, and it's just getting started.
Watch:
Canadian truckers have parked in front of parliament for the night. The main convoy reaches Ottawa in the morning. pic.twitter.com/tPWtMM5O51

— Wittgenstein (@backtolife_2019) January 29, 2022
Here's a live look at Parliament:
Whoa. 12 noon at Parliament Hill.#TruckersForFreedom

— Election Wizard 🇺🇸 (@ElectionWiz) January 29, 2022
Live look at Parliament Hill in Ottawa#TruckersForFreedom2022 pic.twitter.com/MXRrZUG67R

— Election Wizard 🇺🇸 (@ElectionWiz) January 29, 2022
Justin Trudeau said it was a small fringe group that didn't represent Canadians…
MORE NEWS: [VIDEO] Reporter Thinks She's Gonna Spread Fake News, But Mother Nature Has Other Plans
Well, he's probably singing a different tune right now, while he's hiding out in his house.
Because this is not small and it's not fringe, and more and more people are showing their support for the popular movement.
So much so, that they're starting to crack.
The Premier of Saskatchewan is now calling to end the mandates on unvaxxed truckers.
BREAKING: Premier of Saskatschewan, a Canadian province that borders the US, calls for an end of the cross-border ban on unvaccinated truckers.#TruckersForFreedom pic.twitter.com/tKmA8A98x6

— Election Wizard 🇺🇸 (@ElectionWiz) January 29, 2022
Here's a closeup of the letter: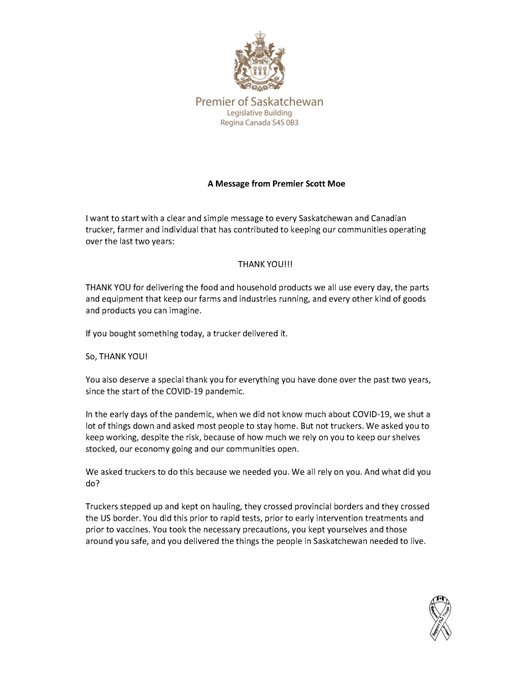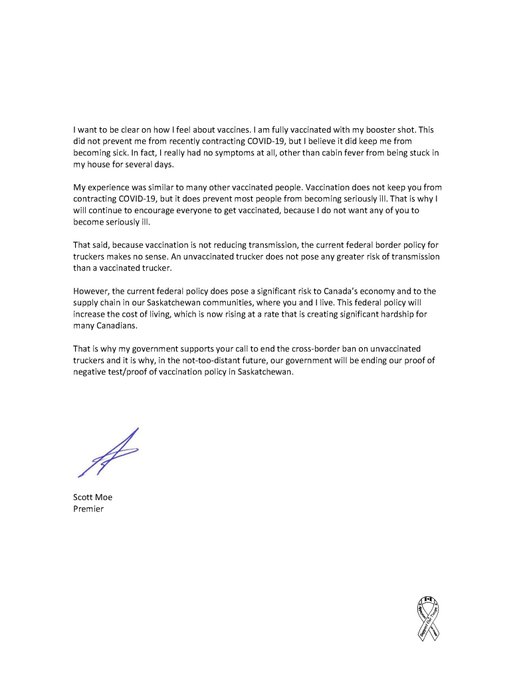 Hold the line, truckers, you've got this!
God Bless the Freedom Truckers and all Canadians who are protesting for freedom.
The opinions expressed by contributors and/or content partners are their own and do not necessarily reflect the views of WayneDupree.com
---
---
One of the most dependable websites for original reporting, investigative reporting, and breaking news in the conservative media is now WayneDupree.com. It is the only group combating communist bias in the media and entertainment, and it is its hard news division.
Because the success of our objective is so important to the economy and because leftist media's COVID falsehoods probably cost lives, we need your help. Donate to WayneDupree.com today so that we can keep covering stories that the leftist media won't touch. Your decision to donate $5 per month, $50 per year, or $100 per year will enable us to continue the difficult work of making sure a free and fair media survives in our nation.
[The WDStaff]
SIGN UP HERE
and join us!
---
Follow Wayne on Rumble!