Have you noticed the left is constantly pushing eating plants, bugs, and living in pods?
It's part of their push to "save the planet."
Apparently, we have to go back to living like cavemen in order to save the planet from exploding in 8-12 years.
So, as a result, fast-food corporate America is putting out all these plant-based options called "Beyond Meat." And if you ask me, it's "Beyond Gross."
MORE NEWS: [VIDEO] Talented Guy With Omicron Sings "80s-Style" Tune About Vax and Moving to Florida
Now, I am not a vegetarian, but I am the type of person who will often order a vegetarian dish while I'm out, or get a vegan cupcake. So, I am not opposed to these selections, if they're good, but I am not eating breaded or grilled industrial sludge to cool the planet by 0.0000000000007 degrees.
But this is what the left is pushing with all this "Beyond Meat" stuff.
And speaking of that, KFC announced yesterday that they're bringing back the "Beyond Chicken Nuggets" for a limited time.
CNET reported that Kentucky Fried Chicken and Beyond Meat have brought back the Beyond Fried Chicken nuggets, a plant-based alternative to the original KFC fried chicken. KFC offers the nuggets in six or 12 pieces, as well as in the fast-food giant's first-ever plant-based combo meal.
KFC originally launched a test run of Beyond Chicken in Atlanta in 2019, when the entire product sold out in five hours. KFC Beyond Chicken relaunched this year on Jan. 10 and is now offered at all US locations.
Here's the bad news if you're a fan of KFC's plant-based creation: It's only available for a limited time. If you're interested in trying the plant-based nuggets, you'll need to act fast before supplies run out.
However, Reddit users weren't impressed with the faux chicken and used terms like "disappointed" and "inedible" to describe it.
But it's the photos of what these things look like on the inside that are creeping people out.
Many people think they look like "deep-fried erasers."
And if you ask me, that's a pretty darn accurate description.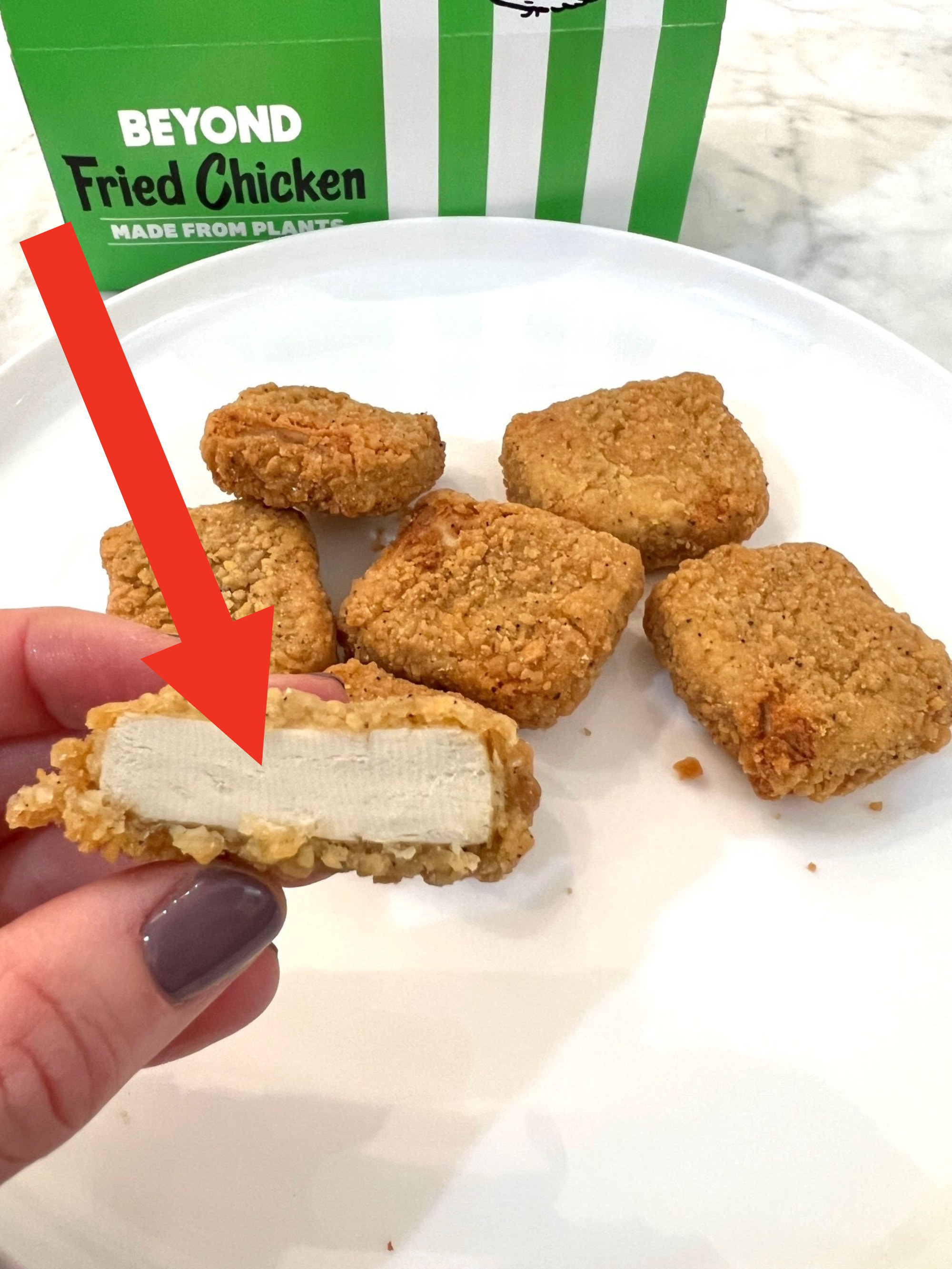 That last photo is a real doozy. Looks like an eraser that got sliced up before it hit the frying oil.
Deeeeelicious!
One guy who ate them actually compared them to a stiff "memory foam" mattress.
YUM!
One reviewer from Mass Live wrote:
From a distance, they look the part of a chicken nugget — craggly and roughly rectangular. But once you bite into them, the difference is pretty clear. The meatless protein has a surprising amount of density and resistance when you bite into it. It's like flopping into a memory foam mattress. You think it's going to be soft — until you're hit with a surprisingly firm "whomp" before eventually sinking in. Instead of actually juicy meat and 11 herbs and spices, you get a surprisingly resilient block of stamped protein.
I have to say; they look utterly disgusting.
The reviewer goes on to say:
It's like the nugget slams the brakes in your mouth every time you try to take a bite. Taste-wise, it's a pretty generic block of protein that goes down like a chunk of denser, grittier tofu.
Good lord.
And they're basically the same exact calories and fat content as the "meat" options, so I am not sure what the point is, except if you're a vegetarian, and still want to pretend to eat "meat."
But get used to this type of stuff, as liberals and their stooges in corporate America work hand-in-hand to get all of us to eat plants and bugs in order to "save the planet."
The opinions expressed by contributors and/or content partners are their own and do not necessarily reflect the views of WayneDupree.com
---
DEAR MEMBERS,
Are you sick of seeing ads? Well then it's time to get rid of them! WayneDupree.com is proud to offer a PREMIUM VIP MEMBERSHIP that eliminates ads and gives you the BEST browsing experience.


SIGN UP HERE and join us!
---
Follow Wayne on Rumble!