It was a sad day when we lost Norm Macdonald. He was a voice of reason and knew how to use sarcasm to get his political point across so brilliantly.
So, today, as we sit here watching shameless, phony commie Dems turn January 6th into a political sideshow, it's good to keep things in perspective and remember how NORMAL/SANE people think.
No matter what Ted Cruz says, the people who were at the capitol on January 6th, were NOT terrorists.
Did some stuff get out of hand? Sure. That's what happens when a lot of frustrated people are gathered in one spot, especially when the left and feds are there to egg everybody on and poke the bear.
But overall, given the huge number of people who were in DC on January 6th and how short the melee lasted, it truly was a mostly "peaceful" protest.
MORE NEWS: We Now The Person's Name Who's Behind The Left's January 6th "Candle Light Vigil" Set For Today
Sadly, some folks got out of hand, but that happens, it's truly not the end of the world. The saddest thing that happened that day was the death of unarmed vet Ashli Babbitt.
Take a look at this clip and tell me if you think these people are looking or acting like "terrorists," as Ted Cruz and the Dems call them:
Two cameras, 40 minutes.

New Capitol surveillance footage shows a breach by Jan. 6 rioters from start to finish:https://t.co/i9AzE502yX pic.twitter.com/t9TKdIhCl0

— Zoe Tillman (@ZoeTillman) October 18, 2021
Most people were invited in and they were respectful and kind.
They even took selfies with cops.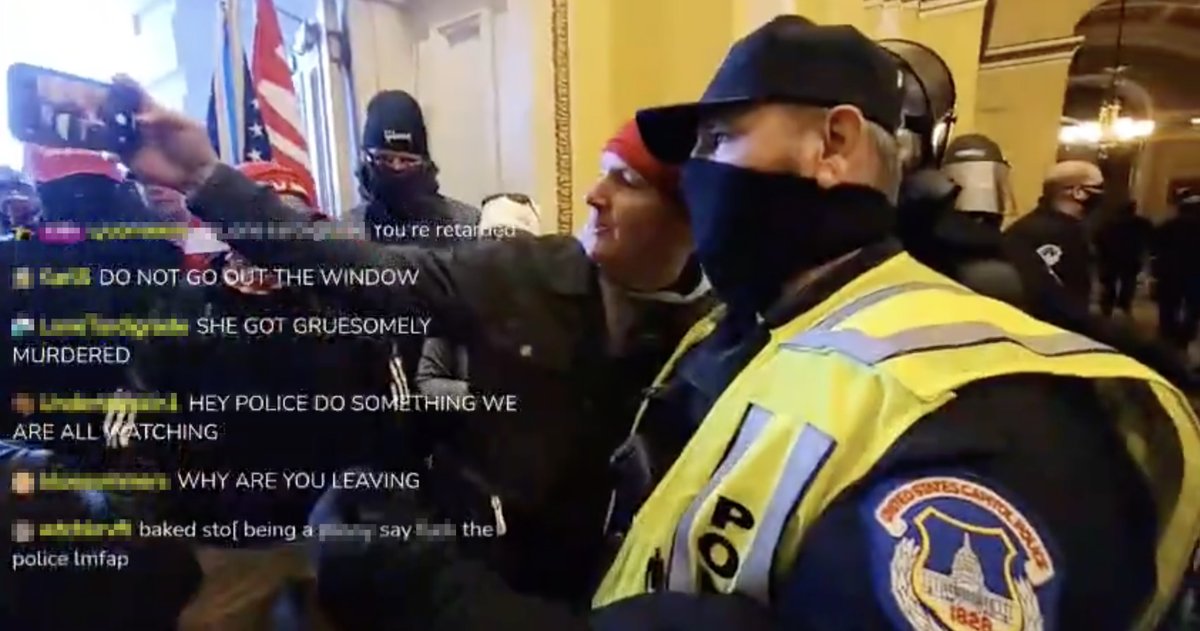 So, beloved Norm, who we all miss terribly, put out a perfect tweet back on January 6th, at 437 pm. and it blew a hole in Dems "terrorist" narrative then, and now.
It said:
"I loved when the violent terrorists made sure to repacked the velvet rope in Statuary Hall"
Missing you, Norm. pic.twitter.com/0affIanueY

— Norm Cruise, Professor of Logic (@OddlookingDuck) January 6, 2022
This is what Norm was referring to. Orderly folks walking along, as if they were on a tour of the Capitol, and most of them probably thought they were.
January 6. Unarmed, peaceful "insurrectionists" casually stroll between the velvet ropes on their Capitol tour as police stand by… pic.twitter.com/X6aL6OZ1sD

— EARTH AID CONCERT (@earthaidconcert) August 5, 2021
There was no insurrection at the Capitol.
Nobody has ever been charged with any crime remotely tied to "insurrection."
Trump supporters did not unleash a "terror attack" at the Capitol.
Nobody has ever been charged with any crime remotely tied to terrorism.
This is just more political theatre from the left.
They're using January 6th to bring down President Trump and make it so he can never run for office again.
And there it is… This is what it's always been about folks. https://t.co/6J4wehKcgv

— Donald Trump Jr. (@DonaldJTrumpJr) January 6, 2022
They also trying desperately to distract from Joe Biden's ungodly poll numbers and the fact that Americans loathe him and his failed policies.
The opinions expressed by contributors and/or content partners are their own and do not necessarily reflect the views of WayneDupree.com
---
DEAR MEMBERS,
Are you sick of seeing ads? Well then it's time to get rid of them! WayneDupree.com is proud to offer a PREMIUM VIP MEMBERSHIP that eliminates ads and gives you the BEST browsing experience.


SIGN UP HERE and join us!
---
Follow Wayne on Rumble!