Comcast executive Ryan A. Bell has caused a major uproar online, after he tweeted out a disgusting message about Ashli Babbitt, an unarmed female vet who was shot and killed by Cap police officer Michael Byrd inside the Capitol on January 6th.
It never ceases to amaze me how these unhinged, emotionally unbalanced liberals cannot control their emotions and tweet out some of the most disgusting garbage you've ever read, and then delete it later and say things like, "I got carried away…" or whatever nonsense excuse they come up with.
It's like a sickness or mental disorder or something. They are so consumed with hate, they can't control themselves, and that's really scary.
And that's precisely what the Marketing Director at Comcast SportsTech did.
MORE NEWS: [VIDEO] Jill and Joe's New Years "Toast" Reminds Many People of Another Infamous Couple
His name is Ryan A. Bell, and he tweeted out something so vile and disgusting, that he eventually deleted it.
But, as you all know, the internet is forever.
Human Events editor in Chief Jack Posobiec captured the screenshot of Ryan's vulgar tweet and asked him why he deleted it.
Here's Jack's Tweet where he tagged Comcast, asking if they believe all Trump supporters are "white trash" and deserve to be killed.
Hi Comcast Executive @Ryan_A_Bell! Why did you delete this?

Does @comcast believe all Trump supporters are 'white trash' who deserve to be killed? pic.twitter.com/GAn9oXkRqg

— Poso is on Gettr (@JackPosobiec) January 3, 2022
Here's a close-up of Mr. Bell's now-deleted tweet. He was commenting on a hit piece written about her.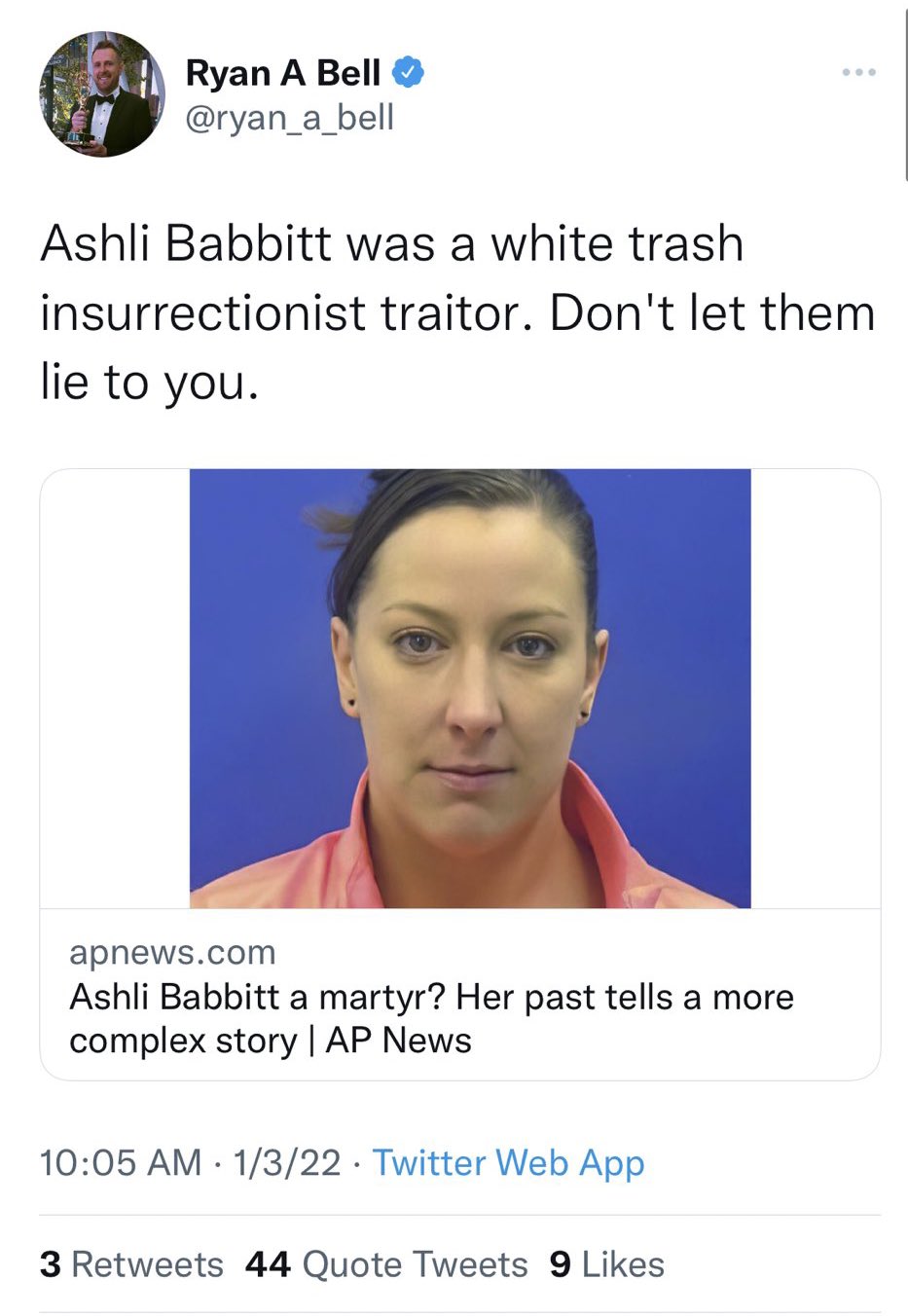 This is Ryan Bell's Linkedin profile where he lists his job at Comcast SportsTech.
Many people are outraged over Mr. Bell's vulgar tweet, and rightfully so.
A lot of folks online were asking for a way to contact Comcast executive offices directly so they can voice their concern over what one of their top guys in charge said about Ms. Babbitt.
I looked it up and they have a phone number listed online. You can find that information HERE.
Here is a screenshot of that public information and web page:
Let's hope Comcast does something about this, because what Mr. Bell tweeted is vile, and no s0-called "professional executive," who is representing a large American company that services MANY diverse people should spew filth like that about anybody, I don't care what their politics are.
It should be noted that Mr. Bell lists COMCAST as his workplace on his verified Twitter account.
This is the same account that he used to tweet that disgusting message.
It's time that corporate America learns we don't want their opinion on political matters, especially if they can't be decent human beings about it.
We have enough division in this country, we certainly don't need COMCAST and their executives making it worse.
The opinions expressed by contributors and/or content partners are their own and do not necessarily reflect the views of WayneDupree.com
---
---
One of the most dependable websites for original reporting, investigative reporting, and breaking news in the conservative media is now WayneDupree.com. It is the only group combating communist bias in the media and entertainment, and it is its hard news division.
Because the success of our objective is so important to the economy and because leftist media's COVID falsehoods probably cost lives, we need your help. Donate to WayneDupree.com today so that we can keep covering stories that the leftist media won't touch. Your decision to donate $5 per month, $50 per year, or $100 per year will enable us to continue the difficult work of making sure a free and fair media survives in our nation.
[The WDStaff]
SIGN UP HERE
and join us!
---
Follow Wayne on Rumble!