We didn't think we'd get news today about Biden's unconstitutional vax mandate, but it happened.
The high court just blocked Biden's OSHA vaccine mandate.
The Supreme Court granted a stay against the OSHA vaxx mandate pending the full appeal making its way through the 6th Circuit/SCOTUS. Kagan, Sotomayor, and Breyer dissented.

SCOTUS refused to stay the Medicare/Medicaid vaxx mandate, w/ Kavanaugh joining the court's 4 liberals.

— Sean Davis (@seanmdav) January 13, 2022
Only Breyer, Kagan, and Sotomayor dissented on the OSHA mandate
MORE NEWS: Biden's Atlanta Speech Was So Bad, Top Democrats Are Now Throwing Him Under The Bus
The OSHA COVID-19 vaccine mandate has been stayed by the Supreme Court.
The Court agrees that the OSHA mandate "likely" exceeds "OSHA's statutory authority and is otherwise unlawful."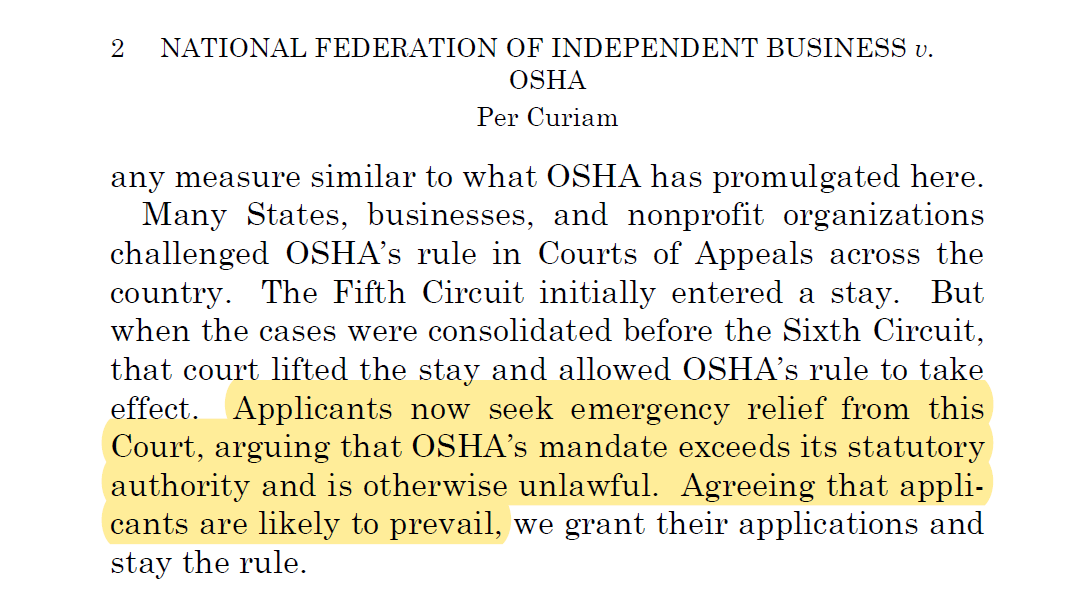 Here's what happened:
The court let a separate rule take effect requiring shots for workers in nursing homes, hospitals and other facilities that receive Medicare and Medicaid payments from the federal government.

The OSHA ruling limits Biden's options for increasing the country's vaccination rate as the omicron variant propels a spike in cases. The U.S. Centers for Disease Control and Prevention says only 63% of the country is fully vaccinated and of that group just 37% have received a booster shot. More than 800,000 people in the U.S. have died from the virus.

"Although Congress has indisputably given OSHA the power to regulate occupational dangers, it has not given that agency the power to regulate public health more broadly," the court said in an unsigned opinion. The court's three liberals — Justices Stephen Breyer, Elena Kagan and Sonia Sotomayor — dissented.

The decision is a victory for 26 business groups and 27 Republican-led states that sued to challenge the OSHA policy, saying it exceeded the workplace-safety agency's authority.
Here are reactions from conservatives online:
"Let's Go Brandon!" 
"Wow, he's really on a winning streak this week."
"A win for the Constitution and Liberty. A loss for the out-of-control, totalitarian Executive branch. They never had this authority."
"A great day for America"
"but not for federal health care workers….incomplete freedom"
"Between this and Sinema reaffirming her unwillingness to end the filibuster, it's been a pretty good day."
"Now to get rid of the health care worker mandate and our work here will be done. On to mid-terms"
"Just ANOTHER LOSS FOR BIDEN! RACKING THEM UP PRETTY QUICKLY!"
"This is a huge win!!!"
"I was scared,they were not going to do the thing"
"Lol libs getting wrecked all over the place" 
"Now onto vax passports and masks"
"get ready for Libtards and @CNN @MSNBC to start screaming about need to pack SCOTUS to fix Trump choices"
"Joe Biden, your administration is a unmitigated disaster. You and Kamala must resign."
"America saved a piece of herself today"
It's been a very bad week for Joe Biden.
Let's keep fighting to make the rest of his weeks even worse.
The opinions expressed by contributors and/or content partners are their own and do not necessarily reflect the views of WayneDupree.com
---
---
I'm glad you're here, WayneDupree.com comments! Please maintain polite and on-topic conversations. You could see comments from our Community Managers, who will be identified by a "WD Staff" or "Staff" label, in order to promote fruitful and civil discussions. We stop accepting comments on articles three days after they are posted in order to provide the optimal user experience. The conversations forums on WayneDupree.com welcome comments for an unlimited period of time. For further information, please refer to our community policies.
SIGN UP HERE
and join us!
---
Follow Wayne on Rumble!