If you thought Joe Biden was done making a mess of things, you were wrong.
He's got a whole new mess on his hands, and the entire world is pissed-off.
Once again, Joe and his sidekick Mayor Pete have mishandled another situation, and it has turned into a worldwide mess.
Japan, India, and Emirates airlines cancelling flights to the US over 5G activation near airports. Mayor Pete AWOL

Biden says Verizon and AT&T will now indefinitely delay rollout – what did he offer them?

Will anyone ask Joe about this at his presser today??@WHCOS @PressSec

— Jack Posobiec 🇺🇸 (@JackPosobiec) January 19, 2022
Americans want to know why the White House waited 24 hours before the catastrophe, to step in and stop it?
MORE NEWS: Something Very Interesting Happens When You Type "The Narrative is Crumbling" Into Google
Why weren't they ON THIS earlier?
And what was the "deal" they struck to stop the rollout?
Watch:
Don't worry about the Airlines and the 5G issue tomorrow The Biden Group is on it 🤦🏻‍♀️ pic.twitter.com/a2P7tfJmWh

— Jilly⚡️XRP 🚀🔴🇺🇸🙏🏼 (@JillRTeamXRP) January 19, 2022
Now, the entire world is scrambling after they were canceling flights to avoid any issues with the 5G towers.
And like I said, everyone's furious: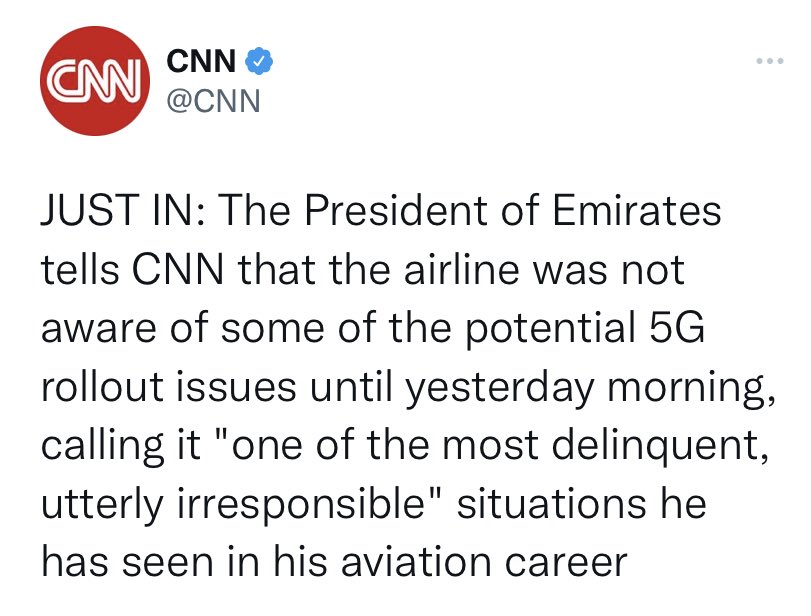 The Independent reported that major international airlines have begun cancelling flights to the United States after the Federal Aviation Administration raised concerns about 5G wireless towers near airports.
Emirates, Air India, Japan Airlines and All Nippon Airways announced it would suspend flights after the Airlines for America trade group pressured the Biden administration over "catastrophic disruption" due to the scheduled 19 January rollout.
Wireless telecom giants AT&T and Verizon announced the activation of 5G towers near some US airports would be delayed for two weeks to resolve the differences.
The high-speed 5G internet uses so-called C-band frequencies close to those used by aircraft to measure their altitude, with the Federal Aviation Administration (FAA) warning potential interference could affect sensitive aeroplane instruments such as altimeters and significantly hamper low-visibility operations.
And United Airlines has had it, and is now telling Americans to complain to the US government.
Here's what United Airlines said about the 5G rollout in a fiery statement:
"Your flight is delayed due to potential interference caused by the implementation of a new 5G signal by telecommunications systems near Denver International Airport and its possible impact on aircraft equipment.

"If you have any concerns, please address them with the Federal Communications Commission here."
Joe Biden's America is a scatterbrained, unprepared, bumbling mess.
Just like he is.
The opinions expressed by contributors and/or content partners are their own and do not necessarily reflect the views of WayneDupree.com
---
---
One of the most dependable websites for original reporting, investigative reporting, and breaking news in the conservative media is now WayneDupree.com. It is the only group combating communist bias in the media and entertainment, and it is its hard news division.
Because the success of our objective is so important to the economy and because leftist media's COVID falsehoods probably cost lives, we need your help. Donate to WayneDupree.com today so that we can keep covering stories that the leftist media won't touch. Your decision to donate $5 per month, $50 per year, or $100 per year will enable us to continue the difficult work of making sure a free and fair media survives in our nation.
[The WDStaff]
SIGN UP HERE
and join us!
---
Follow Wayne on Rumble!