CNN is imploding right before our very eyes.
From child molesters to womanizers the entire operation is crumbling.
And nobody deserves it more than this toxic "CIA propaganda" network.
MORE NEWS: [VIDEO] Former CBS Reporter "One Mule Made 53 Trips to 20 Different Ballot Boxes"
Now, we just got word that CNN top-guy Jeff Zucker has resigned.
And it's over a "work relationship" that was uncovered during the Chris Cuomo investigation.
Take a look at who Jeff was "fraternizing" with. Things that make you go hmmm.
But it wasn't just any co-worker: It was Andrew Cuomo's former comms director!

— Greg Price (@greg_price11) February 2, 2022
CNN seems more like "Studio 54" than a serious news operation, right?
Jeff just issued a statement about his departure.
🚨🚨🚨BREAKING: Jeff Zucker just resigned from CNN due to a relationship with a colleague revealed as part of the investigation into Cuomo. pic.twitter.com/f09rm4HVQd

— Greg Price (@greg_price11) February 2, 2022
Here's a closeup of Jeff's announcement: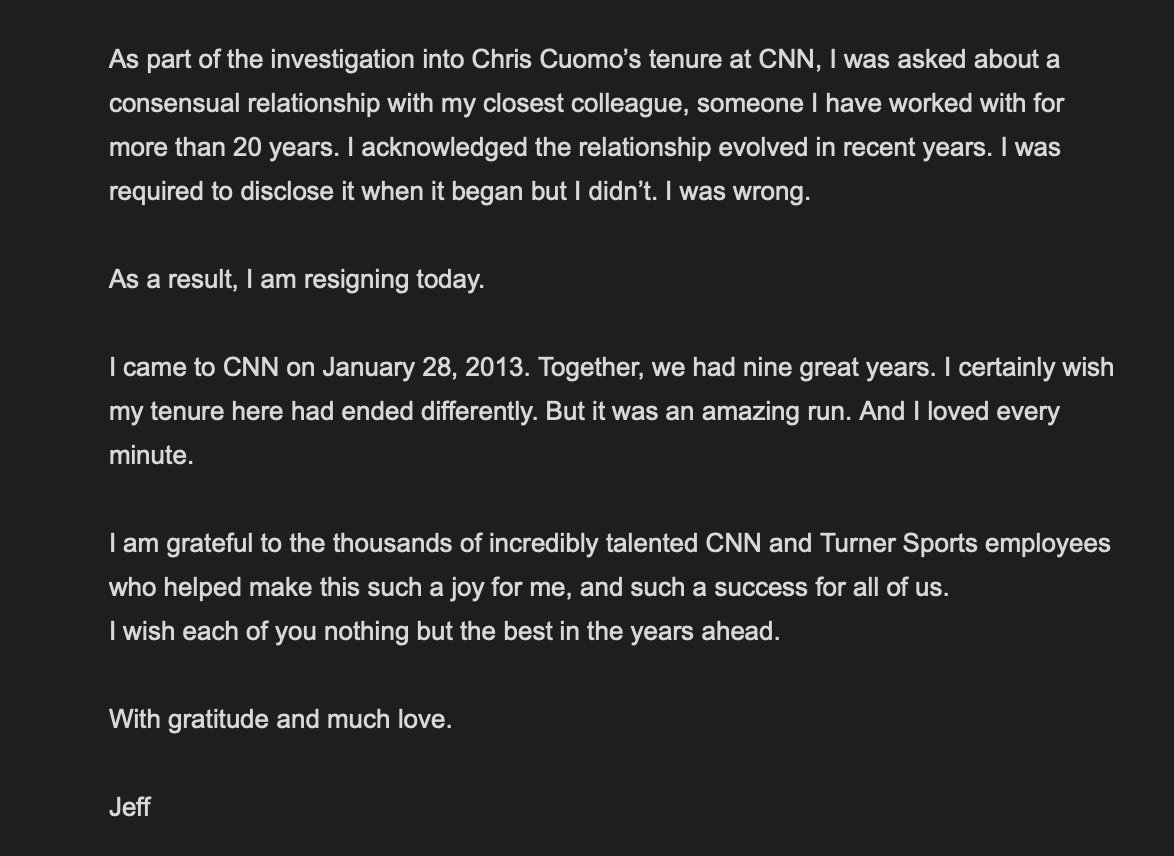 All of this "house cleaning" is following an announcement that Discovery is taking over the network and wants to move everyone and everything in a new direction.
Their goal is to get away from the "fake news" and "drama."
So, it only makes sense that moves like this are happening.
I'd expect we'll see a lot more "departures" like this coming up in the near future.
The opinions expressed by contributors and/or content partners are their own and do not necessarily reflect the views of WayneDupree.com
---
---
One of the most dependable websites for original reporting, investigative reporting, and breaking news in the conservative media is now WayneDupree.com. It is the only group combating communist bias in the media and entertainment, and it is its hard news division.
Because the success of our objective is so important to the economy and because leftist media's COVID falsehoods probably cost lives, we need your help. Donate to WayneDupree.com today so that we can keep covering stories that the leftist media won't touch. Your decision to donate $5 per month, $50 per year, or $100 per year will enable us to continue the difficult work of making sure a free and fair media survives in our nation.
[The WDStaff]
SIGN UP HERE
and join us!
---
Follow Wayne on Rumble!