Remember when Trump was in the White House, and the commie "resistance" was born?
The left went nuts; they were foaming at the mouth, angry, and even violent. Their movement was about hate, canceling, and this bloodthirsty vengeance, all because they lost an election thanks to a crooked, unlikeable candidate.
The left had no joy in their souls. They were not happy warriors – they still aren't, even when they supposedly "won."
MORE NEWS: Rep Boebert Takes a Break From Shredding Dems and Goes After Trudeau With a Vengeance
These commies are so bitter, hateful, and evil, that even in s0-called "victory" they act like flesh-eating zombie ghouls.
But we're not like that. Trump supporters are "happy warriors." Sure, we're watching our country go down the toilet and our freedoms squashed by a man who appears to have a raging case of Alzheimer's, yet we're still having fun and laughing.
And speaking of "fun and laughs," Don Jr. just shared something on Instagram that I know you'll love.
It's a street sign spotted in Worcester, Massachusetts…Some amazing patriots did some "artwork" on it, and I think they did a great job.
Don broke the internet when he shared it. Over 171K people liked it.
😂😂😂 pic.twitter.com/O60JTvPZf7

— Libs of Tik Tok (@libsoftiktok) February 17, 2022
Here's a closeup: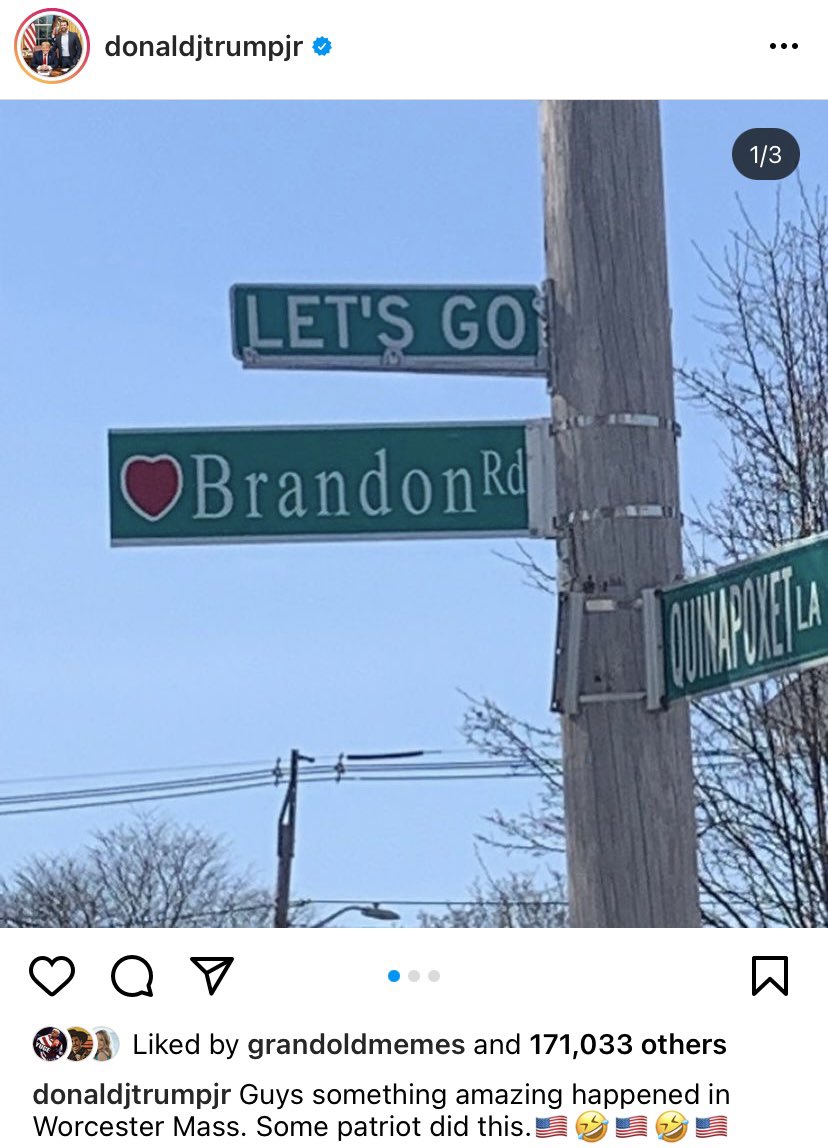 There's a spirit of righteousness and good cheer in our battle.
The entire "Let's Go Brandon" movement shows that perfectly.
That doesn't mean we're not serious and don't understand what's at stake, we do.
Our entire country and our way of life is on the line.
But we're having fun and making a lot of friends along the way, and I think that drives the left mad, and that's part of the reason they're still SO ANGRY.
So, keep it up.
Battle like a savage, but do it with a happy heart.
The opinions expressed by contributors and/or content partners are their own and do not necessarily reflect the views of WayneDupree.com
---
---
One of the most dependable websites for original reporting, investigative reporting, and breaking news in the conservative media is now WayneDupree.com. It is the only group combating communist bias in the media and entertainment, and it is its hard news division.
Because the success of our objective is so important to the economy and because leftist media's COVID falsehoods probably cost lives, we need your help. Donate to WayneDupree.com today so that we can keep covering stories that the leftist media won't touch. Your decision to donate $5 per month, $50 per year, or $100 per year will enable us to continue the difficult work of making sure a free and fair media survives in our nation.
[The WDStaff]
SIGN UP HERE
and join us!
---
Follow Wayne on Rumble!