Hillary Clinton has been lying low for the past couple of days after the Durham indictment was made public that alleged her campaign actually PAID to spy on candidate and President Trump.
But, she's baaaack…
Hillary can never stay away for too long, this woman craves attention and power way too much.
The ironic thing is that she made her reappearance on a podcast about "saving democracy."
MORE NEWS: [VIDEO] Tucker's Guest Reveals Most Disturbing Part of Hillary's "Spy Scandal" That Nobody's Talking About Yet
Many think that's pretty rich, given Hillary's alleged treasonous acts and her coup attempt.
But besides all that predictably hypocritical nonsense, the internet brutally mocked Hillary over a screenshot from the podcast, where she looks positively frightful.
Also, take a look at what people are calling Hillary's basement "setup…" What's with that strange Burka imagery behind her?
Needless to say, Hillary got walloped.
And as we all know by now, nothing triggers and destroys elites more than a good old-fashioned mocking.
Here's the photo:
Actual current photo of Hillary doing a podcast. pic.twitter.com/LvYaY3r3iy

— Brick Suit (@Brick_Suit) February 15, 2022
The funniest part is that Hillary posted the image on her Twitter account.
This woman lacks self-awareness.
In her tweet, Hillary is wondering how we fix a "democracy in crisis…"
Well, my first solution would be to arrest Hillary Clinton.
Our democracy is in crisis. How do we fix it?

Join me for conversations with two people doing the work at the state and local level: Judge @LinaHidalgoTX and Ohio-based political strategist @DavidPepper.

Hear You & Me Both wherever you get your podcasts. https://t.co/2V8k8SAAlI pic.twitter.com/zLKKVfN3oC

— Hillary Clinton (@HillaryClinton) February 15, 2022
Here are just some of the hilarious comments from folks online:
"She manages to make even a mic stand go limp"
"The supply chain shortages are apparently impacting young blood transfusions."
"The phrase "rode hard and put away wet" comes to mind…."
"Fixed it. #LockHerUp #LockThemAllUp"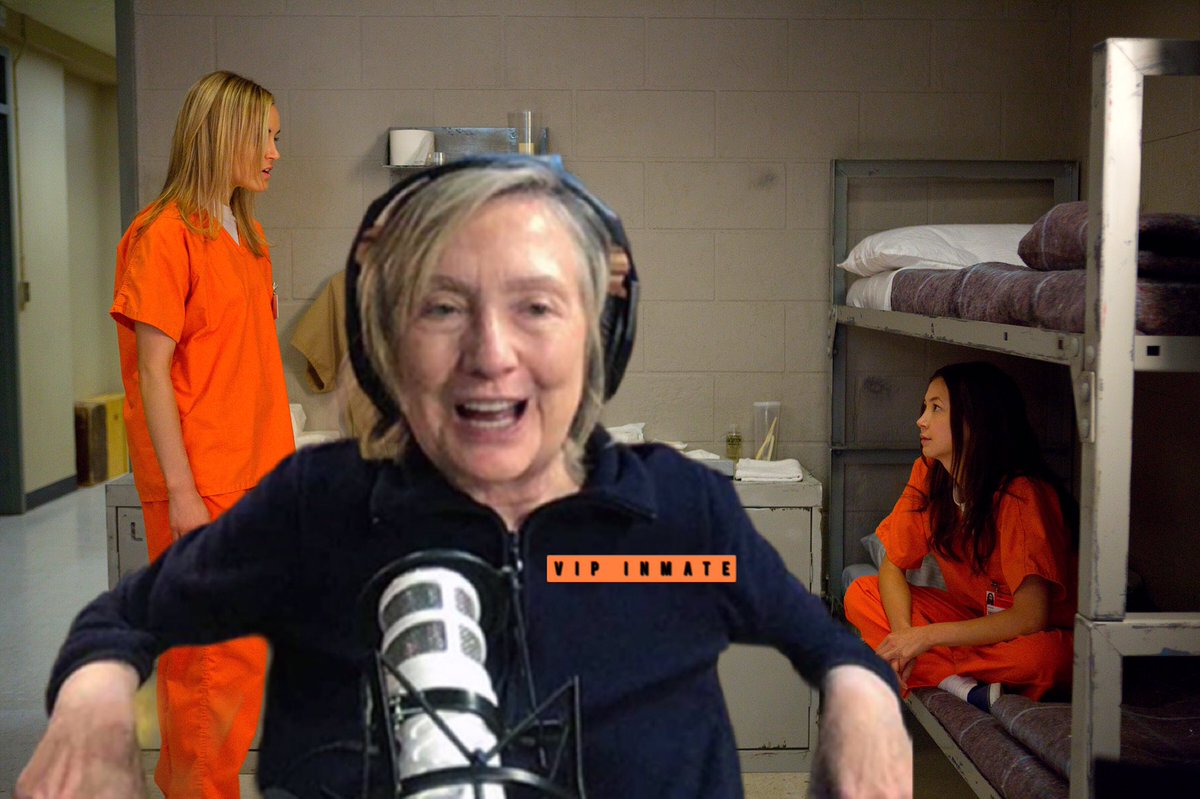 "what the hell is that picture in background."
" I thought this was Joe Biden's Mom."
"Good Lord she looks like hell" 
"Is that a dude?"
"Please tell us she DOES NOT have a picture of a woman wearing a burka in her basement."
"Why on earth is that weird picture behind her?" 
"I've heard rumors she is hygienically nasty."
"Is this Hillary's basement lair?"
"Not a good look @HillaryClinton. We can see the broken blood vessels on your nose from the booze."
"Here comes a lush to save democracy!"
"You know what would look better with that photo? PRISON BARS LOL" 
"You have to give her "some" credit. I mean, at least she took the time to put her teeth in before going out."
"Glad you told me it was Hillary. I was wondering why Jabba the Hut was going a podcast."
"What's the point of going through all that trouble for Adrenochrome if you're still gonna look like a cauliflower when you're old. Trump lives off of Taco Bowls and Diet Coke and looks much better for his age than this one…"
"They call her Killary for a reason!"
"She has a perfect face for radio."
Hillary thinks that her friends in the media and Dems will protect her, and she's probably right about that… for now.
Because a new poll out shows that a majority of Dems who've been following the Russia hoax from start to finish would like to see Hillary investigated for her part in the mess.
That could spell very bad news for Hillary; as The Swamp is not known for their "loyalty" in times of crisis, are they?
The opinions expressed by contributors and/or content partners are their own and do not necessarily reflect the views of WayneDupree.com
---
DEAR MEMBERS,
Are you sick of seeing ads? Well then it's time to get rid of them! WayneDupree.com is proud to offer a PREMIUM VIP MEMBERSHIP that eliminates ads and gives you the BEST browsing experience.


SIGN UP HERE and join us!
---
Follow Wayne on Rumble!