Hollywood was shocked by the "slap" heard 'round the world when Will Smith walked on stage and slapped Chris Rock's face after he made a joke about Jada Pinkett Smith's buzz haircut.
Will Smith's wife has Alopecia, a disease that causes hair loss, and Chris Rock made a joke about it, and called her "GI Jane."
Will Smith laughed at the joke at first but then realized his wife was actually pissed off and went on stage and lost his marbles.
MORE NEWS: Conservative Flips The Will Smith/Chris Rock "Oscar Slap" On Its Ear With One Brilliant Observation
Watch:
One moment you're laughing hard at a joke targeted at your wife. The next moment you're slapping Chris Rock.

Will Smith deserves a separate Oscar Award for this switch in character. pic.twitter.com/htUJURg27I

— St. Oracle🇳🇬🇳🇬 (@call_me_oracle) March 28, 2022
Some people think it was "staged," but I am not convinced of that.
Although, I am wondering now, what with all the fake stuff that's floating around the internet.
Granted the moment definitely felt like a real awkward cringe moment of a husband trying his best to weasel out of getting in big trouble with his wife.
But there are photos going mega-viral that are not real.
For example, there's a collection of some of the best "looks" of horror by stars in the audience… it's very funny, but there's one problem… It's not real.
Well, it's real, but it's about another "shocking" Oscar moment that happened back in 2017.
Here's the viral photo: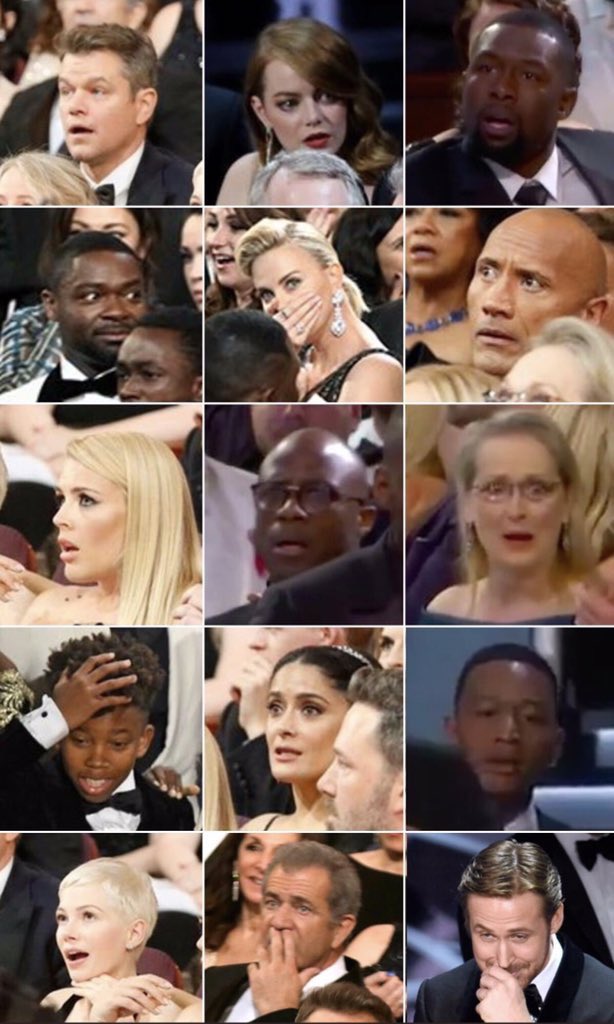 Yes, these actors are all shocked, but this photo is actually from 2017 when the wrong "best picture" was announced:
It was the gasp heard 'round the world: a sharp, near-simultaneous intake of breath from the audience at the Dolby Theatre after La La Land producer Jordan Horowitz stopped his colleagues' acceptance speeches to make this announcement: "There's a mistake. Moonlight, you guys won Best Picture."
This is the moment when it happened:
And here's the crowd photo:
The reaction to the Best Picture mistake, zoom in and enjoy, Meryl and Matt are my personal faves #Oscars pic.twitter.com/WhvZ35aPAF

— danielle (@taronegertuns) February 27, 2017
If the Will Smith/Chris Rock slap was real, I am sure we'll see actual looks of horror from the audience, not fake images from 2017.
I found this one of Nicole Kidman, and it's 100 percent real.
It just goes to show, you cannot believe everything you see on the internet.
The opinions expressed by contributors and/or content partners are their own and do not necessarily reflect the views of WayneDupree.com
---
DEAR MEMBERS,
Are you sick of seeing ads? Well then it's time to get rid of them! WayneDupree.com is proud to offer a PREMIUM VIP MEMBERSHIP that eliminates ads and gives you the BEST browsing experience.


SIGN UP HERE and join us!
---
Follow Wayne on Rumble!