If you haven't seen President Trump's hilarious statement on the collapse of CNN+, you don't know what you're missing.
There's so much packed into this short statement, I really don't know how he does it.
As you likely know, CNN+ is the much-ballyhooed streaming service that debuted about 3 weeks ago.
Former CNN President Jeff Zucker, who is also the man who ran CNN into the ground and turned it into a laughingstock of fake news and CIA propaganda started the ego-driven project that was doomed to fail.
After all, why in God's name would people PAY to watch CNN, when they weren't watching it for "free?"
I still don't understand why this didn't dawn on anyone over there… it seems like a pretty obvious hurdle to me.
MORE NEWS: New York Times Just Realized President Trump is More Popular Than Ever… And They Sound Worried
Also, ya gotta wonder what Chris Wallace was smoking when he left his highly respected gig at Fox News to join up with the network that has the single worst reputation of any cable news network on the planet… obviously, the biggest bonehead "career move" ever.
Why would you leave Fox News to become a turd floating in the CNN toilet bowl?
Anyway, Zucker got fired by the new Discovery owners, and after 3 weeks on the market, CNN+ could not attract any attention and the new owners threw the whole project in the trash heap.
Ouch.
The biggest blow CNN has ever taken, and trust me, many people are doing a happy jig on their grave, and rightfully so… CNN is responsible for turning this country into a bigger divisive, chaotic mess than ever before.
Well, President Trump chimed in on the collapse of CNN+, and as you can imagine, it was a barn burner statement.
Look: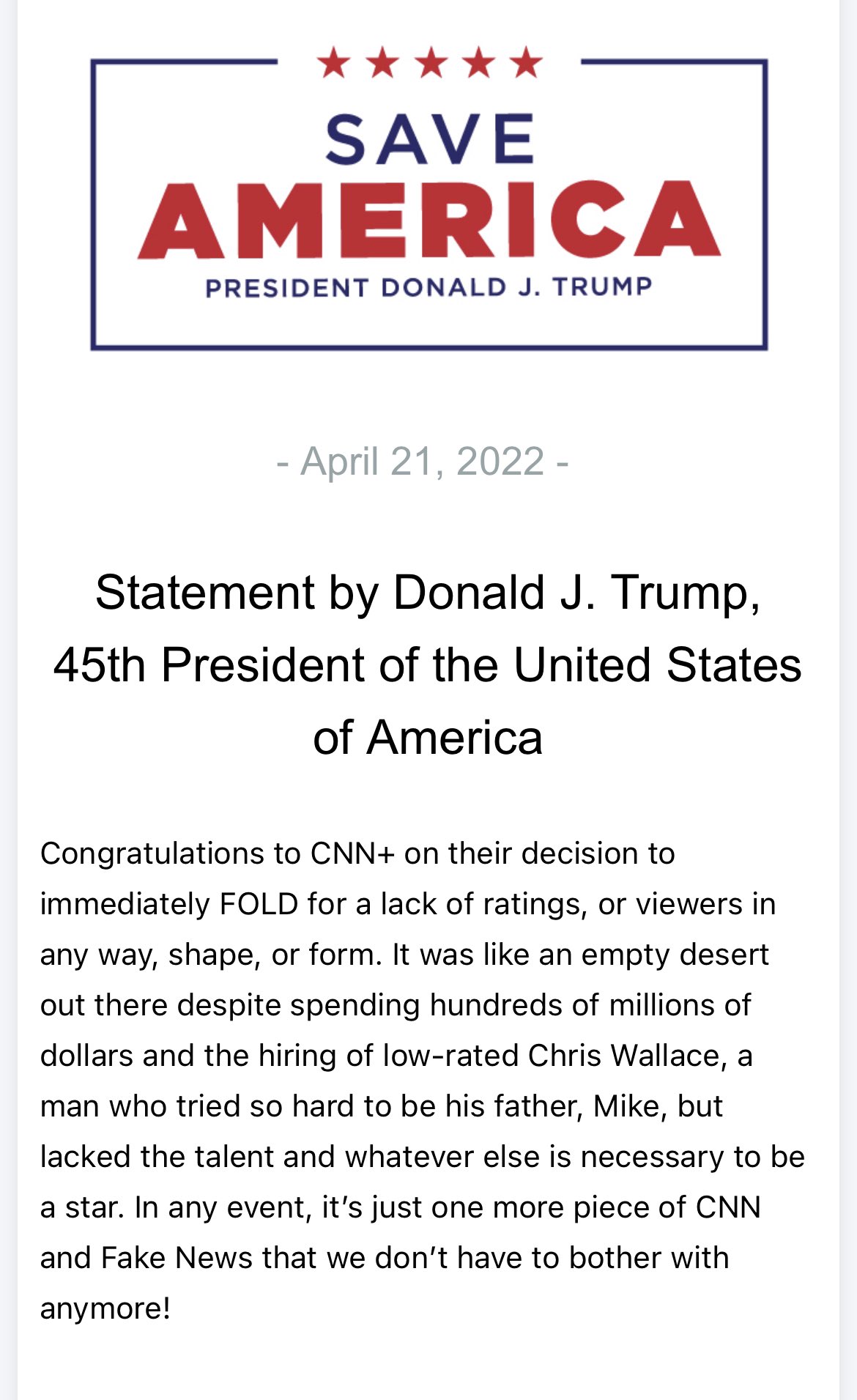 I love the extra jab at Chris Wallace, who turned the first 2020 presidential debate into a complete and total joke when he worked so hard to defend Joe Biden, that HE was debating President Trump more than Biden was.
Stage 5 TDS has driven Chris Wallace mad.
He ruined his reputation, his career, and his personal life (he now has no job), all because of his misguided hatred for all things "Trump."
Great statement from President Trump!
The opinions expressed by contributors and/or content partners are their own and do not necessarily reflect the views of WayneDupree.com
---
---
One of the most dependable websites for original reporting, investigative reporting, and breaking news in the conservative media is now WayneDupree.com. It is the only group combating communist bias in the media and entertainment, and it is its hard news division.
Because the success of our objective is so important to the economy and because leftist media's COVID falsehoods probably cost lives, we need your help. Donate to WayneDupree.com today so that we can keep covering stories that the leftist media won't touch. Your decision to donate $5 per month, $50 per year, or $100 per year will enable us to continue the difficult work of making sure a free and fair media survives in our nation.
[The WDStaff]
SIGN UP HERE
and join us!
---
Follow Wayne on Rumble!