While the entire country is ravaged by high gas prices, soaring inflation, obscene amounts of crime, bare shelves, and a wide-open border, Joe Biden was carried outside and propped up near a "ghost gun" display, so he could ignore all the stuff Americans actually care about and instead push to ban guns.
USA Today reported that Joe Biden announced federal regulations Monday targeting the use of untraceable firearms — otherwise known as "ghost guns" — that law enforcement officers are seeing more frequently at crime scenes nationwide.
The president and Deputy Attorney General Lisa Monaco unveiled the new rules during a ceremony in the White House Rose Garden. Some components of privately made firearms assembled from do-it-yourself kits purchased in a store or online will qualify as firearms under federal law.
I am sure that will make Americans who are wondering how they'll feed their families feel a heck of a lot better.
American parents can't afford gas or groceries–so naturally the Biden administration is banning guns.

— thebradfordfile (@thebradfordfile) April 11, 2022
MORE NEWS: [VIDEO] New Theory Emerges After Dems Suddenly Roll Out Biden's Unknown Sister to Protect The "Big Guy"
But I'll tell you what won't make anyone feel better, are these insanely disturbing photos of Joe Biden holding a gun.
Have you seen these? He looks like a mass shooter from 1810…
The Alec Baldwin school of Gun Safety, ladies and gentlemen… pic.twitter.com/B1wXiZP9yh

— Danny De Urbina (@dannydeurbina) April 11, 2022
Here are closeups of the photos: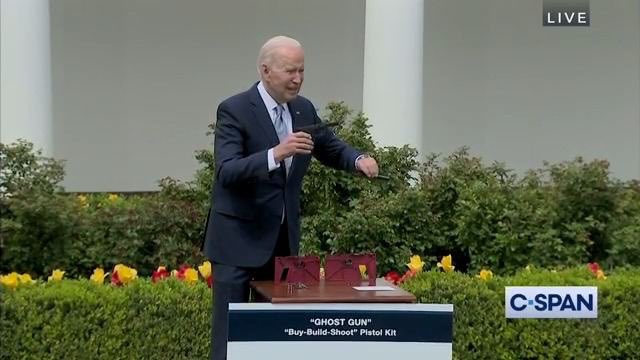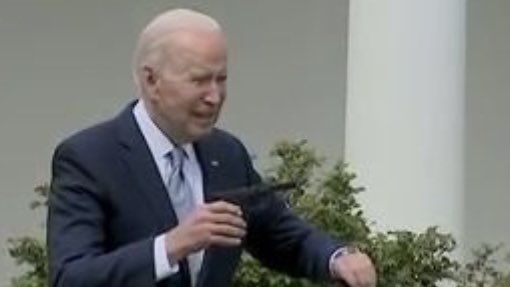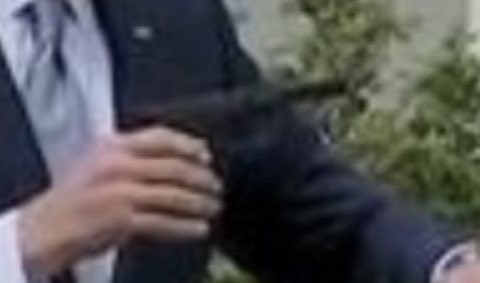 What is that face he's making? It's a still photo, but you can actually FEEL him shaking when you look at it, right?
Biden is lying to circumvent the Constitution and grab your guns.

He's an America hating tyrant.

He, his brother, and his crackhead son should rot in prison.

— John Cardillo (@johncardillo) April 11, 2022
Here's what people are saying online:
"Reminds me of the South Park episode when the old people lose their licenses and call AARP to take over the town"
"Is this a comedy sketch? What in the actual hell is happening to this country?"
"Dear God, he's not holding it properly"
"Don't worry, it's a dummy. The gun might be, too."
"hard to believe holding that ghost gun makes his face do that. these are not serious people
"This crazy old coot shouldn't even have a spoon in his hand let alone a gun."
"Who let the dementia riddled clown have a gun"
"This dude hasn't had to fight for anything in his entire life. Why would he even know how to hold a weapon? The only thing Biden carries is an ice cream cone."
"Omg, had I been there I would have screamed and yelled "Everybody Down, Active Shooter!"
"It if were shaped like a pre-teen he'd be grasping it properly."
One thing the Biden admin is consistent about is bad optics.
I don't care what they do with this guy, he could be hugging puppies, and it would go completely sideways and turn into a disaster.
The opinions expressed by contributors and/or content partners are their own and do not necessarily reflect the views of WayneDupree.com
---
---
One of the most dependable websites for original reporting, investigative reporting, and breaking news in the conservative media is now WayneDupree.com. It is the only group combating communist bias in the media and entertainment, and it is its hard news division.
Because the success of our objective is so important to the economy and because leftist media's COVID falsehoods probably cost lives, we need your help. Donate to WayneDupree.com today so that we can keep covering stories that the leftist media won't touch. Your decision to donate $5 per month, $50 per year, or $100 per year will enable us to continue the difficult work of making sure a free and fair media survives in our nation.
[The WDStaff]
SIGN UP HERE
and join us!
---
Follow Wayne on Rumble!