Well, ding dong, another RINO is gone.
I love that so many of these good-for-nothing establishment globalists are taking themselves out of the race. We don't even have to lift a finger.
My guess is they've taken a long, hard look at their internal polling and realize there's absolutely no way in hell they can win their primary race.
The latest RINO to fall on the sword is none other than Michigan traitor Fred Upton, who voted to impeach President Trump.
Good riddance, scumbag.
MORE NEWS: Dems Hold Intense Focus Groups to Discover Why They're Falling Apart… Here's Exactly What Happened
The Washington Times reported that Rep. Fred Upton of Michigan, one of 10 Republican lawmakers who voted to impeach former President Donald Trump, is calling it quits after more than three decades in Congress.
Mr. Upton on Tuesday announced on the House floor that he is not seeking re-election in the 6th Congressional District at the end of his term. The 68-year-old has served in the House since 1987.
"Even the best stories have a last chapter: This is it for me," Mr. Upton said, battling back tears.
Good, I hope he went home and cried in his stupid RINO pillow all night long.
Traitorous loser. 
This guy has been in Congress for 19 long and miserable years, thank God he's a goner.
And as you can imagine, Don Jr. was thrilled and also believes this guy's polling had to be atrocious.
Here's what Don Jr. said: "Well Bye: One of the 10 House GOP yes votes for impeachment! I'm sure his poll #s were stellar."
Well Bye: One of the 10 House GOP yes votes for impeachment! I'm sure his poll #s were stellar. https://t.co/0TpcpeDimA

— Donald Trump Jr. (@DonaldJTrumpJr) April 5, 2022
President Trump just chimed in too. I love this statement!!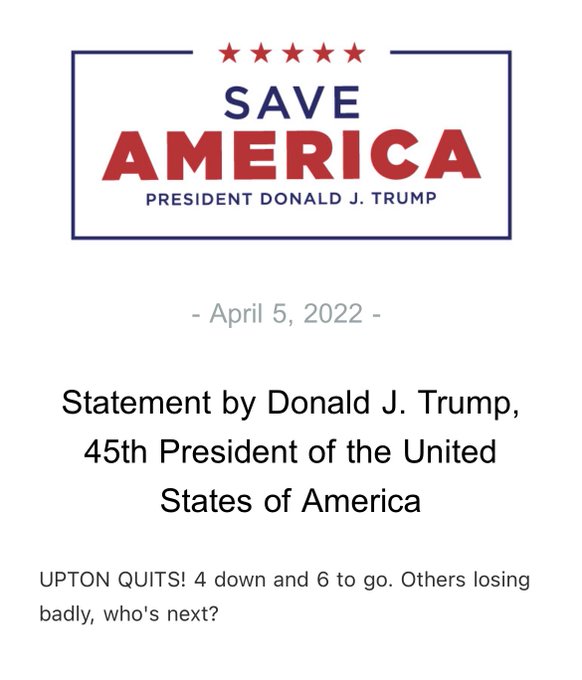 I can tell you that before I moved last year, this idiot was my rep, and I had a lot of angry calls and emails with his office while I was in his district.
I am thrilled that he's been pushed out and forced to retire.
Next, we need to ensure that RINO Peter Meijer is primaried as well.
The opinions expressed by contributors and/or content partners are their own and do not necessarily reflect the views of WayneDupree.com
---
---
One of the most dependable websites for original reporting, investigative reporting, and breaking news in the conservative media is now WayneDupree.com. It is the only group combating communist bias in the media and entertainment, and it is its hard news division.
Because the success of our objective is so important to the economy and because leftist media's COVID falsehoods probably cost lives, we need your help. Donate to WayneDupree.com today so that we can keep covering stories that the leftist media won't touch. Your decision to donate $5 per month, $50 per year, or $100 per year will enable us to continue the difficult work of making sure a free and fair media survives in our nation.
[The WDStaff]
SIGN UP HERE
and join us!
---
Follow Wayne on Rumble!