In case you didn't know, Chicago is turning into a bigger hellhole of violence and despair.
Is it still a great city? Of course, I love Chicago. My cousin actually lives downtown, and while it pains her to see the city in this sad state, she loves it and doesn't want to move. I don't blame her, but there needs to be a change in leadership. At some point, moderately intelligent people have to stop and say "Gee, these liberal-run cities have some bad stuff in common…" and put two and two together. It's not that difficult.
I just can't believe the left actually found someone worse than Rahm Emanuel.
MORE NEWS: Elon Musk Just Perfectly Explained Why There Will Be a "Red Tsunami" in 2022
Lori Lightfoot is a disaster of epic proportions. She's the typical liberal who's more focused on social issues, like LBGTQ "rights" than stopping Americans from being slaughtered in the streets.
Let me tell you — There's no group on earth that has more rights, support, and praise in America than LGBTQ… I think we can move on and help other folks, now.
But that's not who Lori is. She's ready to go to literal "war" on behalf of the LGBTQ community.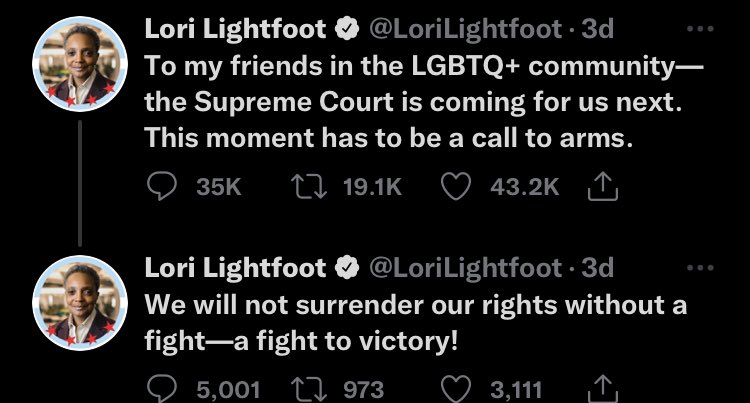 And speaking of "WAR," Lori's city is in turmoil, with so much gun violence, murders, and other soaring crimes.
She's done such a cruddy job in her city that it's become one of the scariest and unsafe places in the US, maybe the world.
And things are so incredibly bad now, that Lori has even had to implement a really strict curfew… and she tweeted about that, and in the process, she accidentally admitted how bad Chicago has gotten under her terrible leadership, and when she noticed that, she quickly deleted the tweet.
Whoops! 
But don't worry, we have a copy.
Lori Lightfoot deleted this tweet advertising what a terrible job she's doing in her out of control and unsafe city pic.twitter.com/KryWzW1l8K

— Libs of TikTok (@libsoftiktok) May 21, 2022
Here's a closeup of Lori's now-deleted tweet: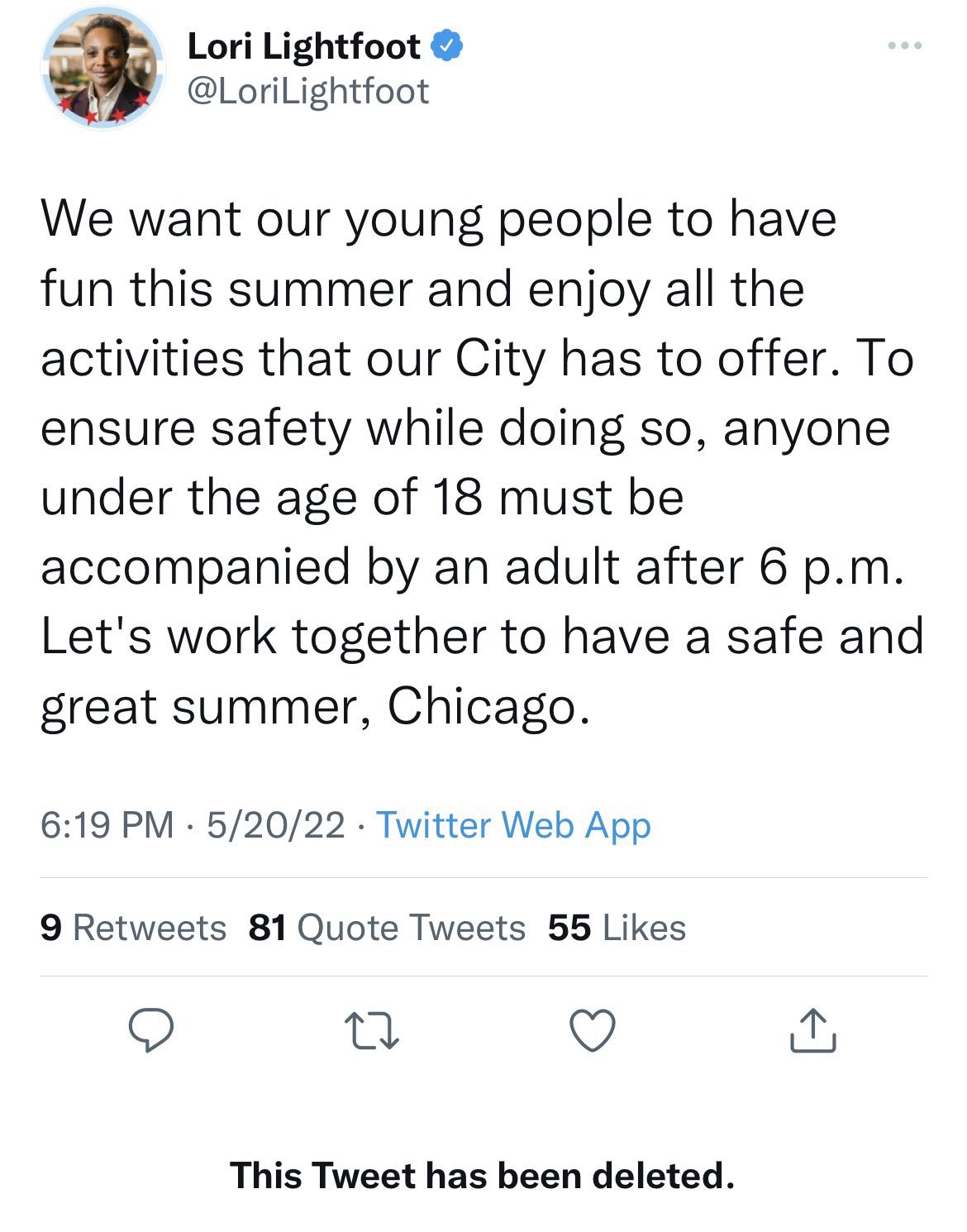 Yikes… so in order to have a "fun" summer, everyone needs to be "buddied up" with a parent or guardian?
Sounds like a really safe and happy place, Mayor.
I can see why you wanted to delete that tweet…
But sorry, Lori, the internet, much like your failures, is forever.
The opinions expressed by contributors and/or content partners are their own and do not necessarily reflect the views of WayneDupree.com
---
DEAR MEMBERS,
Are you sick of seeing ads? Well then it's time to get rid of them! WayneDupree.com is proud to offer a PREMIUM VIP MEMBERSHIP that eliminates ads and gives you the BEST browsing experience.


SIGN UP HERE and join us!
---
Follow Wayne on Rumble!