I like to think of myself as a compassionate person. I do what I can to help people and animals, and I hate to see anyone suffer.
And while I know there's a lot of suffering and horrible stuff happening around the world, I am a firm believer that you can't help anyone else clean up their house if your own home is a chaotic, disheveled mess.
So, while I am empathetic to innocent folks in Ukraine who are suffering, I am more empathetic to Americans who are suffering under this Godforsaken hellish Biden admin that's occupying the White House right now.
I believe that it's more important to my security, my family's security, and the security of my neighbors to have MY country's border secured than Ukraine's.
The border in my country has a much greater impact on me and my life, than Ukraine's border ever will. And I also believe that Ukraine is surrounded by many countries that can lend a helping a hand to their neighbor, while the US, which is in debt up to their eyeballs, and whose people are suffering to make it week to week, focuses on their own serious and growing list of issues at home.
That is the message that the MAGA/America First movement is all about.
And we all knew that after they removed Trump from office, the establishment on both sides would "whip up" a war. And now, here we are. It barely took a year to fire up the Military-Industrial Complex again.
MORE NEWS: WH Just Got Fact-Checked By Angry Americans; Forced to Admit They Shared "Disinformation"
And this so-called "war" is very odd, isn't it?
To many folks, it feels like a "green screen" war, with a staged hero and villain… There's certainly a TON of propaganda on both sides, but the Ukraine side is just flooded with the stuff, to the point where you can't even tell what's real and what's not.
And the flow of money — billions and billions into Ukraine have a lot of Americans questioning what's really going on.
So, it's only understandable that most of the MAGA base wants the GOP focused on issues at home, not abroad… and that's why this new photo featuring Republicans standing shoulder-to-shoulder with Zelensky has so many people really ticked off.
Why don't these Republicans stand with the January 6th defendants being treated like political prisoners in a communist country?
Why don't they stand with moms and dads who can't find bay formula?
Why aren't they standing shoulder-to-shoulder with Americans who can't afford to put decent food on their table in Biden's America?
Why are they sending our hard-earned tax dollars to strangers, to (supposedly) help their people and secure their borders, while so many of our people are suffering and being ignored?
And where is all that money REALLY going?
Popular pro-Trump Twitter account "CatTurd" tweeted out the photo and said this: "While millions of Americans suffer, this is what the sellout losers in the Republican Party care about most."
While millions of Americans suffer, this is what the sellout losers in the Republican Party care about most. https://t.co/jDzmUuCGQQ

— Catturd ™ (@catturd2) May 14, 2022
Here's a closeup of the photo: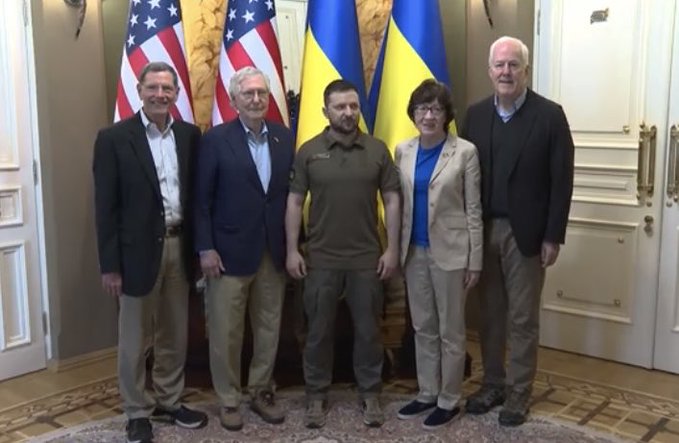 Here's what people online had to say:
"They no longer try to cover up their corruption. It seems like they are proud of it and want to show off. I am tired of a two tiered legal system."
"Brilliant use of the English language for this image. Yes, infinitely agree; 'sellout losers' they are and on display!"
"More of our money spent for another photo-op by these clowns. PLEASE VOTE THEM OUT. CARE ENOUGH TO BE INFORMED AND STOP STOP STOP!!! VOTING FOR DO-NOTHING, BUT LINE THIER OWN POCKETS, RINOS."
"They actually had a picture taken with the Brinks driver?"
"W T F is going on with us paying for these idiots to go to a war torn country????? Something is completely strange?????"
"Completely agree. This is a waste of time. Those of us not working for government are getting killed by inflation. Fight for us in the US."
"can we cancel their return tickets?"
"Who "visits" is who gets the cash"
"If this war zone is so bad and so dangerous why does it feel like a political PR photo-op booth and tourist destination?" 
"If only Raytheon made baby formula…"
Mitch McConnell recently said that what's happening in Ukraine is the MOST IMPORTANT thing going on in the world.
Can you believe this guy?
No. 
The most important thing for Americans is restoring election integrity, so we can get rid of losers like Mitch and Joe, and the rest of the Globalist Establishment Regime, and their horrific policies that are once again, killing the middle-class.
The opinions expressed by contributors and/or content partners are their own and do not necessarily reflect the views of WayneDupree.com
---
---
I'm glad you're here, WayneDupree.com comments! Please maintain polite and on-topic conversations. You could see comments from our Community Managers, who will be identified by a "WD Staff" or "Staff" label, in order to promote fruitful and civil discussions. We stop accepting comments on articles three days after they are posted in order to provide the optimal user experience. The conversations forums on WayneDupree.com welcome comments for an unlimited period of time. For further information, please refer to our community policies.
SIGN UP HERE
and join us!
---
Follow Wayne on Rumble!