The New York Post is known for its snarky, savvy cover photos.
They don't hold back, and they really know how to make a statement with their titles and their artwork.
So, we're used to seeing some really brutal and creative stuff from them.
But I gotta say, this latest cover, featuring Joe Biden, is one of their most brutal and truthful yet.
right now, Joe Biden is dealing with a lot of failures… all of them are his fault.
MORE NEWS: Conservative Pundit Says Karine Jean-Pierre Sucks So Badly, They're Now Bringing In a Big-Name "Closer"
First off, the new AP poll has Biden sinking to his worst approval numbers yet in that poll: 39 percent.
One year ago, Biden's approval rating in the AP poll was 63 percent.

Now he's at 39 percent.

— Charlie Spiering (@charliespiering) May 20, 2022
You know, the real number is a helluva lot lower. At this point, I'd say Joe is realistically in the low 20s or high teens.
Next up is the baby formula nightmare.
CBS NEWS: In 43 states, more than 40 percent of baby formula is OUT OF STOCK. pic.twitter.com/TSXwd30gGP

— RNC Research (@RNCResearch) May 20, 2022
Yes, it's bad enough that we've got American babies starving and going into the hospital due to this baby formula shortage, but now, experts and even Dems and media agree that Biden once again dropped the ball, and made matters worse.
Watch:
The Biden administration allowed the baby formula crisis to worsen for months.

"Mothers are being told to go to websites, or to drive hours, or to try formula that might make their babies sick…when are we going to see formula in the mouths of babies?" – MSNBC'S Mika Brzezinski pic.twitter.com/TTK4YYaQHA

— House Republicans (@HouseGOP) May 19, 2022
And while all of this is going on, along with inflation, soaring gas, border crisis, and a crime wave, the idiots in Congress, and Joe Biden, just sent another $40 billion to Ukraine.
So, needless to say, Bumbling Joe is dealing with a huge mess of his own making, and The New York Post captured that in one brilliant cover.
Look: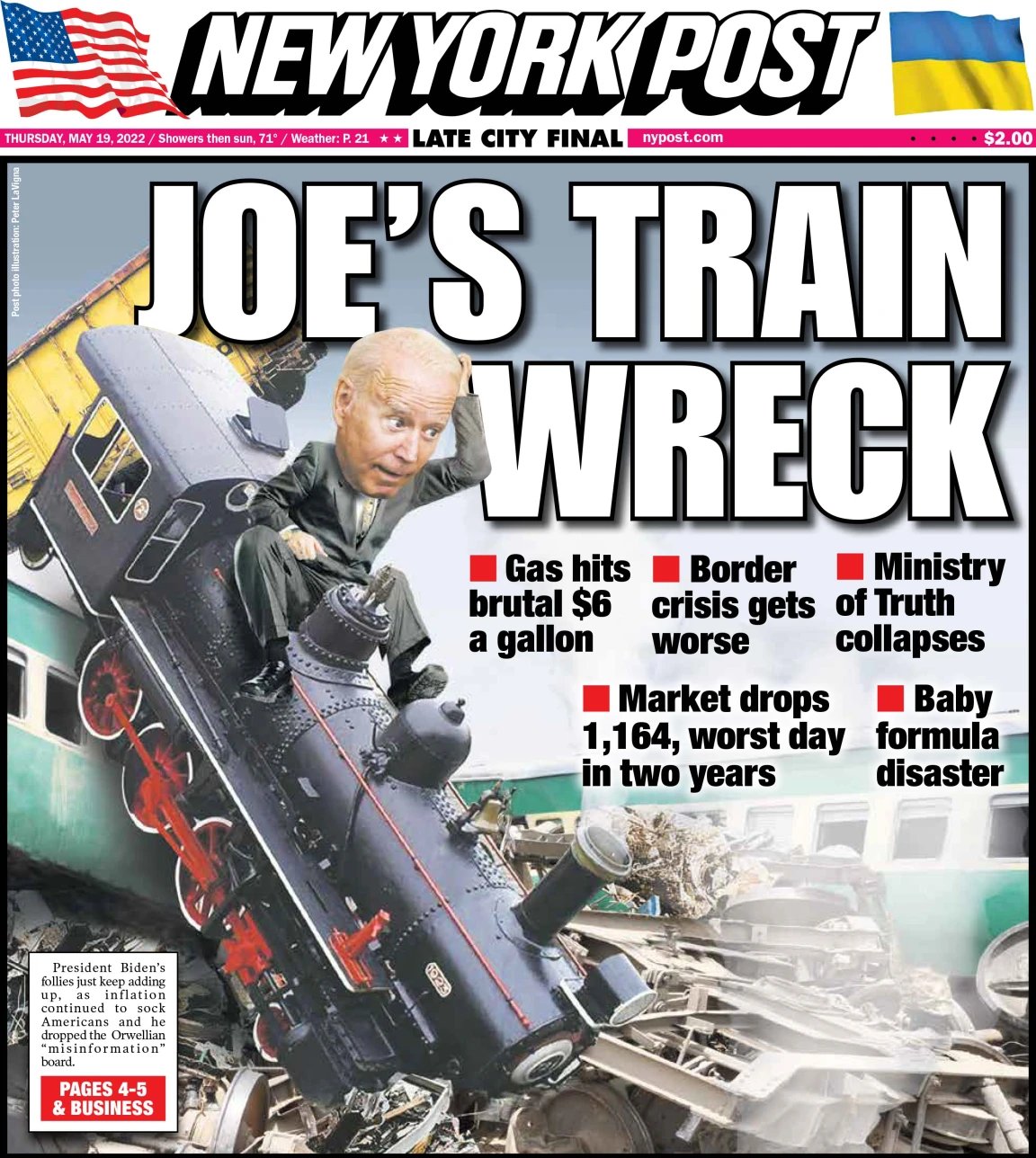 Here's what people online are saying about this cover art:
"Anyone with common sense knows this."
"It's actually so much worse than this."
"Joe is an idiot, yes, but much of this destruction is by design" 
"In the first year alone."
"Joe Biden is the worst President in US History."
"literally worst president ever"
Trust me, there's a lot more terrible stuff they could've added to that piece, but they'd have needed a billboard, not a newspaper cover.
The opinions expressed by contributors and/or content partners are their own and do not necessarily reflect the views of WayneDupree.com
---
DEAR MEMBERS,
Are you sick of seeing ads? Well then it's time to get rid of them! WayneDupree.com is proud to offer a PREMIUM VIP MEMBERSHIP that eliminates ads and gives you the BEST browsing experience.


SIGN UP HERE and join us!
---
Follow Wayne on Rumble!