President Trump is doing whatever he can to make sure traitor Liz Cheney is primaried in Wyoming
So, today, he had a barn burner "Save America" rally, to promote Liz's America First challenger Harriet Hageman.
And it looks like things are off to a good start.
Liz is already in really big trouble.
MORE NEWS: Report: Woman Found Dead in Arkansas River Connected to Clinton Advisor Who "Killed Himself"
Politico reported that the poll, which provides perhaps the starkest illustration yet of the political peril Cheney faces this year, shows Wyoming attorney Harriet Hageman garnering 56 percent of the vote to Cheney's 26 percent in the GOP primary. A third Republican got 12 percent support, and just 6 percent are undecided.
Hageman was recruited and endorsed by former President Donald Trump in response to Cheney's vote to impeach him last year alongside nine other House Republicans.
The race for Wyoming's lone congressional district is one where the Club for Growth and Trump, who have quickly turned from allies to foils, are aligned, though the Club has not formally endorsed Hageman. The poll, shared first with POLITICO, was conducted this week by WPA Intelligence, a Republican firm, ahead of Friday's candidate filing deadline.
Trump has taken intense interest in the race because Cheney has been such a prominent critic of his attempts to subvert the 2020 election results. After her impeachment vote, she became one of just two Republicans, along with Rep. Adam Kinzinger (R-Ill.), to sit on the commission investigating the Jan. 6 Capitol riots that Speaker Nancy Pelosi created.
Kinzinger chose to retire rather than remain a stop on Trump's 2022 midterm revenge campaign. Cheney, however, has said she plans to seek reelection — even if her odds look tough. And Trump will travel to Casper, Wyo. on Saturday to rally for Hageman, a trial lawyer who placed third in the GOP primary for governor in 2018.
The polling reinforces another piece of data the Club for Growth released a year ago, which showed that 52 percent of Wyoming GOP primary voters were planning to vote against Cheney regardless of who challenges her.
Not only is President Trump going after Liz on policy, but he's also trolling her pretty savagely as well.
Look at this GIGANTIC picture of her he has above the stage. It's a blend of Liz and George W. Bush…
This is perfect. HA!
There's a face-mash of Liz Cheney and George W Bush over the rally stage. pic.twitter.com/AtwgSud8Hc

— David Weigel (@daveweigel) May 28, 2022
Here's a closeup of the photo: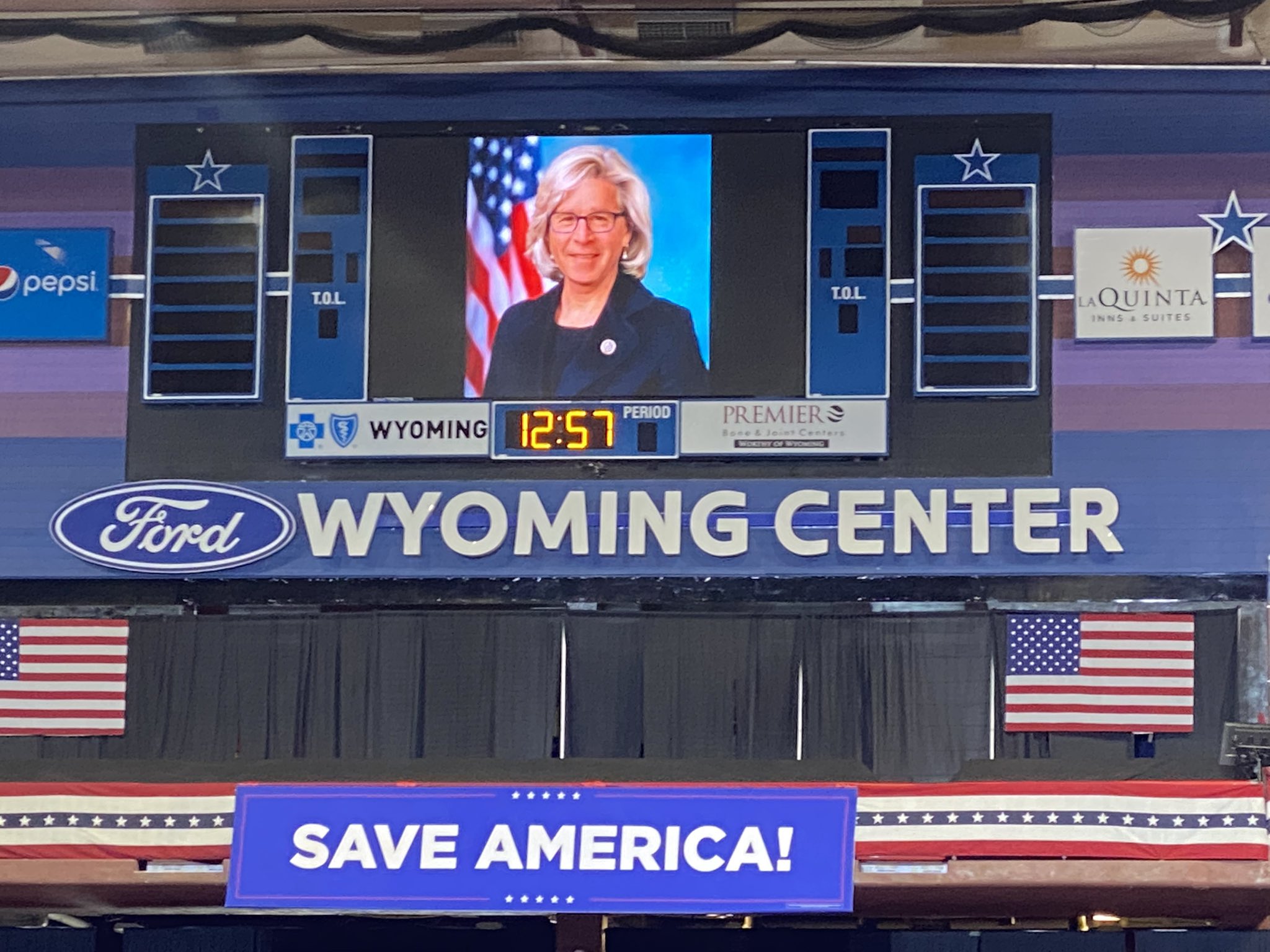 And Trump loved the photo:
President Trump says @RepLizCheney is looking nice as he's looking at a meme from @grandoldmemes. pic.twitter.com/u8IumFqJTy

— The Dirty Truth (Josh) (@AKA_RealDirty) May 28, 2022
Ya gotta love President Trump.
He makes politics fun, and that gets more people engaged, and excited to get rid of these good-for-nothing RINOs.
And that's exactly what we need to do if we hope to win against these evil globalists.
The opinions expressed by contributors and/or content partners are their own and do not necessarily reflect the views of WayneDupree.com
---
---
I'm glad you're here, WayneDupree.com comments! Please maintain polite and on-topic conversations. You could see comments from our Community Managers, who will be identified by a "WD Staff" or "Staff" label, in order to promote fruitful and civil discussions. We stop accepting comments on articles three days after they are posted in order to provide the optimal user experience. The conversations forums on WayneDupree.com welcome comments for an unlimited period of time. For further information, please refer to our community policies.
SIGN UP HERE
and join us!
---
Follow Wayne on Rumble!