There is something very broken within the Uvalde police department.
I don't care how staunchly you "back the blue," this situation involving the local police and the school shooting is horrific and getting worse by the minute.
Here's what we know, thanks to local law enforcement officials who've gone on the record:
19 police officers – one for every murdered child – were staged outside the classroom. 78 minutes elapsed before they entered. Gunshots were going off, and children repeatedly called 911 from inside.
Now, new details have emerged on the training that these officers received just two months ago, and you won't believe it.
Here's what the officers were told to do in the situation of a mass shooter, as reported by a New York Times reporter:
MORE NEWS: Furious Don Jr Drops THREE F-Bombs On Texas School Shooter's Insensitive Mother
"In the past two years, the Uvalde school district has hosted at least two active-shooter training days. One of them was just two months ago. The trainings included both classroom teachings and role-playing scenarios inside school hallways (below)."

The Uvalde training session 2 months ago relied on guidelines that give explicit expectations for officers responding to an active shooter. The training is clear: Time is of the essence. The "first priority is to move in and confront the attacker."

But how should officers confront the gunman? With a tactical team? The training says that's probably not feasible, because the urgency is so high. A SINGLE OFFICER, the training says, may need to confront the suspect on their own.

The guidelines provide sobering clarity: The first officers may be risking their lives. But, it says, innocent lives take priority. "A first responder unwilling to place the lives of the innocent above their own safety should consider another career field."
Here is the entire thread:
I have spent the past few days researching the training of Uvalde officers, including the tactics they were expected to use to halt school shooters.

The documents are jarring. Here's a thread of our findings so far.

1/9

— Mike Baker (@ByMikeBaker) May 28, 2022
Clearly, when it mattered most, this is not what happened. The police did not follow protocol or training.
The officers refused to enter and engage the shooter and waited over an hour for "tactical" teams to arrive, while innocent children needed their help.
The police spokesman said officers did not want to get "shot and die."
Nobody wants to get shot and die, especially 4th graders, who didn't sign up for a job to protect and serve others.
In addition, the Uvalde police released this absurd statement about the shooting, and in it, they said:
"Our entire department is thankful that the officers did not sustain any life-threatening injuries."
Very inappropriate.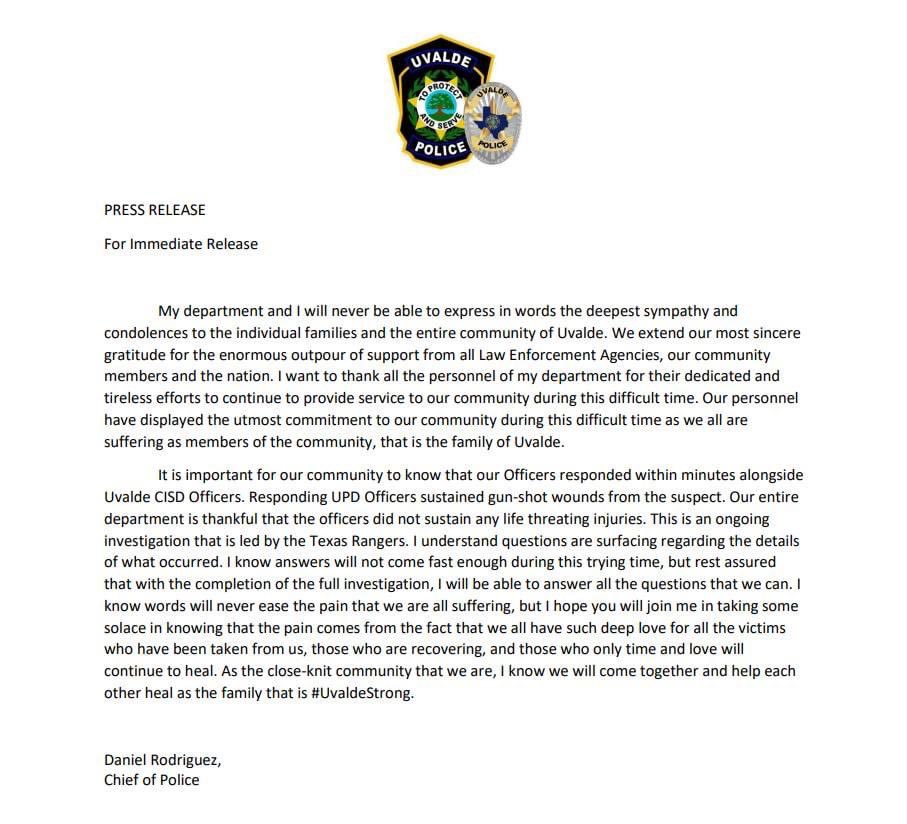 Officials NOW tearfully admit that it was a "mistake" not to enter the classroom.
Watch:
TX DPS Director just broke down crying after admitting that the decision not to enter the classroom was a mistake.

"We took an oath to defend people." @wfaa #Uvalde pic.twitter.com/CacxfWOpJW

— Adriana De Alba (@adealbaWFAA) May 27, 2022
One former law enforcement officer, John Cardillo put it best:
"Every member of the Uvalde PD who responded and refused to take action should terminated and publicly shamed. Cowards should not be cops."
Governor Abbott has ordered a full-scale investigation into this disturbing matter.
The opinions expressed by contributors and/or content partners are their own and do not necessarily reflect the views of WayneDupree.com
---
DEAR MEMBERS,
Are you sick of seeing ads? Well then it's time to get rid of them! WayneDupree.com is proud to offer a PREMIUM VIP MEMBERSHIP that eliminates ads and gives you the BEST browsing experience.


SIGN UP HERE and join us!
---
Follow Wayne on Rumble!