Every single expert on earth predicts a political "bloodbath" for the Dems in 2022.
You can smell disaster in the air. Biden's poll numbers are sinking faster than the Titanic, and there's no bottom in sight for this clown. He just keeps going lower and lower, because he sucks so bad at his job.
Dems have become a really weird political party of rich, out-of-touch white people who only care about climate change and transgenders.
MORE NEWS: THIS New Photo of Barron Trump is the Very Definition of "ULTRA MAGA" … You're Gonna Love it!
The party's gotten so bad, so radical, and so fringe, that even old-bat Hillary Clinton is warning Dems to dump the "transgender" stuff, claiming they won't win elections on any transgender issues.
So, with all that said, why on earth would ABC News print a story they got from the AP and send out a tweet predicting an amazing "victory" for Dems in the 2022 election?
They published the story and the tweet, and then quickly deleted it…
But what gives? Do they know something we don't?
Is there more big "ballot harvesting" plans coming up, and ABC knows the midterm outcome as a result?
Bizpacreview reported that back in 1948, the Chicago Daily Tribune erroneously ran the headline "Dewey Defeats Truman" the day after incumbent President Harry S. Truman won his election campaign. More than seventy years later ABC News raised eyebrows after deleting a tweet much like the Tribune, only months ahead of the midterm elections.
On Saturday, the Associated Press published a piece titled "Biden's optimism collides with mounting political challenges" that discussed the strategy for Democratic politicians ahead of November contests. ABC News ran the story as well, but initially deleted a link to the article that they had posted to Twitter.
The caption for the tweet was the opening line to the piece that stated, "Democrats are going to hold onto the House after November's midterm elections. They will pick up as many as four seats in the Senate, expanding their majority and overcoming internal dissent that has helped stifle their agenda."
Neither ABC News nor the AP presented the story as opinion and the lede appeared to be present an objective truth that the outlets had come to well in advance of ballots being cast prompting Human Events senior Editor Jack Posobiec to ask what's going on.
Hi @ABC! Why did you delete this? pic.twitter.com/3v543vUKBv

— Jack Posobiec 🇺🇸 (@JackPosobiec) June 18, 2022
Here's a closeup of the tweet:

Here's a screenshot of the article this comment was in: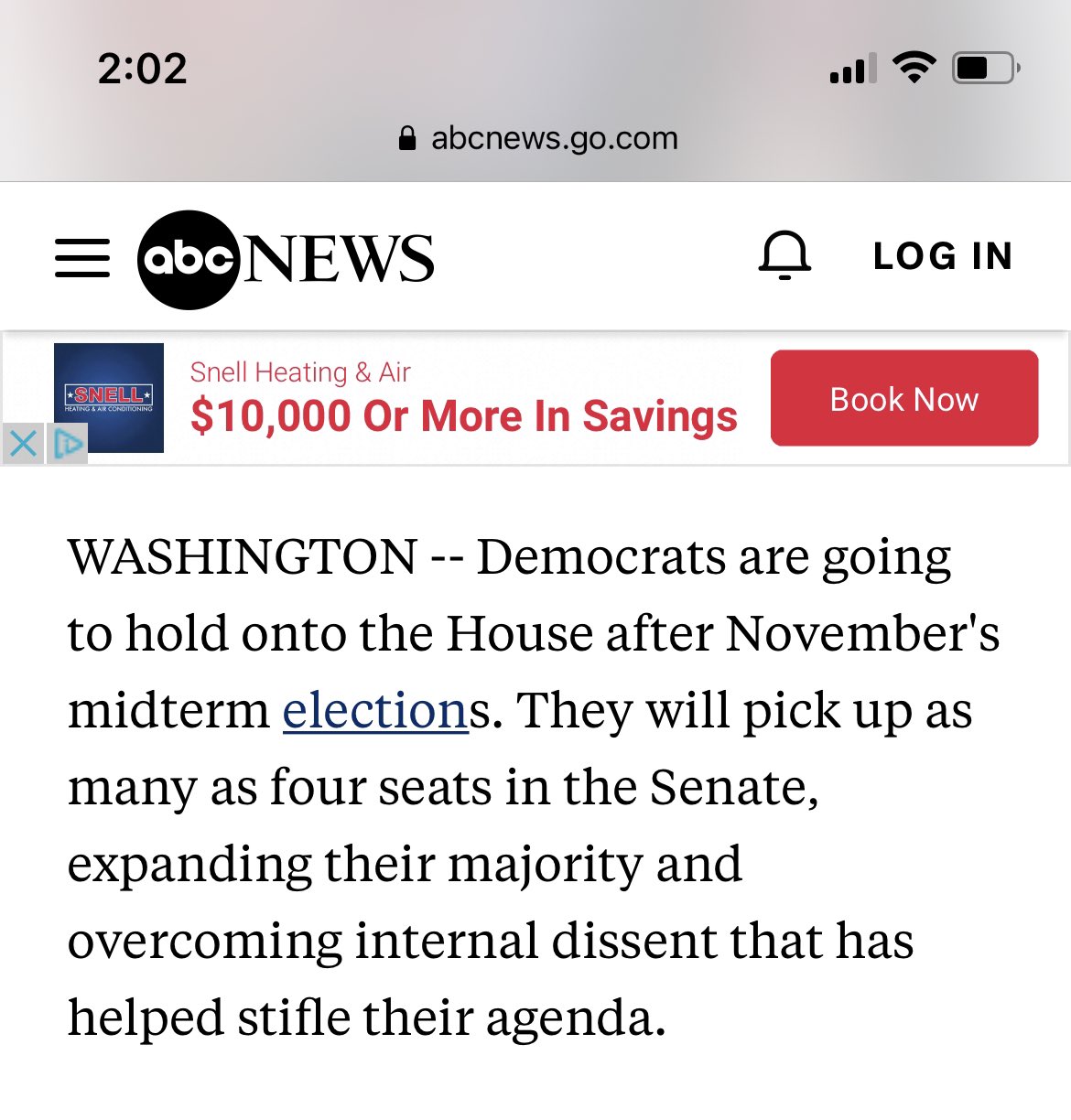 This reads as very oddly specific, doesn't it?
Especially the part about how Dems miraculously overcame "internal dissent" that's helped stifle their agenda.
Huh?
Really strange.
Here's what people online are saying:
"And we thought TIME Magazine's "The Secret History of the Shadow Campaign That Saved the 2020 Election" was too soon!! Now, they don't even care about timing. They can't wait to admit it."
"Another steal for 2022."
"ABC saying the dems will hold the House and gain up to four seats… how do they know this??" 
"ABC News Deletes Tweets Predicting Blue Wave in November Today, it seems ludicrous to believe Democrats are going to retain power after November. But gaslighting by corporate media is powerful and it's starting to ramp up already"
"It's almost like they know the ending…or something"
"How nice of them to let us know in advance "
"It's already in the bag" 
"ABC admits the Democrats are planning to steal the election (again) in November."
This is very odd indeed.
As it stands now, ABC has not (and likely won't) explain why they said this… But I think this is a good wake-up call for all of us…
We need to be very diligent and floor the polls like crazy. No sitting home and leaving it up to your neighbor to get the job done.
You need to suit up and get out there and vote like your life depends on it, because it actually does
The opinions expressed by contributors and/or content partners are their own and do not necessarily reflect the views of WayneDupree.com
---
---
I'm glad you're here, WayneDupree.com comments! Please maintain polite and on-topic conversations. You could see comments from our Community Managers, who will be identified by a "WD Staff" or "Staff" label, in order to promote fruitful and civil discussions. We stop accepting comments on articles three days after they are posted in order to provide the optimal user experience. The conversations forums on WayneDupree.com welcome comments for an unlimited period of time. For further information, please refer to our community policies.
SIGN UP HERE
and join us!
---
Follow Wayne on Rumble!