A new photo of Barron Trump is circulating around the internet and people are going crazy.
When you think about "ULTRA MAGA," and what it means, this photo here has to be in the running to represent what it means, because Barron looks like the walking/talking ULTRA MAGA man and he's only 16 years old.
The photo looks to be from Mar-a-Lago and it's a beaming Barron, standing a reported 6'8, with his arm around an older woman.
The lady in the photo doesn't even come up to his elbow!
MORE NEWS: Two "Team Biden" Photos From This Weekend Have Our Enemies LOL'ing at Us…Hard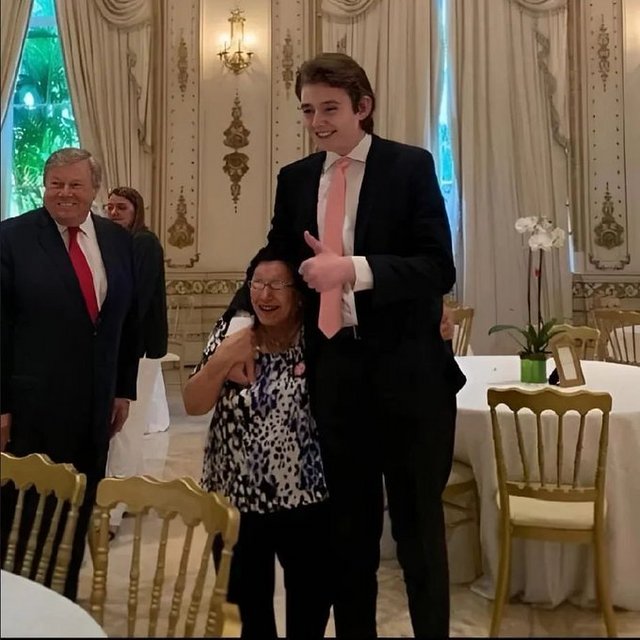 I love Barron's smile, and is it just me, or does Barron look a lot like his brothers? I especially see Don Jr. in this pic.
Here's what people online are saying:
"If he ever joins the political stage he will be leader that stands above everyone else"
"Now that's MAGA tall, dark, and handsome."
"I believe Eric Trump is about 6'5", the whole family exudes health and success."
"I hope he plays basketball" 
"I bet he's really smart, and his grandparents taught him a lot of Slovenian !! He might Polka as well as I do !!!!!"
"Yep, apple doesn't fall far from the tree as the saying goes. Rotten trees (Biden) make rotten apples"
"Now THAT'S a kid!! WOW!" 
"I'd like to see him play basketball. He would have to be really tough-skinned though with all the haters out there."
"Most of the Trump family is tall. I would say they all carry it very well. Look at the difference between presidential sons Barron and Hunter. Your parents make all the difference. Bribem's kids never stood a chance. Rock on, Barron. I'd love to vote for you some day."
Height, success, kindness, and power run deep in the Trump family… and it looks like Barron is no exception!
H/T: Citizen Freepress 
The opinions expressed by contributors and/or content partners are their own and do not necessarily reflect the views of WayneDupree.com
---
DEAR MEMBERS,
Are you sick of seeing ads? Well then it's time to get rid of them! WayneDupree.com is proud to offer a PREMIUM VIP MEMBERSHIP that eliminates ads and gives you the BEST browsing experience.


SIGN UP HERE and join us!
---
Follow Wayne on Rumble!