The J6 Sham Trial is still going on.
That's right, as inflation soared to the highest levels in 41 years, gas prices are now averaging $5.00 a gallon across the country, and we're in a housing mess from hell, what are the Dems and RINOs focused on?
Something that happened nearly two years ago…
January 6th…
The day Chuck Schumer's fax machine was vandalized and someone stole Pelosi's lectern.
Yes, what a calamity. Worse than 911, and Pearl Harbor… bla bla bla
The true crime and sadness of that day was the murder of an innocent, unarmed Trump supporter by the name of Ashli Babbitt. That's what should be investigated, but of course, the sham committee doesn't care about her.
They're out to "destroy" President Trump for the umpteenth time.
MORE NEWS: "Newly Discovered" Photo of Mike Pence "HIDING" on Jan 6 From Trump-Supporting "Assassins" is a Total Joke
It's tiresome. 
And this time, they've used taxpayer dollars to hire some ABC producer to make it look like "must-see TV."
Of course, that's not working.
The ratings suck.
Even still, President Trump is shaking things up, like you knew he would.
Trump is now making a demand that he get "equal air time" to rebut the lies being spewed at this goofy hearing.
Trump took to Truth, where he listed his demands: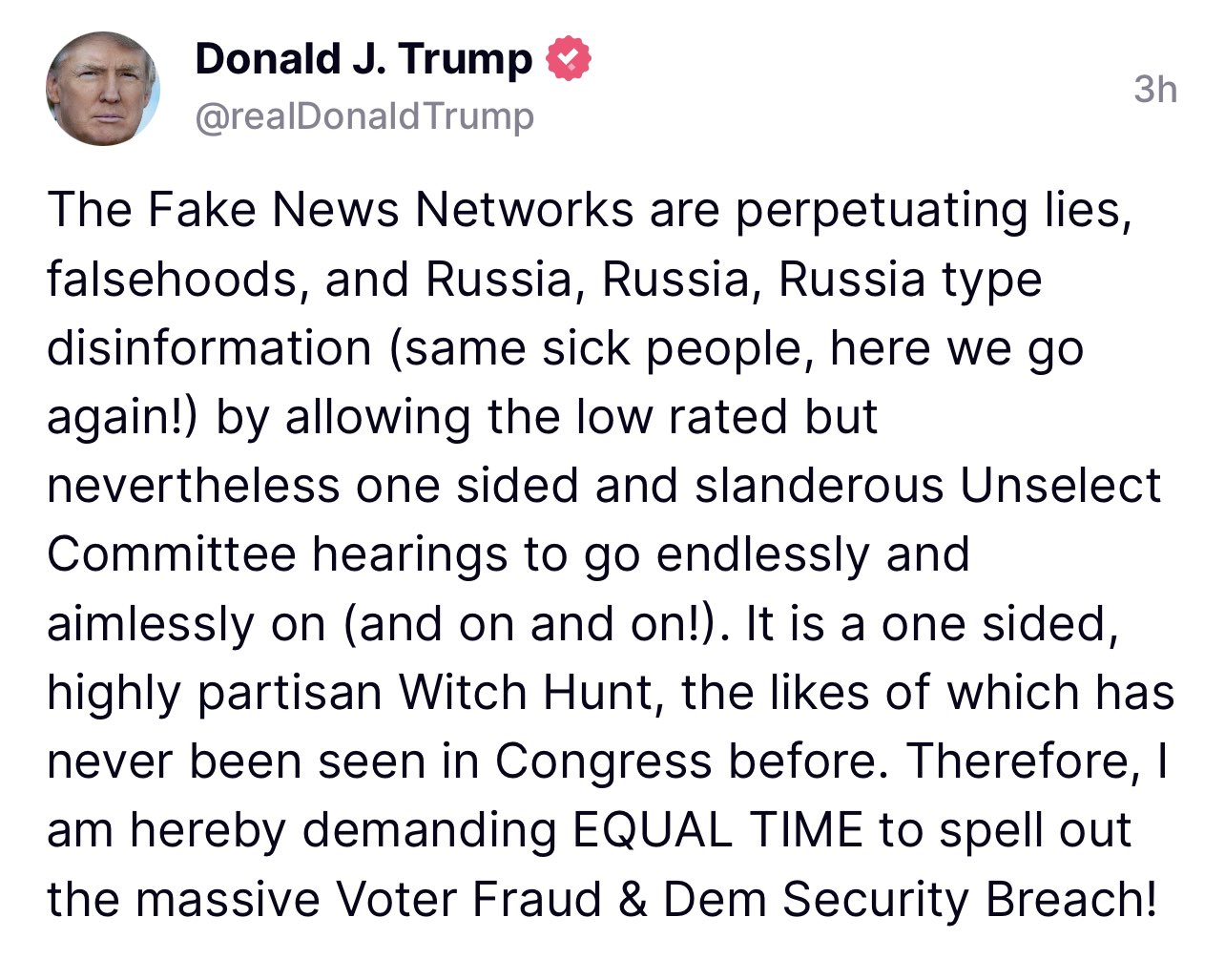 I love it.
He has every right to demand this, and I am thrilled that he has.
Let's see how the January 6th committee bozos respond to this… after all, they're on a "fact-finding" mission, right?
Shouldn't they welcome all input??
😈
Well, played, President Trump, well played…
The opinions expressed by contributors and/or content partners are their own and do not necessarily reflect the views of WayneDupree.com
---
---
One of the most dependable websites for original reporting, investigative reporting, and breaking news in the conservative media is now WayneDupree.com. It is the only group combating communist bias in the media and entertainment, and it is its hard news division.
Because the success of our objective is so important to the economy and because leftist media's COVID falsehoods probably cost lives, we need your help. Donate to WayneDupree.com today so that we can keep covering stories that the leftist media won't touch. Your decision to donate $5 per month, $50 per year, or $100 per year will enable us to continue the difficult work of making sure a free and fair media survives in our nation.
[The WDStaff]
SIGN UP HERE
and join us!
---
Follow Wayne on Rumble!