I know President Trump is being humble right now over the Roe v Wade decision.
The conservative-led SCOTUS just struck down the shameful 50-year-old federal law, and now states will decide the fate of abortion.
This is Trump's legacy.
None of this would have happened without him. This historic conservative culture-war win is all because of him and what he assembled inside the SCOTUS.
MORE NEWS: Pelosi Can't Utter a False Word About Roe v Wade Decision Without Prof. Turley POUNCING All Over Her
So, when he was asked about it, and what "role" he played in this whole thing, President Trump very humbly gave the credit back to God.
He said, "God made the decision."
Amazing.
Here's what else he said:
"God made the decision" – President Donald Trump pic.twitter.com/yhumVyG3cf

— Saurabh Sharma 🇺🇸 (@ssharmaUS) June 24, 2022
Here's a closeup of Trump's statement: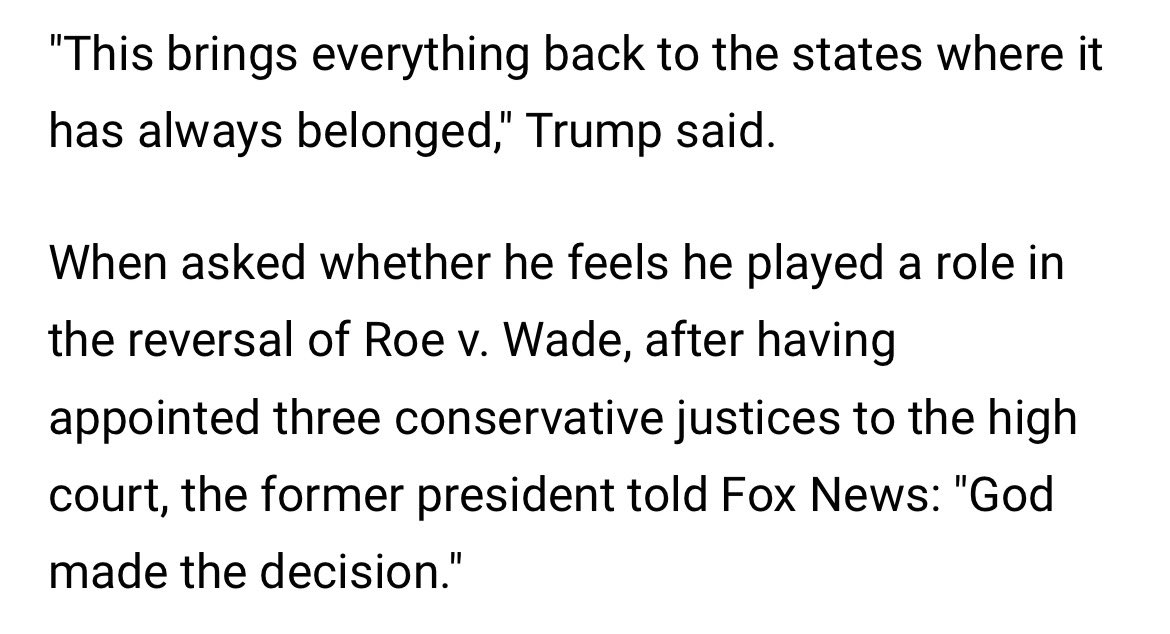 It's rare that a president gets a legacy like this… something so massive and defining.
And nobody deserves it more than President Trump.
He's not only the best president this country has ever had, but he's also the best conservative the Republican Party has ever seen.
Truly remarkable, and I am so happy that he's got such a powerful and important legacy.
The opinions expressed by contributors and/or content partners are their own and do not necessarily reflect the views of WayneDupree.com
---
---
One of the most dependable websites for original reporting, investigative reporting, and breaking news in the conservative media is now WayneDupree.com. It is the only group combating communist bias in the media and entertainment, and it is its hard news division.
Because the success of our objective is so important to the economy and because leftist media's COVID falsehoods probably cost lives, we need your help. Donate to WayneDupree.com today so that we can keep covering stories that the leftist media won't touch. Your decision to donate $5 per month, $50 per year, or $100 per year will enable us to continue the difficult work of making sure a free and fair media survives in our nation.
[The WDStaff]
SIGN UP HERE
and join us!
---
Follow Wayne on Rumble!