By now, we all know about Joe Biden's "White House" stage. It's a stage made to look as if Joe Biden is inside the White House when he's actually across the grounds in the South Court Auditorium of the Eisenhower Executive Office Building which is part of the White House complex. I am not sure why he uses it… At one point they said he used it due to COVID, and nobody pushed beyond that, and then later, Newsweek claimed they used it for White House events that are being broadcast. The area is bigger than the actual Oval Office and provides an area for journalists. Martha Kumar, director of the White House Transition Project explained that this room in the Eisenhower Executive Office Building is being used more regularly due to it being more accessible.
President Trump's former top aid Stephen Miller had a different reason by Biden used the room: "The reason Biden uses this bizarre virtual set for televised meetings — and not an actual room like East Room, Cabinet, Oval, Roosevelt, Sit Room, etc. — is because it allows him to read a script directly from a face-on monitor (& w/out teleprompter glass that can be seen on camera)
This is what his set has looked like:
I don't know if the press is still attending Biden's little "plays," but if they are, is it on a new set?… That's what people are now wondering after new photos emerged.
The new set, if that's what it is, looks to have the same flooring, but the wall paneling is different and the dark blue walls appear to be gone. Are they in the same spot, but with a new design, or is this a totally new set in a different location?
Human Events editor Jack Posobiec shared the photo, wondering "where is this?"
Where even are they right now pic.twitter.com/DwsA3qT7rW

— Jack Posobiec 🇺🇸 (@JackPosobiec) July 28, 2022
Here's a closeup of the photo: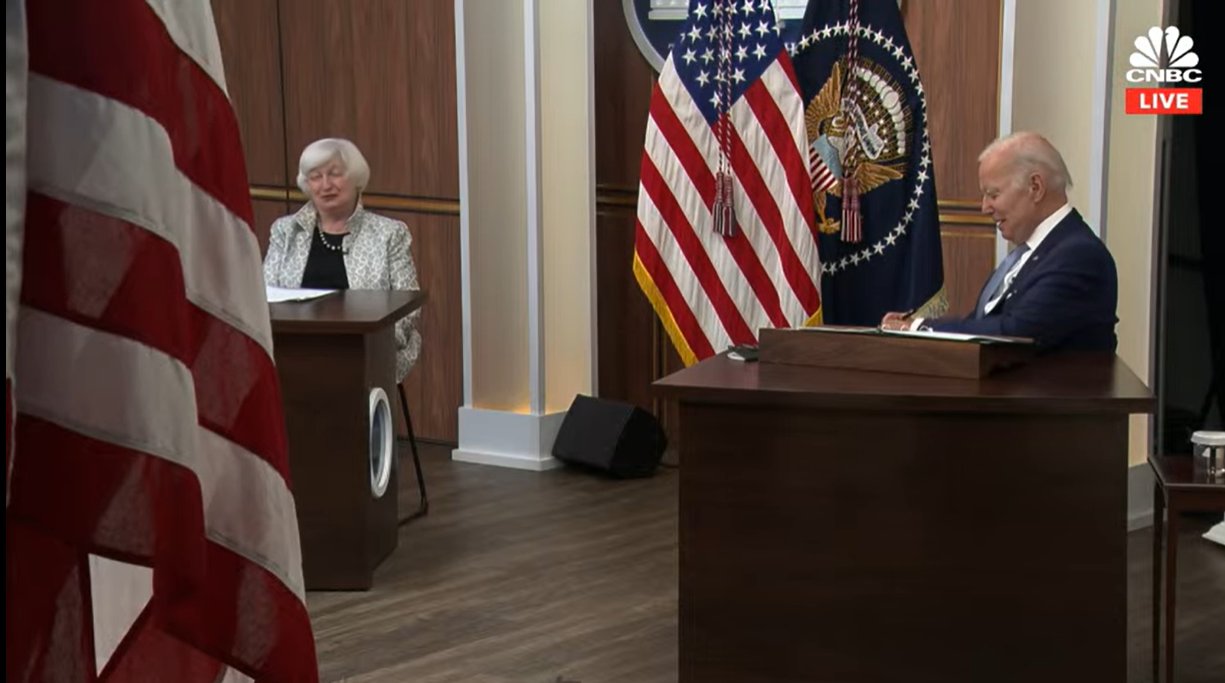 Here's what people online are saying about this "new" stage:
"This looks like a memory care facility."

"Do they use the Oval Office and the White House for anything??"

"It's the old Merv Griffin set" 

"why are they always in some play-house version of the oval office?"

"This is an Assisted living facility" 

"God's waiting room"

"I think it's the old set of The Dating Game without the wall"

"Craft time"

"Did someone say BINGO TIME??"

"The set of the Gong Show?" 

"Nursing home recreation room"

"On set of The Biden Show. Soon to be canceled."

"This is probably in Delaware" 

"On the set of SNL"

"They're on the TV set where Barack Obama writes the scripts and Susan Rice directs the actors."
And what on earth is Janet Yellen sitting at? Jack wonders if it's a washing machine. What's with that "window" in the desk?
Here's what people are saying about the "washing machine":
"She's laundering the money right in front of our eyes"

"That's a cooling vent for the animatronic machinery"

"Is it a port hole for whoever's feeding her the talking points?"

"I have a litter box that looks like that"

"It's for the money going to Ukraine."

"It's a window from the titanic…"

"It's a peephole for corn pop"

"Being the Maytag repair woman is a lonely job"

"Escape tunnel? "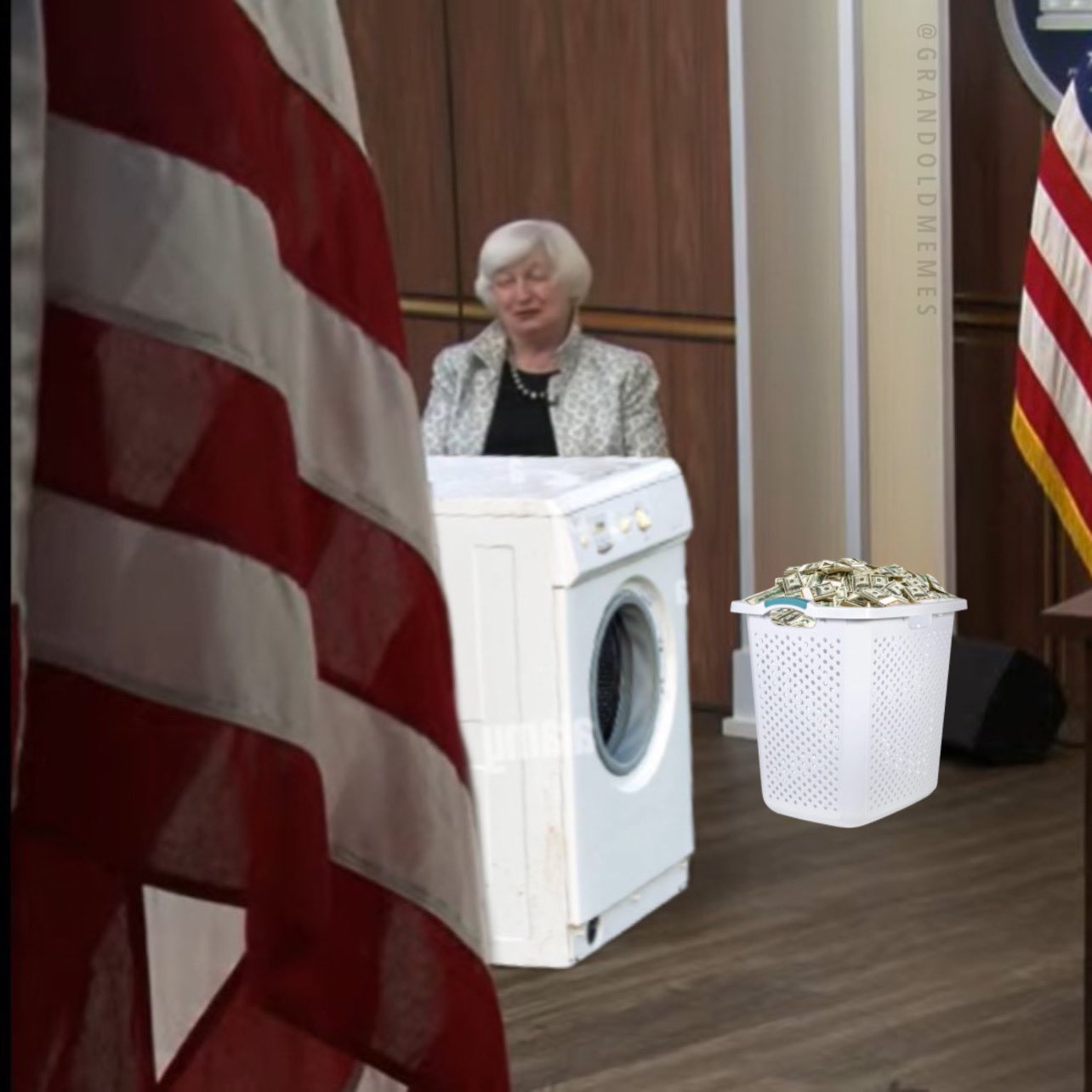 Honestly, has there ever been a more bizarre and weird "presidential" admin than this one? Everything they do is strange… and the only reason you can explain it is that the Handlers are trying so hard to cover for how mentally sick Joe is, and it's just too much. They can't do it, so everything is just sort of falling apart, and we're all seeing how the hotdogs are made, and it's really creeping us out.
The opinions expressed by contributors and/or content partners are their own and do not necessarily reflect the views of WayneDupree.com
---
---
One of the most dependable websites for original reporting, investigative reporting, and breaking news in the conservative media is now WayneDupree.com. It is the only group combating communist bias in the media and entertainment, and it is its hard news division.
Because the success of our objective is so important to the economy and because leftist media's COVID falsehoods probably cost lives, we need your help. Donate to WayneDupree.com today so that we can keep covering stories that the leftist media won't touch. Your decision to donate $5 per month, $50 per year, or $100 per year will enable us to continue the difficult work of making sure a free and fair media survives in our nation.
[The WDStaff]
SIGN UP HERE
and join us!
---
Follow Wayne on Rumble!