I find it hard to believe that Joe Biden has not had COVID until now.
Heck, I don't even know if I believe he has COVID, maybe the Handlers are just trying to take the heat off of him for falsely declaring he has cancer.
Either way, they're telling us Biden has tested positive for COVID.
Biden has covid, WH says pic.twitter.com/9A2ke7Tmys

— Manu Raju (@mkraju) July 21, 2022
Here's a closeup of the statement: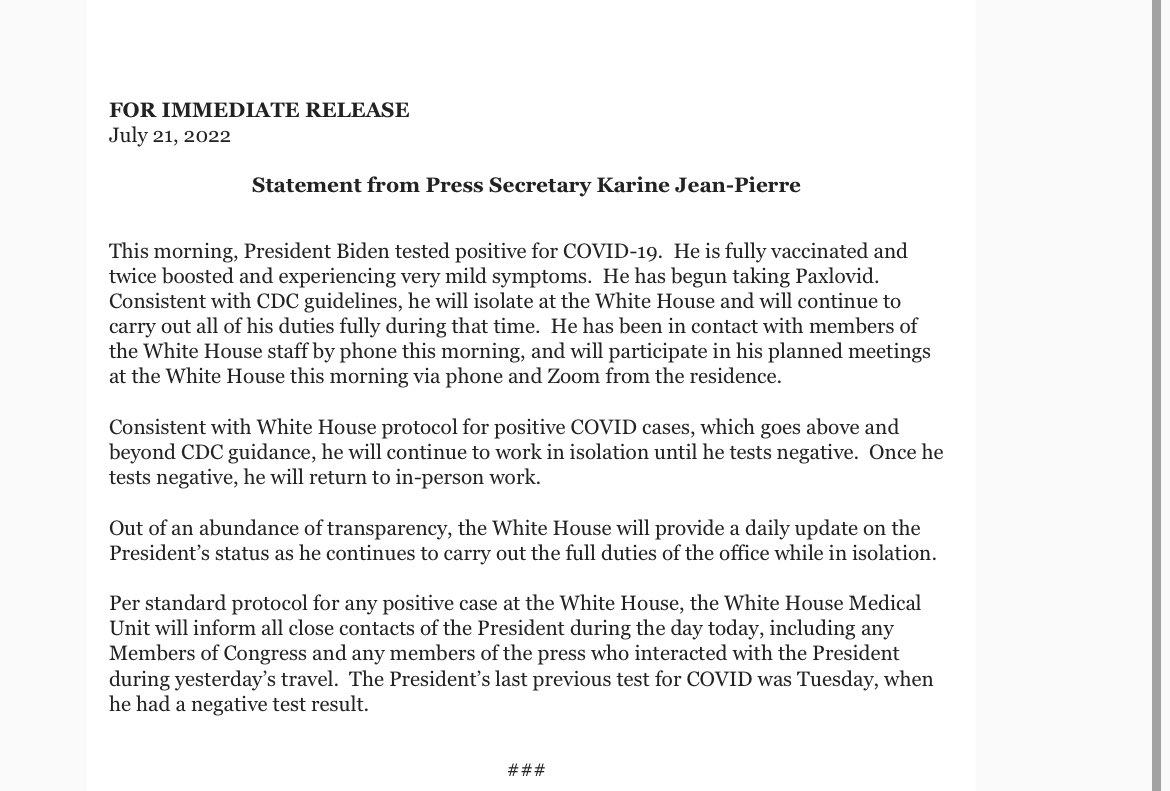 And in the most ironic twist, or maybe it's karma, it was one year ago today that Joe Biden said THIS about the vaccine…
He told the world that if you got the vaccine, you will not get COVID…
Well, 4 or 5 vaccines later, Joe is now positive for COVID.
How's that for karma?
Watch:
It was one year ago today that Biden said this quote: "You're not going to get covid if you have these vaccinations."

Today, Biden tested positive for covid. pic.twitter.com/Q1BcBQaEXH

— Greg Price (@greg_price11) July 21, 2022
I certainly don't wish Joe any bad health, God knows he's a big enough mess as it is, although, I do hope this COVOD diagnosis finally convinces his Handlers that it's time he steps down.
Trust me, I am in no rush to welcome a phony "President Harris" into the fray, but at least she doesn't have Alzheimer's and just like Joe, we'll take her down too.
Bring it on.
The opinions expressed by contributors and/or content partners are their own and do not necessarily reflect the views of WayneDupree.com
---
---
One of the most dependable websites for original reporting, investigative reporting, and breaking news in the conservative media is now WayneDupree.com. It is the only group combating communist bias in the media and entertainment, and it is its hard news division.
Because the success of our objective is so important to the economy and because leftist media's COVID falsehoods probably cost lives, we need your help. Donate to WayneDupree.com today so that we can keep covering stories that the leftist media won't touch. Your decision to donate $5 per month, $50 per year, or $100 per year will enable us to continue the difficult work of making sure a free and fair media survives in our nation.
[The WDStaff]
SIGN UP HERE
and join us!
---
Follow Wayne on Rumble!