The left must be full from all the words they've been eating lately. All the nasty things they accused President Trump of, they've been doing. All the names they called him are actually exactly who they are. The left spent about 7 years and counting trashing President Trump's policies. They went after things like The Wall, which Joe Biden promptly canceled, saying it was racist and bigoted. Yet now, Joe is quietly restarting Trump's Wall in the dark of night and is hoping to god nobody on their side notices. That's right, Joe Biden, in a last-ditch desperate bid to stave off a massive red wave during midterms is actually going to build Trump's wall… at least part of it, anyway.
But that brings us to a tweet that radical conspiracy theorist Karine Jean-Pierre wrote back in 2019. On February 15, at 11:17 am, KJP wrote a tweet to President Trump that said, "Where are all the pesos for your bigoted wall?"
Hmmm. I wonder if she'll be asking her feeble-minded boss that same question?
— Defiant L's (@DefiantLs) July 29, 2022
Here's a closeup of the image: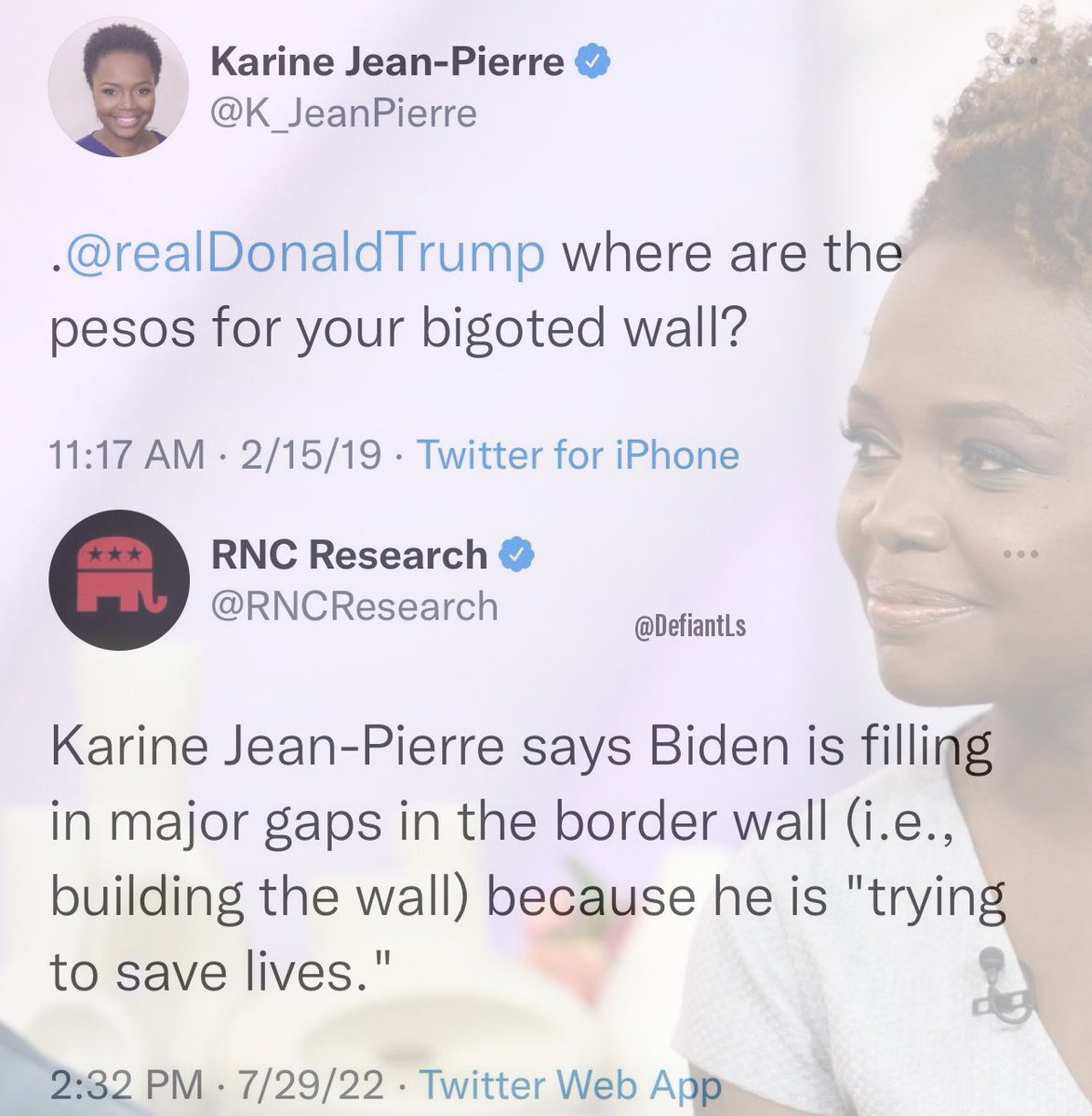 Here's the video of KJP today, talking about Trump's Wall:
Karine Jean-Pierre says Biden is filling in major gaps in the border wall (i.e., building the wall) because he is "trying to save lives." pic.twitter.com/q9KFOzluJf

— RNC Research (@RNCResearch) July 29, 2022
These people are shameless, godless hypocrites that believe in nothing. The only thing they believe in is whatever happens now, that can get them more power, and once that runs out, they throw it in the trash, and pretend it never existed. Joe Biden is a relic from a time when politicians played their bait and switch games very successfully on the American people. Thankfully, most of us are hip to that now, and we've moved on. But useless old-timers like Biden have not. They think they can continue doing this flip-flopping game and you won't notice what they're up to. This is why Biden's the most unpopular so-called "president" in US history. This guy has never moved on with the times, and his staff is stuck in 1992 with him, telling lies and spinning tales.
The opinions expressed by contributors and/or content partners are their own and do not necessarily reflect the views of WayneDupree.com
---
---
One of the most dependable websites for original reporting, investigative reporting, and breaking news in the conservative media is now WayneDupree.com. It is the only group combating communist bias in the media and entertainment, and it is its hard news division.
Because the success of our objective is so important to the economy and because leftist media's COVID falsehoods probably cost lives, we need your help. Donate to WayneDupree.com today so that we can keep covering stories that the leftist media won't touch. Your decision to donate $5 per month, $50 per year, or $100 per year will enable us to continue the difficult work of making sure a free and fair media survives in our nation.
[The WDStaff]
SIGN UP HERE
and join us!
---
Follow Wayne on Rumble!