Hopefully, everyone's eaten breakfast by now.
If not, apologies. 
But I happened upon a story from The New York Post, featuring Pelosi in a bathing suit with a PLUNGING neckline.
Apparently, she's in Italy with her drunken husband, staying at some mega-exclusive resort owned by Andrea Bocelli.
Photographers snapped a pic of Pelosi walking along the beach in her bathing suit. She's wearing a pair of white pants and an open white shirt, showing off her "saucy" turquoise suit.
Many think the look is a bit much for a woman who's almost 83 years old.
A little more than a month after House Speaker Nancy Pelosi's husband Paul was busted for DUI in California — leaving him facing jail time — the multi-millionaire couple was spotted at a ritzy resort on the Italian seaside owned by legendary tenor Andrea Bocelli.
The Post exclusively obtained photos of the couple — Nancy dressed in all white with Paul clad in dark-colored shorts and shirt — hanging with Bocelli, his wife Veronica Berti, and others at the Alpemare Beach Club.
MORE NEWS: Who Radicalized Bette Midler? Controversial "Anti-Muslim" Meme is Posted On Her Account, Now, Liberals Are Furious
The California Democrat was also pictured in animated conversation with a group including Bocelli and Berti inside one of the sumptuously outfitted tents on the beach.
Reports from insiders said most patrons didn't recognize Pelosi and kept asking the lifeguards who she was.
The resort, so exclusive that rates for personal cabins are only available by emailed request, is nestled between the beach and the mountains in Forte dei Marmi, about 60 miles west of Florence.
"Take a few dips in the clear blue sea and soak up the bright Tuscan sunshine on the VIP Beach, where the Maestro Andrea Bocelli himself could even make an appearance!" the club boasts on its website. ​"During your time at Alpemare, you will indulge in a wonderful wine tasting of Bocelli wines directly from the Azienda Bocelli accompanied with a delicious appetizer​."
Meanwhile, back at home, middle-class Americans can hardly put food on the table with the high cost of Biden inflation.
Warning: May cause vomiting:
Pelosi Vita: Speaker, DUI hubby cavort at Italian resort owned by Andrea Bocelli https://t.co/nEStYf4Iu7 pic.twitter.com/zb1XkFEiq3

— New York Post (@nypost) July 5, 2022
Here's a closeup of the image:
Here's what people online are saying:
"The resort where Nancy is currently vacationing is so exclusive the room prices aren't available on their website. Meanwhile, the poors in America are struggling with skyrocketing inflation, pain at the pump, a baby formula crisis and an invasion on our southern border."
"Good lord, Grany, you're 8 years away from 90, get a scoop-neck bathing suit." 
"This is what Dem leadership is doing a week after Roe is overturned."
"our elites are just so gross" 
"Just like Jill in her fishnets, Nancy doesn't dress for her age." 
"No one can unsee this Except Andrea Bocelli who can't see to begin with"
"Vodka filled knockers"
"You're on bail and can't leave the county. Pelosi's husband is on bail and cavorts in Italy. You are not the same."
"When Harry Met Saggy."
"this is not what I meant when I said inflation"
"Her hands really show her true age. Wow"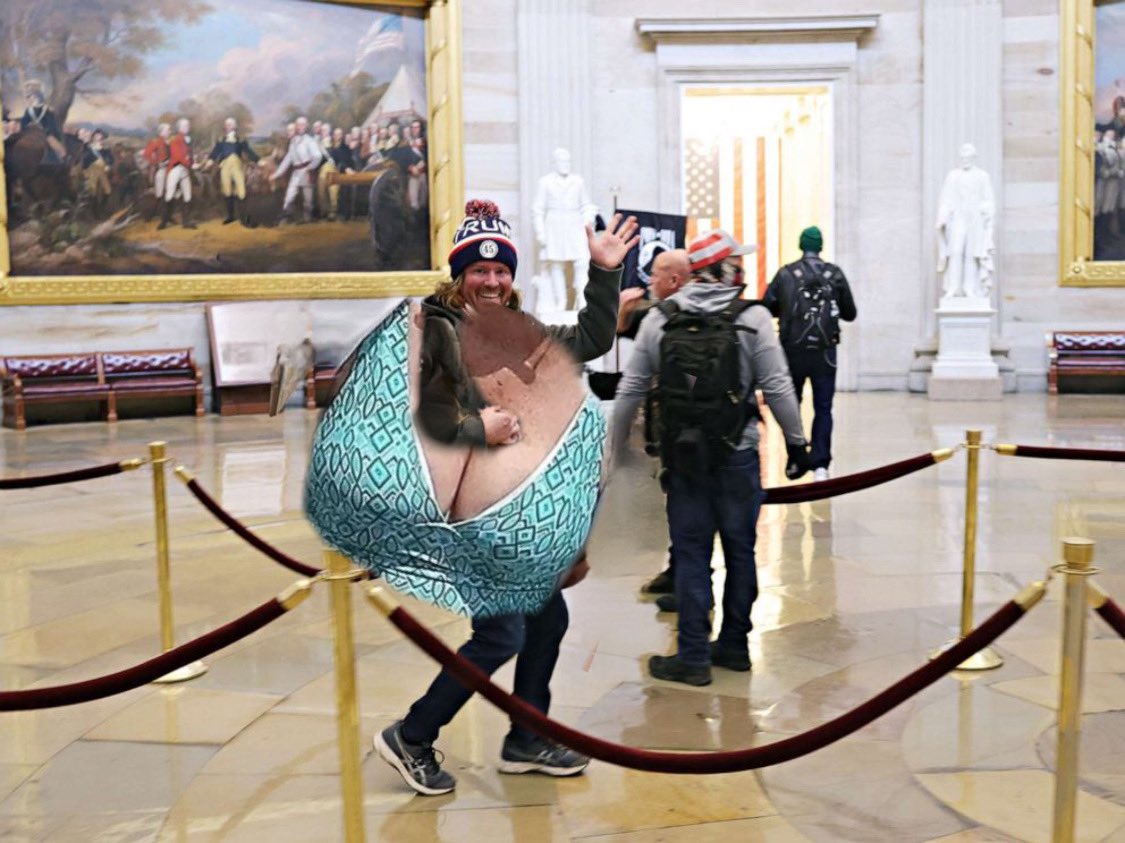 Those memes are great!
Personally, I think Pelosi's gross bathing suit is the least of our worries.
The fact the middle-class can barely keep their heads above water, thanks to Dem's dangerous "climate change" agenda, and how these elderly, wicked elites smear their wealth and power in our faces as they try to destroy us, is the main thing to stay focused on.
But yes, I agree that Nancy should invest in a scoop-neck suit, that will leave much more to the "imagination."
🤢
The opinions expressed by contributors and/or content partners are their own and do not necessarily reflect the views of WayneDupree.com
---
---
One of the most dependable websites for original reporting, investigative reporting, and breaking news in the conservative media is now WayneDupree.com. It is the only group combating communist bias in the media and entertainment, and it is its hard news division.
Because the success of our objective is so important to the economy and because leftist media's COVID falsehoods probably cost lives, we need your help. Donate to WayneDupree.com today so that we can keep covering stories that the leftist media won't touch. Your decision to donate $5 per month, $50 per year, or $100 per year will enable us to continue the difficult work of making sure a free and fair media survives in our nation.
[The WDStaff]
SIGN UP HERE
and join us!
---
Follow Wayne on Rumble!