The car crash that killed GOP Rep Jackie Walorski just took a strange turn. It was initially reported that the deadly car crash happened when the driver on the other side of the road, crossed over and hit the vehicle Walorski was traveling in head-on. But all of that has changed now. Police now say it was not the "other car" that was at fault. It was Jackie's car, and the reason for the deadly accident was that her young aide who was driving, actually swerved the car into the other lane for some unknown reason and hit the car head-on, killing everyone.
Daily Mail reported that police have changed their description of the crash that killed Indiana Republican U.S. Rep. Jackie Walorski, saying Thursday that it was the SUV in which she was a passenger that crossed a state highways centerline and caused the head-on collision.
Walorski and two members of her congressional staff died in the Wednesday afternoon crash in northern Indiana, along with the woman driving the other vehicle, the Elkhart County Sheriff's Office said.
The department's initial account was that the car driven by Edith Schmucker, 56, Nappanee, Indiana, crossed into the SUV´s path, but the office released a statement Thursday saying investigators had talked with witnesses and viewed video evidence that their preliminary determination was wrong.
Investigators determined that the SUV driven by Zachery Potts, 27, of Mishawaka, Indiana, crossed the centerline for unknown reasons in a rural area near the town of Wakarusa.
Here is a photo of the 27-year-old aide that caused the deadly accident:
There are a lot of conspiracy theories floating around about Jackie's death because she was a close ally of President Trump, and she believed the 2o2o election was a sham.
Here is what President Trump said about the death of Jackie: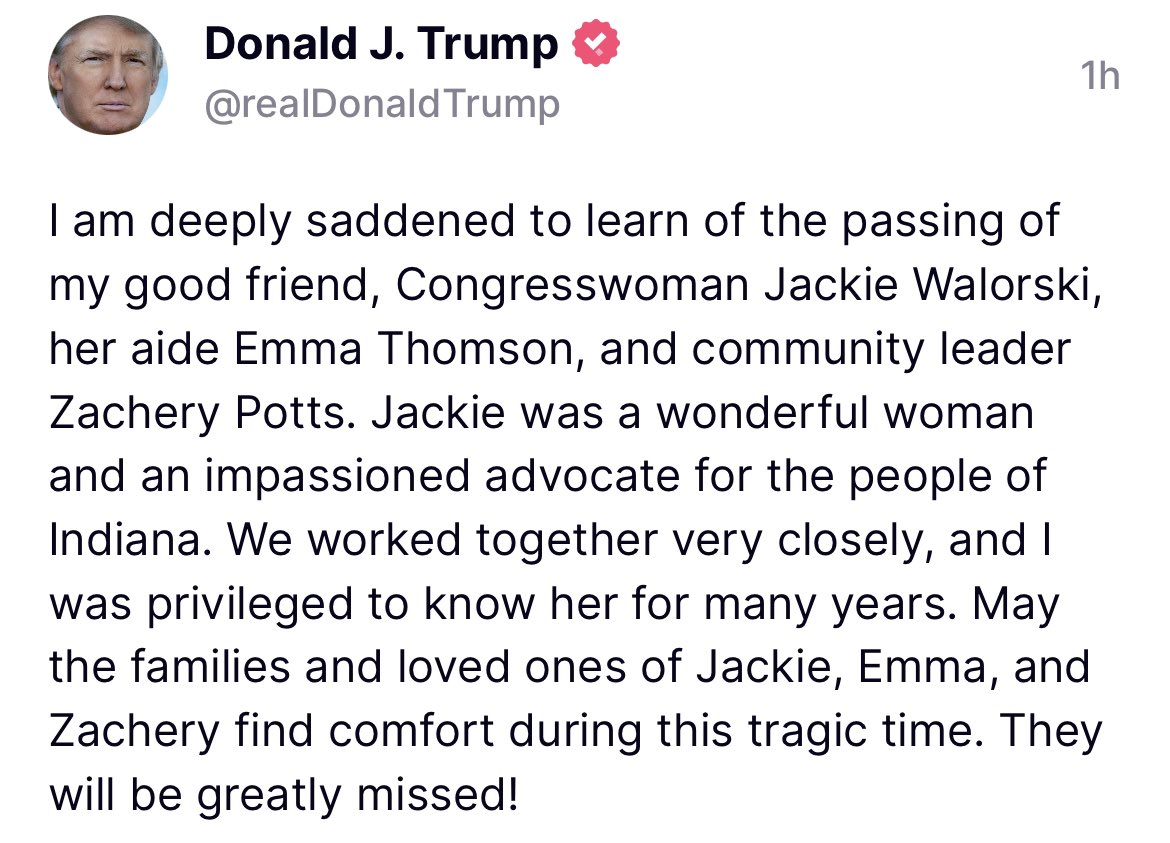 I don't think this had anything to do with a conspiracy. The aide, who for some unknown reason, drove into on-coming traffic. It's a mystery right now, but I hope the family gets answers.
This whole thing is a terrible tragedy and we're very sad at the loss of life and send our prayers to all the families involved.
The opinions expressed by contributors and/or content partners are their own and do not necessarily reflect the views of WayneDupree.com
---
---
I'm glad you're here, WayneDupree.com comments! Please maintain polite and on-topic conversations. You could see comments from our Community Managers, who will be identified by a "WD Staff" or "Staff" label, in order to promote fruitful and civil discussions. We stop accepting comments on articles three days after they are posted in order to provide the optimal user experience. The conversations forums on WayneDupree.com welcome comments for an unlimited period of time. For further information, please refer to our community policies.
SIGN UP HERE
and join us!
---
Follow Wayne on Rumble!