In case you haven't heard, Liz Cheney lost her primary race in Wyoming by nearly 40 humiliating points. Most people figured that she'd lose by around 30 points, so it was even worse than her critics had expected, which is fantastic news. The good people of Wyoming came through for the rest of us and booted that traitorous RINO to the curb. Of course, Liz has lost her mind even more. Between the TDS and now the 40-point loss, Liz has gone completely bonkers. She's comparing herself to Abe Lincoln and suggesting she's running for president. LOL Can you imagine being so narcissistic and out-of-touch, that after you lose a race by 40 points, you think you could win the presidency? She makes Beto look "realistic."
Had Liz just taken her defeat with some grace, and slithered off into the sunset, she would have likely been left alone. But she's going out in such an obnoxious and elitist way, that she's getting roasted all over the internet, and honestly, she deserves every bit of the mockery and jabs.
I happened upon this rather amusing video meme from a CBS interview with Liz and her warmonger father in the early afternoon before the defeat, and it's hilarious. They portrayed Liz as "Miss Piggy," which is a common comparison that's used often with Liz.
You can watch the video below:
I think this meme is fantastic, but Miss Piggy really needs the glasses to make it a "complete Cheney" look.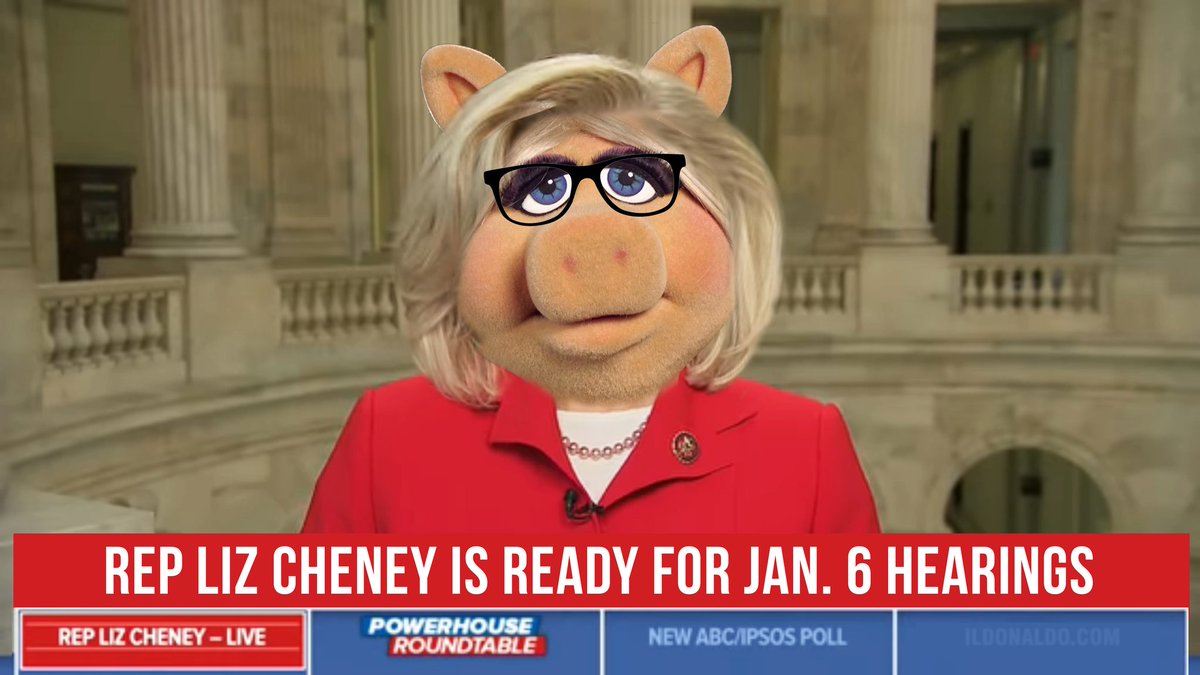 This is another good one:
— john (@johnhackerla) August 17, 2022
Cheney spent the day with her warmonger father, who, as you know, tried his best to save his daughter's failing career by viciously attacking President Trump as the most dangerous threat to "democracy."
Many people found this ironic, coming from the man who pushed the "Weapons of Mass Destruction" lie that resulted in the death of tens of thousands of people. That seems a tad more "threatening" than Trump wanting to build a border wall and force China to trade fairly with us, right?
The opinions expressed by contributors and/or content partners are their own and do not necessarily reflect the views of WayneDupree.com
---
---
One of the most dependable websites for original reporting, investigative reporting, and breaking news in the conservative media is now WayneDupree.com. It is the only group combating communist bias in the media and entertainment, and it is its hard news division.
Because the success of our objective is so important to the economy and because leftist media's COVID falsehoods probably cost lives, we need your help. Donate to WayneDupree.com today so that we can keep covering stories that the leftist media won't touch. Your decision to donate $5 per month, $50 per year, or $100 per year will enable us to continue the difficult work of making sure a free and fair media survives in our nation.
[The WDStaff]
SIGN UP HERE
and join us!
---
Follow Wayne on Rumble!