Well, the "FBI Raid" against President Trump just got stranger, if you can believe that one. Merrick Garland made a surprise appearance before the press. We were told he'd be making a statement at 2:30 pm, but Merrick didn't show up until almost an hour later. And when he finally did grace everyone with his presence, he told the world that it was him who signed off and approved the communist raid on Joe Biden's #1 likely political opponent for 2024, President Donald J. Trump.
Gee, I wonder if he ok'd the feds to go rifling through Melania's closet, too?
Watch:
BREAKING NEWS: Attorney General Merrick Garland just announced at a press conference that he approved the FBI raid at Mar-A-Lago.

Stay tuned to https://t.co/us5WatS5OM for more coverage.pic.twitter.com/jjtaQ8dORs

— Rebel News USA (@RebelNews_USA) August 11, 2022
But as soon as those words came slithering out of his mouth, MAGA smelled something fishy, and called "foul."
Something wasn't right. It was too perfect and too neat and tidy.
Merrick Garland reading word for word from notes and refusing to answer any questions.

Is this what passes for transparency now?

— Rep. Darrell Issa (@repdarrellissa) August 11, 2022
The video was bizarre. Garland looked like an ISIS hostage.
Meanwhile, the White House was frantically (and laughably) claiming they had no idea what Merrick was going to say:
"A White House official tells me there will be NO reaction to Garland remarks – and they learned about the remarks from the press."
A White House official tells me there will be NO reaction to Garland remarks – and they learned about the remarks from the press.

— Jacqui Heinrich (@JacquiHeinrich) August 11, 2022
Could the White House look more desperate to distance itself from this mess? They refused to even make a comment after Merrick spoke. They are over there sh*tting their pants.
MAGA doesn't buy it. Here's what they're saying online:
"Merrick Garland scripted statement was a total nothing burger. He is going to be the Biden Regime's "fall guy." The raid of Mar-a-Lago was completely unnecessary and uncalled for. It was something a third-world Dictator would do. Garland and Wray both need to be impeached."

"Looks like the Biden Admin setup Merrick Garland to be their FALL GUY in yet their latest attempt to bring down Trump. He'll be under the bus in no time…"

"So the ghost of Merrick Garland is the fall guy for this charade."

"#MerrickGarland when this #MarALago thing goes sideways. Just know that you will be the fall guy. They will throw you under the FBI Tactical Response bus…."

"I don't believe Garland approved shit, I believe he was forced to take the heat."

"He certainly looked super nervous towards the end. Very very nervous."

"Took em a day or 2, to decide he'll be the fall guy."

"If this falls apart, Garland is the fall guy. Is that why he looks nervous as shit?"

"So, Garland will be the fall guy then get a full pardon from Biden. He'll make millions with a book and even more when it becomes a movie!"

"So they made Garland the fall guy? Wow! Wray must be more useful to THEM than Garland."

"They pulled Biden offstage and launched a preemptive coup of the political opposition in his absence. Now we know who is really in charge. It isn't Joe or Kamala or even Jill. It is the Leviathan."
Here is President Trump's statement after Garland's presser: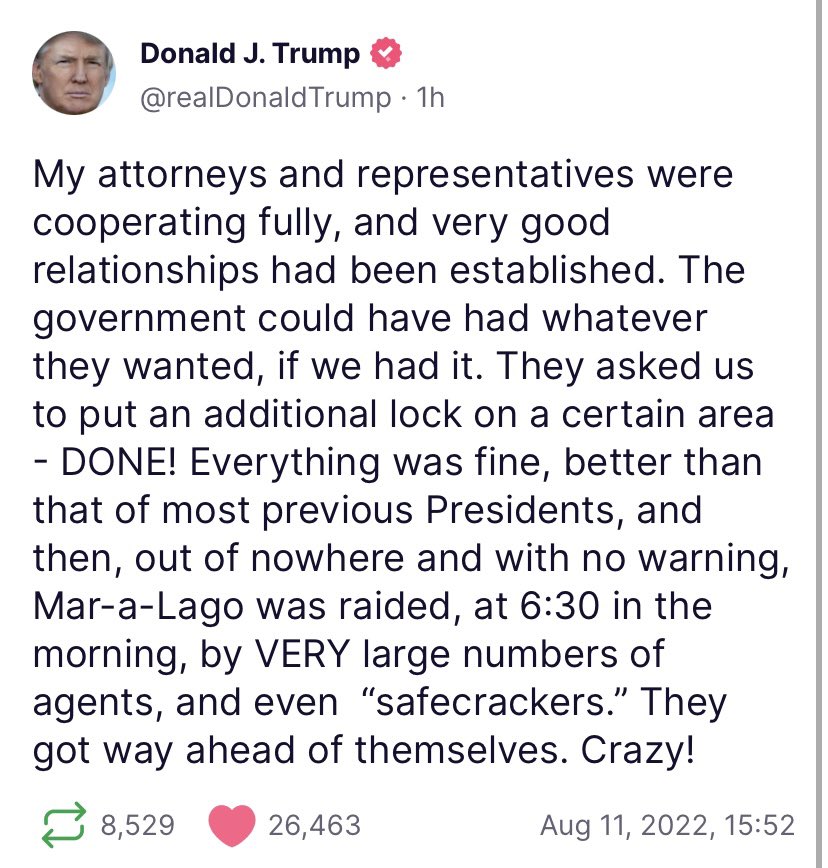 Here's the issue. This isn't just some rude or disrespectful move against a former president to embarrass him…. that would be bad enough. This was a political move, to bring down Joe Biden's most likely 2024 opponent.
After all, Trump has all but come out and said he was running again, and Joe Biden has announced that he's running, so what Team Biden did, was launch an attack against a political foe, designed to cause a great deal of public embarrassment, and give people the impression that Trump is a "criminal."
That's what makes all of this very serious, and why they need a "fall guy."
So be it. Impeach and remove him. 
The opinions expressed by contributors and/or content partners are their own and do not necessarily reflect the views of WayneDupree.com
---
---
One of the most dependable websites for original reporting, investigative reporting, and breaking news in the conservative media is now WayneDupree.com. It is the only group combating communist bias in the media and entertainment, and it is its hard news division.
Because the success of our objective is so important to the economy and because leftist media's COVID falsehoods probably cost lives, we need your help. Donate to WayneDupree.com today so that we can keep covering stories that the leftist media won't touch. Your decision to donate $5 per month, $50 per year, or $100 per year will enable us to continue the difficult work of making sure a free and fair media survives in our nation.
[The WDStaff]
SIGN UP HERE
and join us!
---
Follow Wayne on Rumble!