I gave this guy the benefit of the doubt in the title, by saying he "accidentally" tweeted out this absurd meme with Nazi symbols all over it, but many people think it was not by accident. I don't know if Biden's staff is legit stupid, or they're just embracing their tyrannical ways and don't care who knows about it. Because now, we've got TOP Biden staffers retweeting memes of Joe with Nazi imagery. Lots of it. The young guy who retweeted the meme is Andrew Bates, and he's the deputy press secretary for Joe Biden. That's a big deal post, and as a communications guy, he should know better.
Maybe he does know better and just doesn't care? The meme is from the "Dark Brandon" series, which is a series of memes mocking Joe Biden as "Brandon," an edgy Batman-like elderly superhero who is going to end all the malarkey. Most of the memes are coming from the website 4Chan, which reportedly hacked into Hunter's iCloud account recently, and they're adding Nazi symbols in the memes to signify Joe's tyrannical admin. They've also made memes of "Dark Brandon" in blackface, too. They're not flattering portrayals and are not meant to praise Joe, but his staff, who are desperate to see Biden looking "cool," have embraced the memes, and are sharing them online, either not realizing there's Nazi imagery all over them, or not caring.
Personally, I think they're not noticing. They're just so desperate to make feeble, dementia Joe look "cool" that they're not paying close attention to the details. Because here's the thing, folks… He tweeted that from his official WH account, so he can't delete it. It has to be archived into the official "record." Ha ha ha.
This Andrew Bates senior staffer looks like a clueless millennial dope, to be honest.
What a total mess.
Here's what Jack Posobiec said in his tweet: "A Biden staffer tried to make Dark Brandon a thing but copied a meme off of 4chan with a Reich Eagle in the background"
A Biden staffer tried to make Dark Brandon a thing but copied a meme off of 4chan with a Reich Eagle in the background pic.twitter.com/C6h0eAP8Yv

— Jack Posobiec 🇺🇸 (@JackPosobiec) August 8, 2022
Here's a closeup of Andrew's tweet: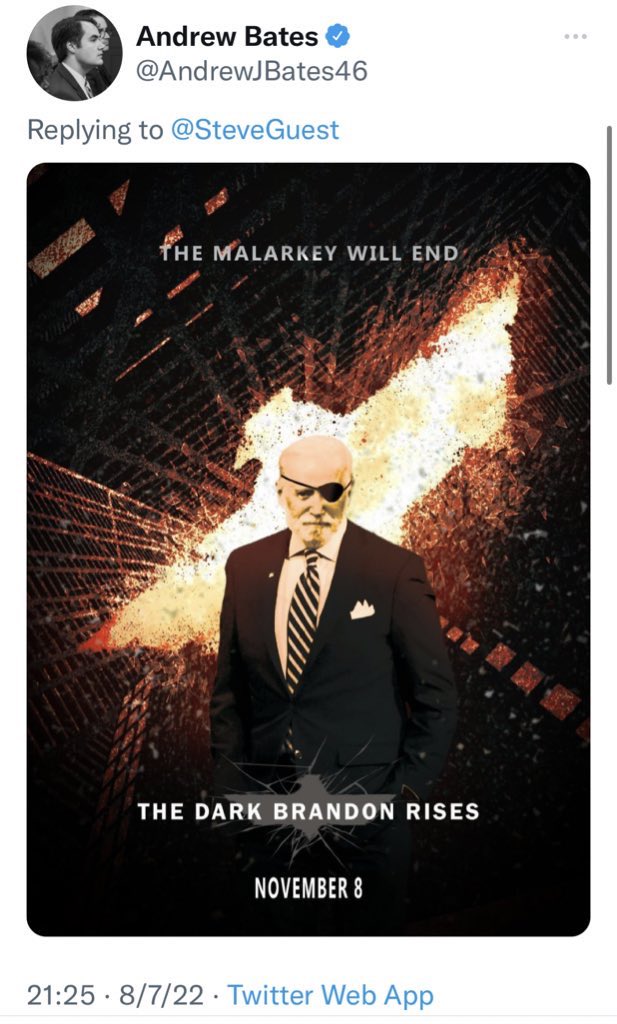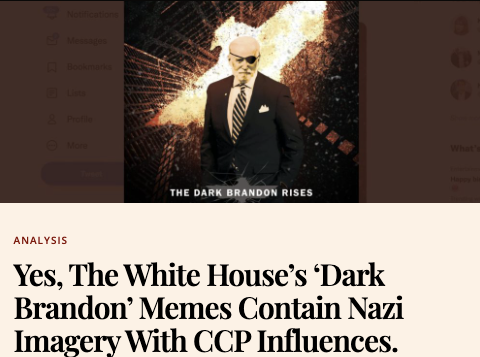 Here's what people online are saying:
"Senior Biden official @AndrewJBates46 intentionally tweeted Nazi imagery. This is a globally recognized symbol of the Reich. No way in the world this was a mistake. Nobody"

"Not only did Andrew tweet out a Biden Nazi eagle meme, but he did it from his official account. Can't delete. Archived forever!"

"He's saying the quite part out loud"

"Woo boy. that was a big mistake." 

"Well, at least their not hiding it anymore" 

"The forth Reich?"

"He had to see it or he lacks any knowledge of history."
I think what we're all forgetting here is that Team Biden is clueless. Hysterical millennials who know nothing about History run communications and social media. My guess is that this Andrew clown thought it was an American eagle.
But I think it's hilarious that he can't officially delete it. But I have a feeling he will delete it any way. It's very damning, and the left doesn't play by the rules.
The opinions expressed by contributors and/or content partners are their own and do not necessarily reflect the views of WayneDupree.com
---
---
One of the most dependable websites for original reporting, investigative reporting, and breaking news in the conservative media is now WayneDupree.com. It is the only group combating communist bias in the media and entertainment, and it is its hard news division.
Because the success of our objective is so important to the economy and because leftist media's COVID falsehoods probably cost lives, we need your help. Donate to WayneDupree.com today so that we can keep covering stories that the leftist media won't touch. Your decision to donate $5 per month, $50 per year, or $100 per year will enable us to continue the difficult work of making sure a free and fair media survives in our nation.
[The WDStaff]
SIGN UP HERE
and join us!
---
Follow Wayne on Rumble!