Well, as you likely know by now, Joe Biden once again has tested positive for COVID. That's right, the guy who is double vaccinated, and double boosted has gotten a double dose of COVID… that seems fitting, doesn't it? Biden announced this weekend that he's back on "lockdown" and will be working from home. And even after all this vaccine rubbish and foolishness, Joe is still booting patriots out of our military who don't want to take this useless shot. Trust the "sCiEnCe" right? It's anyone's guess how Joe will weather through this second bout of the Rona, we all know how weak and frail he is.
Here's Joe's tweet announcing he has COVID again:
Folks, today I tested positive for COVID again.

This happens with a small minority of folks.

I've got no symptoms but I am going to isolate for the safety of everyone around me.

I'm still at work, and will be back on the road soon.

— President Biden (@POTUS) July 30, 2022
And this brings me to President Trump's "Get Well" wish for Joe Biden, which is one for the record books. President Trump trolled Joe by suggesting doctors misdiagnosed his COVID and that he actually has dementia (is he wrong?)… and then President Trump also managed to throw in "election fraud" too. It was quite a work of art.
It's savage and clever, and spot on.
— Election Wizard 🇺🇸 (@ElectionWiz) August 1, 2022
Here's a close-up of Trump's Truth post: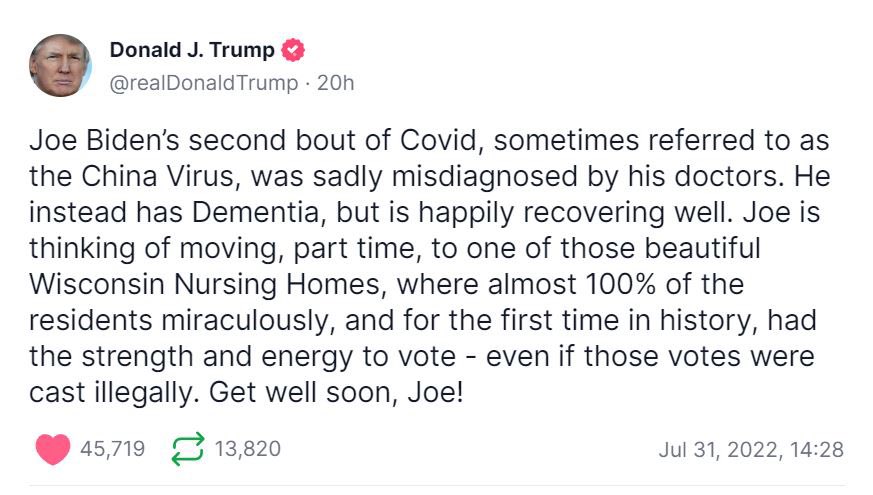 Joe Biden tested positive on Saturday for COVID, and on Sunday, as well. I think this tweet is really fitting.
The only positive thing Joe Biden can do is test positive for COVID.

— Nick Adams (@NickAdamsinUSA) July 30, 2022
Testing positive for COVID is the only thing Joe Biden is good at.
The opinions expressed by contributors and/or content partners are their own and do not necessarily reflect the views of WayneDupree.com
---
---
One of the most dependable websites for original reporting, investigative reporting, and breaking news in the conservative media is now WayneDupree.com. It is the only group combating communist bias in the media and entertainment, and it is its hard news division.
Because the success of our objective is so important to the economy and because leftist media's COVID falsehoods probably cost lives, we need your help. Donate to WayneDupree.com today so that we can keep covering stories that the leftist media won't touch. Your decision to donate $5 per month, $50 per year, or $100 per year will enable us to continue the difficult work of making sure a free and fair media survives in our nation.
[The WDStaff]
SIGN UP HERE
and join us!
---
Follow Wayne on Rumble!