I think this Axios piece I am about to tell you was planted by a Biden Handler, and let me tell you why. First off, we all know Joe isn't making "decisions" inside the White House. It's absurd to even entertain that, the man can't find his way off a six-foot stage. Also, the decision to forgive student loans has backfired and I think this piece is "damage control." I don't think it's all fake, but we can get into that later. For now, let's look at the very bad idea of canceling student loans for rich Ivy League kids.
Politico reported that with the stroke of a pen, President Joe Biden made millions of Americans up to $20,000 richer by excusing them from repayment of money they had borrowed, costing taxpayers hundreds of billions of dollars.
The recipients aren't the poorest Americans, the neediest, the unluckiest, the most indebted or those serving our nation most nobly. They qualify, rather, because they borrowed money for college.
Politically, it may be savvy to deliver on a key campaign promise to the college-educated base of the Democratic Party. Notably, many of those receiving relief borrowed to finance graduate degrees like JDs and MBAs — a group hardly in need of financial help, but one that will remember this giveaway come November. But from afar, this choice looks absurd. As of June, American households held more than $4.5 trillion in consumer debt (excluding home mortgages), most of which was not student loans. According to the Federal Reserve, fewer than 1 in 4 households have student-loan debt, and it is more common among those with higher incomes. By what logic is "borrowed money for college" a sensible standard for selecting the recipients of unprecedented public beneficence?
So, what's going on with this Axios piece? Well, they're claiming that Joe Biden actually didn't want to cancel student loans. He thought working-class people would be mad that they'd be paying for rich, Ivy League students. But his wife Jill and Kamala convinced him to do it.
Okay, as I said earlier, Joe isn't making the decisions, especially one this big. Second, Kamala and Jill can't stand one another, and there's no love lost between Kamala and Joe, either. So there's something fishy going on here.
However, "Joe" was right not to want to go through with student loan forgiveness. CNBC reported 59% of Americans are concerned that student loan forgiveness will make inflation worse, according to a new CNBC survey, conducted online by Momentive.
President Jill Biden pic.twitter.com/0rzFrIdWWy

— Stephen L. Miller (@redsteeze) September 25, 2022
Here's a screenshot of the Axios article: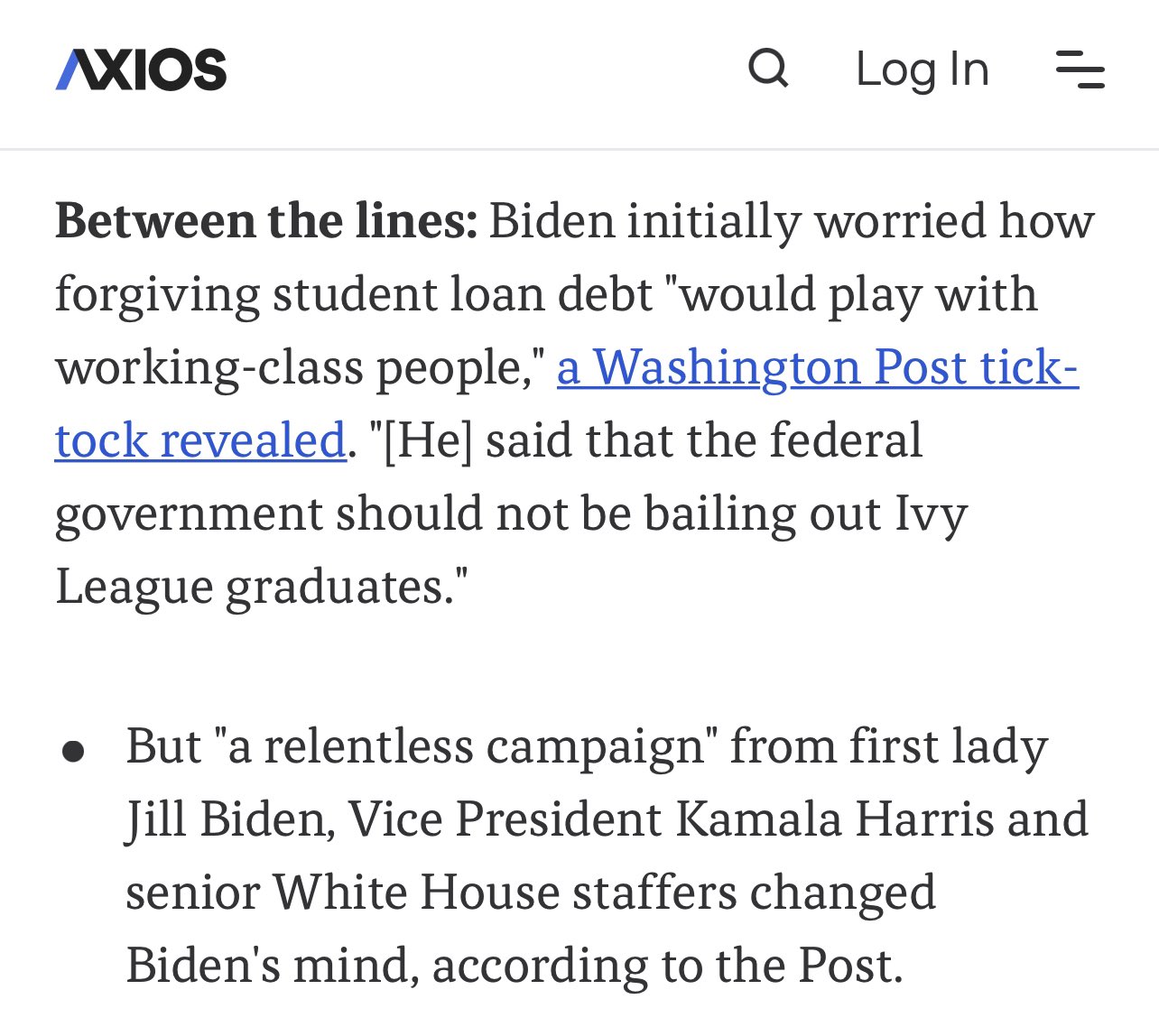 Here's what I think… Joe was involved in the discussion and didn't want to do it, but Jill and other top Handlers vetoed him. I believe they added Kamala's name to it, to make it seem like this is a fully functioning administration, that listens to WOMEN, bla bla bla.
Here's what people online are saying:
"White House staffers" imma bet they will all benefit from the policy… so will most of the reporters who are cheering it on"

"For the millionth time, who is in charge?"

"This is the problem with Democrat First Ladies, they interject in policy. No one elected them to be involved in policy making."

"No Dad. Just do what we asked you to. Here's that ice cream you wanted."

"Whoever the President is, seems the press don't seem to care about that part of Democracy(trademarked)."

"The left & their MSM cohorts have been awfully quiet about college debt transfer. Wonder why? Thinking it wasn't as popular with those who weren't going to benefit from it as they thought. It was supposed to be a game changer this election cycle, yet we're hearing crickets"

"Nah, I'm sure he didn't think about it all. I really think that they, whoever is running the WH right now, thought it would be a hit with everyone. That's how completely insulated, in a bubble, and out of touch they are."

"Biden is an actor playing a role."

"Woodrow Wilson all over again"

"Very telling that the country is being run by, well just about anyone!! That's why we are in the mess we are in!! At least, no mean tweets!"

"Jill threatened to withhold the tapioca pudding."

"That's President DOCTOR Jill Biden to you."

"Didn't axios say Jill was taking a lot of the meetings during the Afghanistan withdrawal too?"

Does anyone really believe he was asked for his opinion?

"Jill Biden is the qween of the Awful White Female Liberal."
Someone posted this and I think it's perfect. "Sign here, darling" …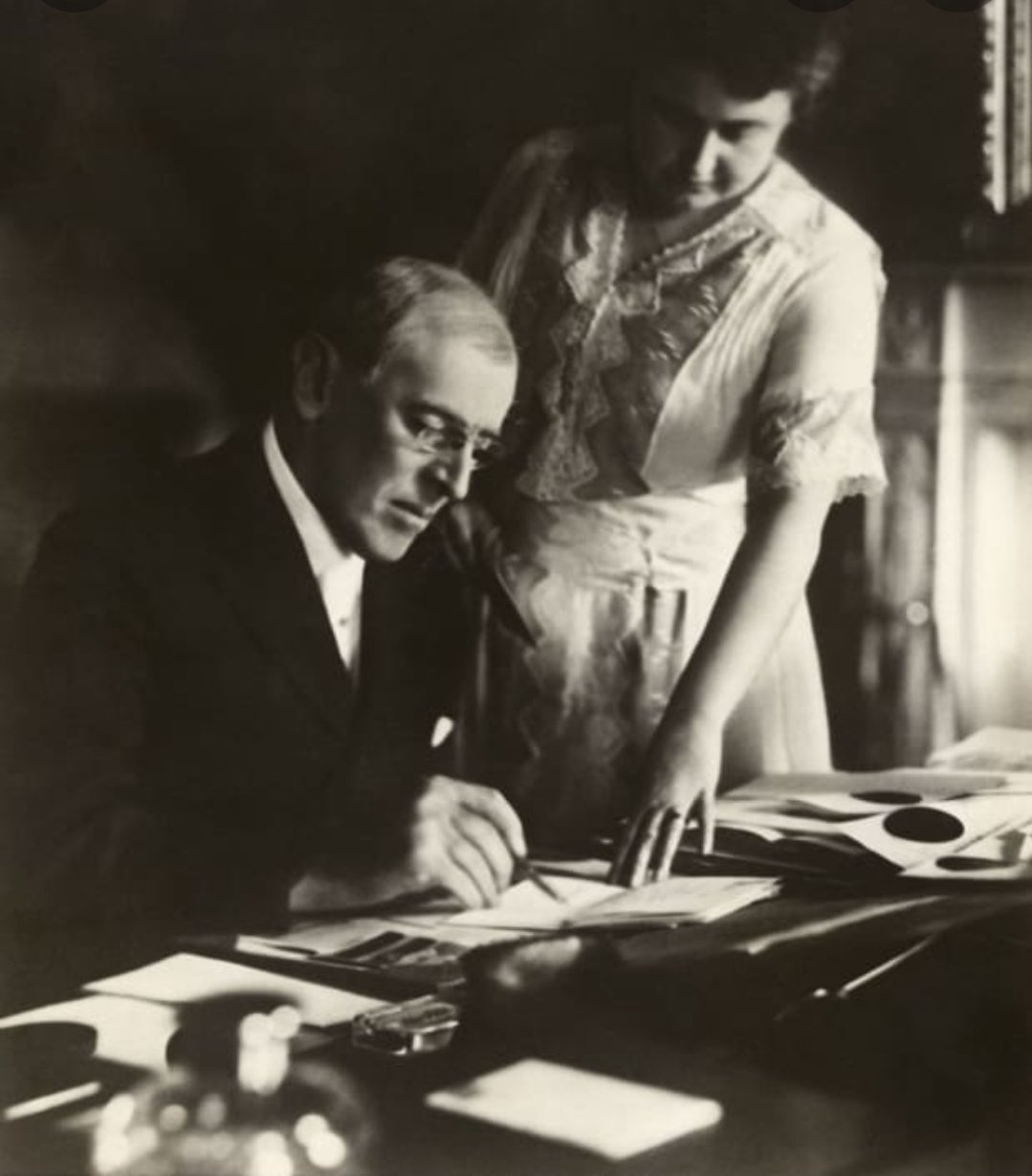 The opinions expressed by contributors and/or content partners are their own and do not necessarily reflect the views of WayneDupree.com
---
---
I'm glad you're here, WayneDupree.com comments! Please maintain polite and on-topic conversations. You could see comments from our Community Managers, who will be identified by a "WD Staff" or "Staff" label, in order to promote fruitful and civil discussions. We stop accepting comments on articles three days after they are posted in order to provide the optimal user experience. The conversations forums on WayneDupree.com welcome comments for an unlimited period of time. For further information, please refer to our community policies.
SIGN UP HERE
and join us!
---
Follow Wayne on Rumble!