This story should be national news, on every network from one coast to the other. But it's not. We've heard a lot about "political violence" and it's all directed at the right, for no good reason. And the person doing most of the pointing is Joe Biden. He's been shuffling around the country, delivering his bumbling speeches where he calls half the country "semi-fascist" and claims if you voted for Trump you're a "threat" to the very fabric of this country. He's also calling Republicans "extremists" and speaking about us as if we're the second-coming of ISIS or something. It's disturbing and dangerous, and I knew it was only a matter of time before a mentally sick liberal took those words and that dog whistle and went on a rampage.
And here we are.
It happened in North Dakota. Valley News Live reported that a community is mourning the loss of an 18-year-old man from Grace City, North Dakota, as investigators look into what led up to a deadly crash. Foster County Deputies were called to a hit-and-run that happened in an alleyway near Johnston Street and Jones Avenue in McHenry, ND.
Court documents say at 2:35 Sunday morning, 41-year-old Shannon Brandt called 911 to report that he had hit a pedestrian because he was threatening him. Brandt told State Radio that the pedestrian was part of a Republican extremist group and that he was afraid they were "coming to get him." The pedestrian has been identified in a GoFundMe page as 18-year-old Cayler Ellingson.
After visiting the scene where the incident happened, deputies went to Brandt's house in Glenfield, ND, which is about 12 minutes from the crash scene. Brandt admitted to consuming alcohol before the incident, and stated he hit Ellingson with his car because he had a political argument with him. Brandt also admitted to deputies that he initially left the crash scene, then returned to call 911, but left again before deputies could arrive.
Court documents say just before the crash, Ellingson called his mom and asked if they knew who Brandt was. She said yes, and told her son she was on her way to pick him up. A short time later, court documents say Ellingson called his mom again to say that "he" or "they" were chasing him. It was after the second call that Ellingson could not be reached again.
Ellingson was pronounced dead at a Carrington Hospital. Brandt has been charged with criminal vehicular homicide and DUI. Court records show a judge set bail at $50,000.
This violent, crazed liberal literally hunted down this kid because he was convinced he was a "dangerous Republican extremist," and now that child is dead. And our mainstream media won't cover this, because it'll make Joe Biden and the Dems "look bad."
If that doesn't make you sick, and make you loathe the media, I don't know what will.
Here is the link to Cayler's GoFundMe.
UPDATE:
They released him.
Show up to the Capitol building: rot in jail indefinitely.

Commit vehicular manslaughter on an 18-year-old kid because he's Republican: get home from prison in time to eat dinner. https://t.co/EEqv961yeB

— Rising serpent 🇺🇸 (@rising_serpent) September 21, 2022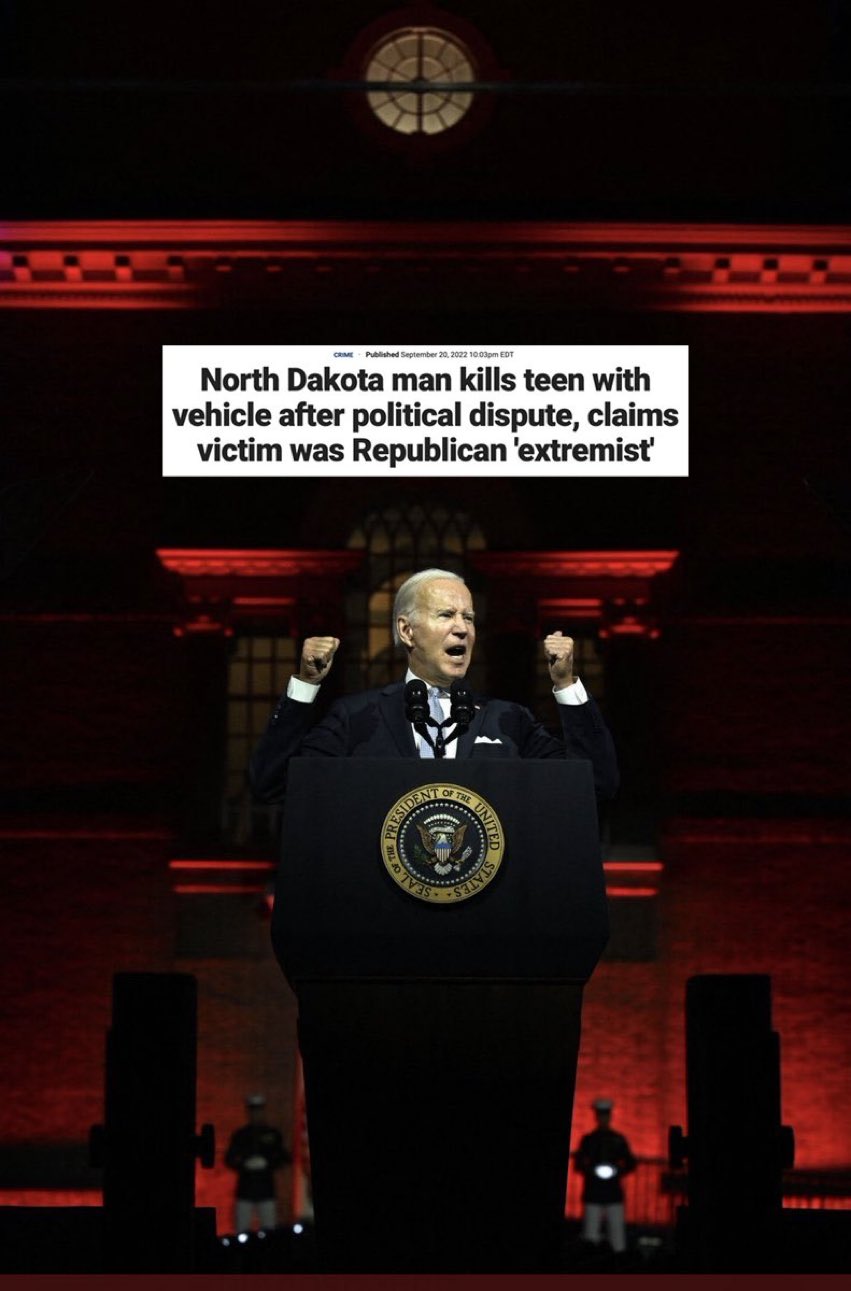 The opinions expressed by contributors and/or content partners are their own and do not necessarily reflect the views of WayneDupree.com
---
---
One of the most dependable websites for original reporting, investigative reporting, and breaking news in the conservative media is now WayneDupree.com. It is the only group combating communist bias in the media and entertainment, and it is its hard news division.
Because the success of our objective is so important to the economy and because leftist media's COVID falsehoods probably cost lives, we need your help. Donate to WayneDupree.com today so that we can keep covering stories that the leftist media won't touch. Your decision to donate $5 per month, $50 per year, or $100 per year will enable us to continue the difficult work of making sure a free and fair media survives in our nation.
[The WDStaff]
SIGN UP HERE
and join us!
---
Follow Wayne on Rumble!