Things are not looking good for Dems in the Peach State. They are currently losing every single major race, and Stacey Abrams, the pretend current governor of Georgia. is really getting her butt kicked badly. She's behind RINO Kemp by 8 points. Ouch. But this isn't shocking. Dems are going to lose big in November, the question is HOW BIG? I did a piece yesterday about the polls we've been seeing that suggest the "red wave" thing is over and Dems are launching an amazing comeback. It's all hogwash. Even one very famous left-leaning pollster just admitted those "comeback" polls are likely all wrong.
But this is the game Dems, media, and corporate pollsters play every election cycle. The "COMEBACK" story resurfaces and then fizzles out after election day and everyone says, "Gee, the polls were really off, huh?" It's all a game. There's no comeback. Dems are doomed.
And nowhere is that more obvious than in Georgia.
The latest Atlantic Journal-Constitution poll paints a very bleak picture for Georgia Democrats in November. In nearly every statewide election, all Dem candidates aside from U.S. Sen. Raphael Warnock is facing a huge deficit less than two months before the election.
Warnock is still down two points to Herschel Walker in the poll.
One fatal mistake Dems have made, is making Joe Biden the "face" of the midterms. It was a terrible idea. They've now linked him and his sinking ship to these candidates and when your approval is in the mid-to-low 30s, that's a very bonehead move.
But Joe Biden is an egomaniac. So, I am sure he INSISTED he get out there and "stump" for his candidates. He does not know how much the American people dislike him. You can't even call him a "nice old man." He's not. He's angry and divisive and short-tempered. There's nothing to like. He sucks and so does his policies.
I will say this much, I am excited to see Stacey Abrams lose in a landslide. I wonder if she'll still run for president? 🤣 She's like the female version of Beto — she's addicted to losing. But again, that's the elitist ego. They're so out of touch with "regular people" that they have no clue how much people don't want them.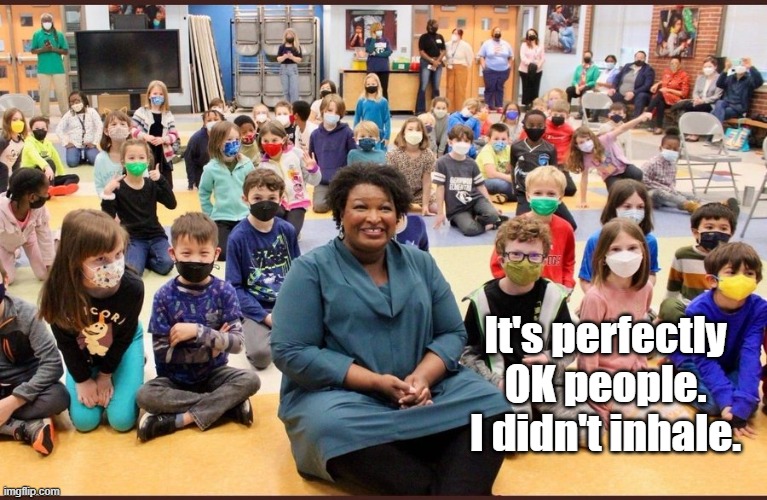 The opinions expressed by contributors and/or content partners are their own and do not necessarily reflect the views of WayneDupree.com
---
---
One of the most dependable websites for original reporting, investigative reporting, and breaking news in the conservative media is now WayneDupree.com. It is the only group combating communist bias in the media and entertainment, and it is its hard news division.
Because the success of our objective is so important to the economy and because leftist media's COVID falsehoods probably cost lives, we need your help. Donate to WayneDupree.com today so that we can keep covering stories that the leftist media won't touch. Your decision to donate $5 per month, $50 per year, or $100 per year will enable us to continue the difficult work of making sure a free and fair media survives in our nation.
[The WDStaff]
SIGN UP HERE
and join us!
---
Follow Wayne on Rumble!