There's no denying it, the world does not take Joe Biden seriously. Nobody does. And you can't blame anyone for it. It's painfully obvious that Joe isn't really running anything. My gosh, most times you wonder if he even knows where he is, or WHO he is. He looks and sounds like a nursing home patient, and most world leaders treat him like their forgetful old grandad. When Biden travels overseas, they don't roll out the red carpet for him. They did when President Trump was in the White House. But Biden is brushed over and treated like "second fiddle" because his approvals at home are so low, and he can't communicate properly. He makes Jimmy Carter look amazing.
So, it's no wonder he was seated in the back of the bus at the Queen's funeral. Jill and Joe were seated all the way back in the 14th row.
Nose bleed seats.
The New York Post reported that once they finally arrived outside Westminster, Jill and Joe were forced to wait to take their seats so they didn't interrupt the painstakingly choreographed funeral.
The couple, who was rudely late to the funeral, had to wait briefly at the doors of the church as a procession of George and Victoria Cross-holders — those awarded the highest military honor — headed into the abbey.
Biden was seated behind Polish President Andrzej Duda and in front of the Czech Republic's Prime Minister Petr Fiala, according to the seating plan released Monday.
Biden may be the world's most powerful man, but it didn't ensure him a front-row seat at Queen Elizabeth II's funeral in London on Monday.
Joe and Jill Biden were seated 14 rows back during the service at Westminster Abbey that drew 2,000 guests — including some 500 of the world's presidents, kings, princes and prime ministers.
And you knew it was only a matter of time before President Trump chimed in on that. He shared the photo of Joe in the nose-bleed seats and said this:
"This is what's happened to America in just two short years. No respect! However, a good time for our President to get to know the leaders of certain Third World countries. If I were president, they wouldn't have sat me back there—and our Country would be much different than it is right now!"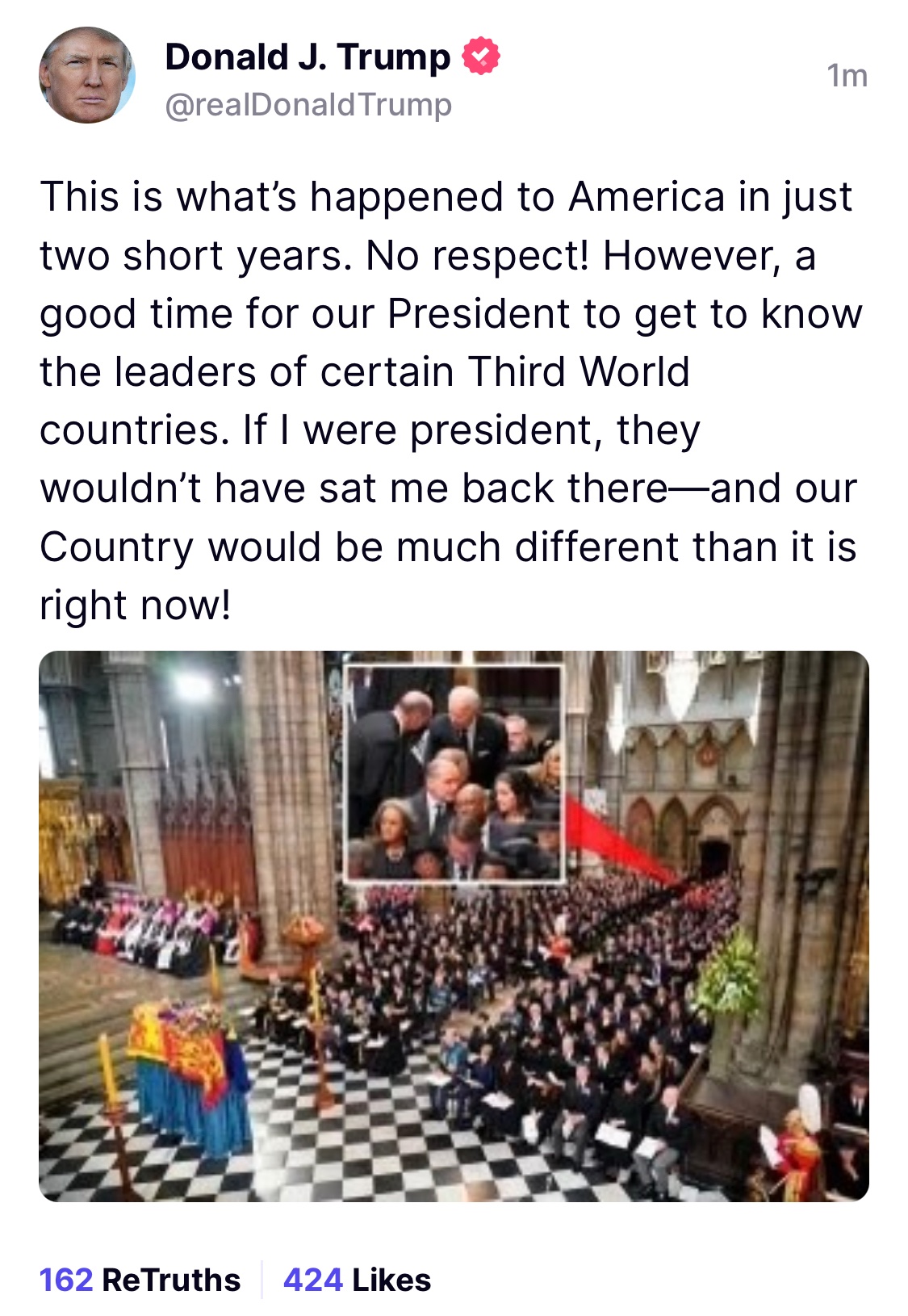 As always, President Trump is right.
Biden also topped off his trip to England by being massively heckled by the crowds outside.
They broke out into a lovely rendition of the "LET'S GO BRANDON" chant, and I can't tell you how much we all appreciated that.
The opinions expressed by contributors and/or content partners are their own and do not necessarily reflect the views of WayneDupree.com
---
---
One of the most dependable websites for original reporting, investigative reporting, and breaking news in the conservative media is now WayneDupree.com. It is the only group combating communist bias in the media and entertainment, and it is its hard news division.
Because the success of our objective is so important to the economy and because leftist media's COVID falsehoods probably cost lives, we need your help. Donate to WayneDupree.com today so that we can keep covering stories that the leftist media won't touch. Your decision to donate $5 per month, $50 per year, or $100 per year will enable us to continue the difficult work of making sure a free and fair media survives in our nation.
[The WDStaff]
SIGN UP HERE
and join us!
---
Follow Wayne on Rumble!