President Trump has responded to the murder of Cayler Ellingson, the 18-year-old boy who was murdered by a deranged, violent Democrat who believed the young man was part of a "Republican Extremist" group (he wasn't). These are the same words that Joe Biden has been using. He's been shuffling around the country calling half the county "extremists" and "threats" simply because we don't support ghouls like Liz Cheney.
Let's face it. Biden is a political dinosaur. He's an old-school politician who's stuck in the 90s. He does not understand what MAGA is, or what we want or believe in. The man can hardly speak, or find his way off a stage, how can we expect him to grasp the new "politics" in this country? But one thing he does well is attack and divide. But that's how Joe Biden has always been.
He was savvy about it when he was younger. Now, not so much. He looks and sounds like a confused old man who should be in a nursing home.
But the point here is this — many people believe that Biden's nasty and divisive rhetoric is what's driving lunatics to "murder extremists."
And that's what President Trump believes. And he calls out the political violence in his message about the murdered young man, who had everything to live for — he has an entire bright future ahead of him, and leftist hate snuffed his life out. Joe Biden has blood on his hands. And the really sick part in all of this? The media won't call him out on it. They won't even report this story, for fear that it will tarnish their "ANTI-MAGA" message.
That's how disgusting our propaganda media is.
Here's what President Trump said: "Cayler Ellingson of North Dakota, a great Republican Patriot with an unlimited future ahead, was struck by a truck and killed. The person that did this was a deranged Democrat maniac who was angry that Cayler was a Republican. The Media doesn't want to cover this horrible event because of the politics involved. If it were a MAGA Republican that drove that truck, it would have been the biggest of all stories. We LOVE Cayler, AND WILL NEVER FORGET! Warmest condolences to Cayler's family & friends."
Thank you, Mr President pic.twitter.com/SdKh0KISce

— Jack Posobiec XLV (@JackPosobiec) September 23, 2022
Here's a closeup of the Truth President Trump posted.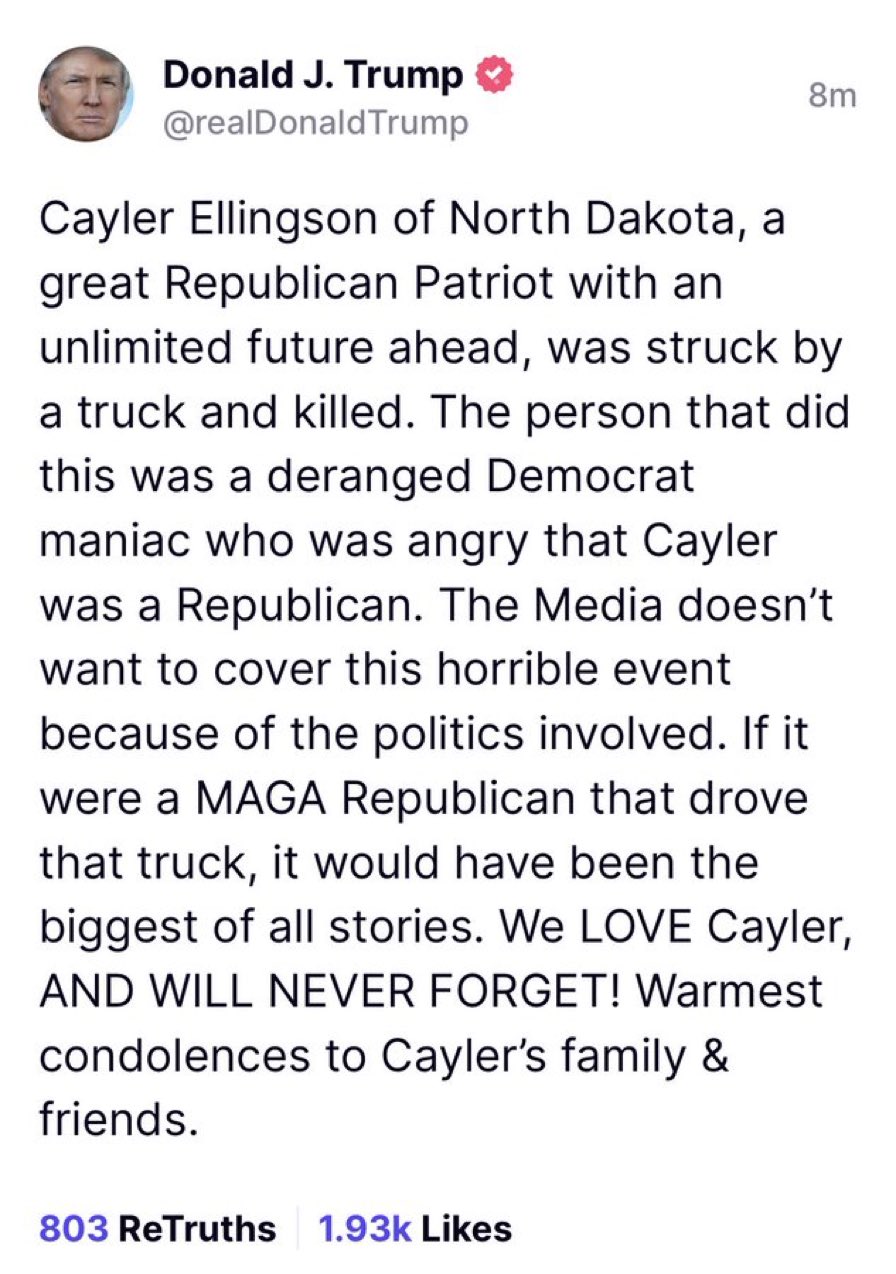 Rand Paul is calling out Joe Biden's violent and nasty rhetoric. TurtlesEgg.com reported that conservatives on social media and on Capitol Hill are pointing to heated rhetoric from President Biden following a killing in North Dakota that left a teenager dead following a reported political disagreement.
Cayler Ellingson, 18, was killed on Sunday in North Dakota after 41-year-old Shannon Brandt allegedly ran over him with his car following a political dispute and said he believed Ellingson was a "Republican extremist," according to court documents.
In recent days, conservatives on social media have pointed to a recent speech by President Biden suggesting that supporters of former President Trump represent an "extremism that threatens the very foundations of our republic."
"Words can have violent consequences," Kentucky Republican Rand Paul, who was the victim of political violence along with his wife outside the Republican National Convention in 2020, told Fox News Digital in a statement. "President Biden needs to realize that his vilification of his opponents is inflaming some of his supporters to violence. As a victim of political violence, both sides need to recognize the consequences of heated rhetoric."
"An 18-year-old was executed in cold blood by a Democrat political terrorist because of rhetoric like this," Rep. Marjorie Taylor Greene, R-Ga., claimed on Twitter along with a video of Biden calling Trump supporters "extreme." "Democrats want Republicans dead, and they've already started the killings. Democrat's political war against patriotic Americans must end!"
Here's what people online are saying:
"What a heartfelt message!"

"It's horrifying, truly horrifying. The fact that every damn Republican in Congress hasn't spoken out against this is an atrocity!"

"So unbelievably sad and avoidable. May these kind words be a comfort to Cayler's family – even though we realize nothing will replace their loving son or make the hurt go away except time and faith."

"I can hear him saying it in my head. Love this man" 

"I can only imagine that if the political parties were reversed. My God, it'd be on the news 24/7. What the hell has happened to this county?" 

"If we don't have an honest media, there will always be conspiracies and distrust. This is why so many people don't believe Joe Biden won" 

"he's right it would've been the biggest of all stories. Years later they're still talking about Charlottesville where a guy got swarmed and floored it through a crowd of protestors, killing a woman"

"this should be prosecuted as murder and a hate crime"

"When he's right, he's right, and we all know he is."

"President Trump is really a sweet guy, I feel bad for the garbage he & his family have been put through"

"This is the real president. Not the phony hair sniffer that pretends to be President."
I can't imagine the pain the Ellingson family is going through right now. My heart just breaks for them.
As for the violent Democrat, I hope to God they charge him with 1st-degree murder and slap a hate crime on him, and he's found guilty and rots in prison for the rest of his miserable life.
The opinions expressed by contributors and/or content partners are their own and do not necessarily reflect the views of WayneDupree.com
---
---
I'm glad you're here, WayneDupree.com comments! Please maintain polite and on-topic conversations. You could see comments from our Community Managers, who will be identified by a "WD Staff" or "Staff" label, in order to promote fruitful and civil discussions. We stop accepting comments on articles three days after they are posted in order to provide the optimal user experience. The conversations forums on WayneDupree.com welcome comments for an unlimited period of time. For further information, please refer to our community policies.
SIGN UP HERE
and join us!
---
Follow Wayne on Rumble!