Well, it's Thanksgiving, folks. Do you have big plans? I am hosting my family at my house on Friday, not today. So, my turkey-eating will have to wait an extra day. But I hope you guys have a wonderful holiday, even though Joe Biden is doing all he can to ruin it. I can't believe how expensive everything is. I really don't know how people living paycheck-to-paycheck can afford all this Biden inflation. I am appalled each time I go to the grocery store.
Turns out, there's a 20 percent increase from last year, which was still a lot higher than it was in 2020. So, in just 2 short years that Biden's been pretending to be "president," prices have soared.
The Farm Bureau reported that spending time with family and friends at Thanksgiving remains important for many Americans and this year the cost of the meal is also top of mind. Farm Bureau's 37th annual survey provides a snapshot of the average cost of this year's classic Thanksgiving feast for 10, which is $64.05 or less than $6.50 per person. This is a $10.74 or 20% increase from last year's average of $53.31.
The centerpiece on most Thanksgiving tables – the turkey – costs more than last year, at $28.96 for a 16-pound bird. That's $1.81 per pound, up 21% from last year, due to several factors beyond general inflation. Farm Bureau "volunteer shoppers" checked prices Oct. 18-31, before most grocery store chains began featuring whole frozen turkeys at sharply lower prices. According to USDA Agricultural Marketing Service data, the average per-pound feature price for whole frozen turkeys was $1.11 the week of Nov. 3-9 and 95 cents the week of Nov. 10-16, a decline of 14% in just one week; and the share of stores offering feature prices rose from 29% to 60%. This means consumers who have not yet purchased a turkey should be able to find one at a lower cost than the Farm Bureau average.
"General inflation slashing the purchasing power of consumers is a significant factor contributing to the increase in average cost of this year's Thanksgiving dinner," said AFBF Chief Economist Roger Cryan. General inflation has been running 7% to 9% in recent months, while the most recent Consumer Price Index report for food consumed at home reveals a 12% increase over the past year.
"Other contributing factors to the increased cost for the meal include supply chain disruptions and the war in Ukraine," Cryan said. "The higher retail turkey cost at the grocery store can also be attributed to a slightly smaller flock this year, increased feed costs and lighter processing weights." Cryan said the supply of whole turkeys available to consumers should be adequate this year, although there may be temporary, regional shortages in some states where avian influenza was detected earlier this year.
We have Jive Turkey Joe Biden to thank for this mess.
And speaking of "turkeys" Joe looked like the actual turkey, while he was trying to maneuver his way through the pardoning ceremony.
At one point, things got so confusing, even the "sign language" lady appeared to give up.
You can watch the video below:
BIDEN: "9.5 million turkeys! I tell ya what, that's like some of the countries I've been to and they — anyway… *looks at turkey* you wanna talk?" pic.twitter.com/GgsRkr23nZ

— RNC Research (@RNCResearch) November 21, 2022
The sign language lady looked like she didn't know what the hell was going on.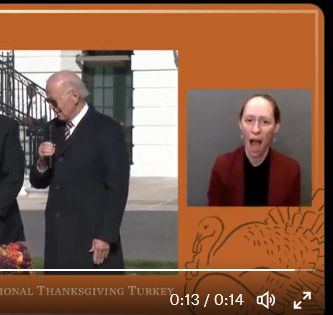 Joe Biden lives in his own little clueless world, where his decisions are amazing, he gives great speeches, and he makes perfect sense.
For the rest of us who are living on planet earth, Joe looks and sounds like a confused 80-year-old man who should be living in a nursing home, not pretending to be "president."
I hope his turkey is bone dry and his gravy is lumpy.
The opinions expressed by contributors and/or content partners are their own and do not necessarily reflect the views of WayneDupree.com
---
---
I'm glad you're here, WayneDupree.com comments! Please maintain polite and on-topic conversations. You could see comments from our Community Managers, who will be identified by a "WD Staff" or "Staff" label, in order to promote fruitful and civil discussions. We stop accepting comments on articles three days after they are posted in order to provide the optimal user experience. The conversations forums on WayneDupree.com welcome comments for an unlimited period of time. For further information, please refer to our community policies.
SIGN UP HERE
and join us!
---
Follow Wayne on Rumble!